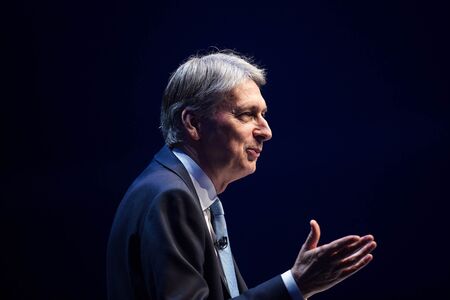 Britain may borrow 100 billion pounds ($125 billion) more than previously forecast over the next five years as Brexit hits the economy, according to PricewaterhouseCoopers.
The budget deficit is on course to reach 67 billion pounds in the current fiscal year, almost 12 billion pounds more than officials estimated in March, PwC said in a report published Tuesday. Britain will still have a shortfall of 18 billion pounds in 2019-20, the year it was meant to have a 10 billion-pound surplus.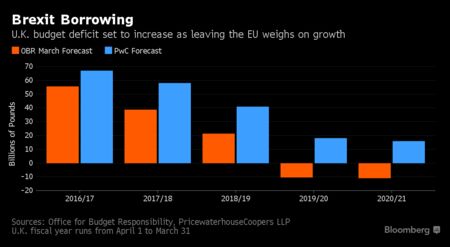 The forecasts underscore the constraints facing Chancellor of the Exchequer Philip Hammond as he prepares to make his first major fiscal statement on Nov. 23. Hammond has hinted at a modest fiscal stimulus, having publicly ditched the budgetary targets of his predecessor George Osborne.
Instead of seeking an outright surplus by the end of the decade, Hammond may revive an early Osborne goal by aiming to limit borrowing to the amount needed for public investment while putting the debt-to-GDP ratio on a clear downward trend, PwC said. That could mean an extra 20 billion pounds of spending spread over the next three years, it said.
We expect the chancellor to adopt a pragmatic approach in his Autumn Statement, allowing borrowing to take the strain of slower growth, while adopting revised fiscal rules that give him more flexibility to boost planned public investment in priority areas such as housing and transport infrastructure, said John Hawksworth, chief economist at PwC. However, he doesnt appear to have the money for large net tax cuts and is likely to continue to bear down on non-investment spending by both central and local government.
PwC expects growth will slow to 1.2 percent in 2017 as business investment falls and consumers feel the pinch from accelerating inflation following the sharp fall in the pound since the June referendum. It also warned that U.K. exports to the European Union could account for as little as 30 percent of total sales by 2030, compared with 44 percent currently, should trade barriers be erected.
We expect Brexit to exert a long, slow drag on growth, rather than giving the economy a short, sharp shock, Hawksworth said.
Read more: www.bloomberg.com