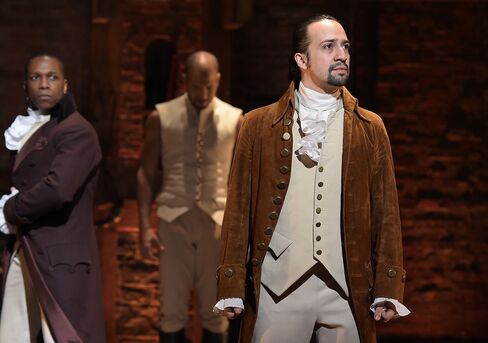 Hamilton, the hip-hop musical thats become Broadways hottest ticket, dominated the Tony Awards with 11 wins, capping a year thats produced almost $80 million in box office sales and made creator Lin-Manuel Miranda a star.
With 16 nominations, more than any other show in Broadway history, Hamilton on Sunday night in New York didnt surpass The Producers 12 wins in 2001. Hamilton took home prizes in major categories including best new musical, score and book for Miranda. Family drama The Humans was named best new play.
Broadways highest honors capped a season of the Hamilton juggernaut. Miranda in April won the Pulitzer Prize for drama, and the show itself has won numerous other accolades over the past year including the Grammy for musical theater album. The producers said last week that the cost of premium seats will increase to $849 from $475 while the number of $10 tickets available through same-day lotteries will more than double to 46 seats. Producers said the price increase is an effort to stem the loss of millions of dollars in revenue that is going to scalpers.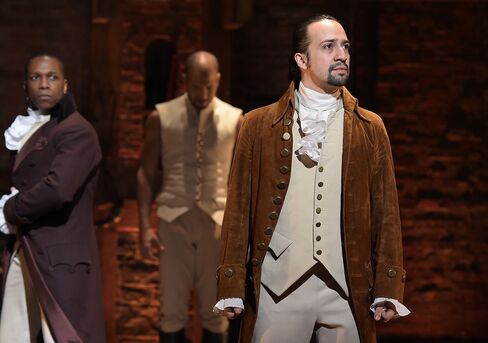 The 70th annual Tony Awards handed out prizes in 24 categories at a ceremony broadcast on CBS with host James Corden at the Beacon Theatre. Among the presenters and guests were James Earl Jones, Oprah Winfrey, Cate Blanchett, Jake Gyllenhaal and Barbra Streisand.
Mirandas musical crossover about first U.S. treasury secretary Alexander Hamilton helped propel Broadway sales and attendance for the 2015-2016 season to records of $1.37 billion and 13.32 million patrons. That was up 0.6 percent and 1.6 percent, respectively, from the prior year, according to the Broadway League, a trade group. The average paid admission was $103.11, down from $104.18 a year ago.
The popularity of Hamilton helped make the Tonys broadcast a big winner for CBS Corp., which reported the largest audience for the event since 2001, with 8.73 million viewers. That was up 35 percent from a year earlier.
For his next big project, Miranda has signed on to star with Emily Blunt in a 2018 Walt Disney Co. sequel, Mary Poppins Returns.
Denounced Hate
The Tonys dedicated its program to the families and victims of a shooting at a gay nightclub in Orlando, Florida, on Sunday that killed 50 people and critically wounded dozens more in the deadliest mass shooting in U.S. history. Theater is a place where every race, creed, sexuality and gender is equal, embraced and loved, Corden said at the start of the show. Hate will never win. Together we have to make sure of that. Tonights show stands as a symbol and celebration of that principle.
Miranda also addressed the tragedy in a speech after he accepted the award for best score. Senseless acts of tragedy remind us that nothing here is promised, not one day, he said in a sonnet. This show is proof that history remembers we lived through times when hate and fear seemed stronger. We rise and fall and light from dying embers, remembrances that hope and love last longer.
The Humans by Stephen Karam, a story about the downward spiral of an American middle-class family, won for best new play. Reed Birney and Jayne Houdyshell won for featured acting roles for their portrayals of a married couple in The Humans who try to keep their family together. The play has generated $7.1 million at the box office, according to BroadwayWorld.com.
Color Purple
The Color Purple, based on the 1982 Alice Walker novel that traces a battered black womans triumph over decades of adversity, was named best revival of a musical. Cynthia Erivo, who plays Celie, the main character in The Color Purple, won for lead actress in a musical. In Hamilton, Mirandas title character is killed in a duel with Aaron Burr. Miranda lost the duel again on Tony night, with cast member Leslie Odom Jr., who plays Burr, beating him for best male actor in a musical.
Arthur Millers A View From the Bridge, was named best play revival in a category that included another of Millers works, The Crucible. Both were directed by Ivo Van Hove, who won for View.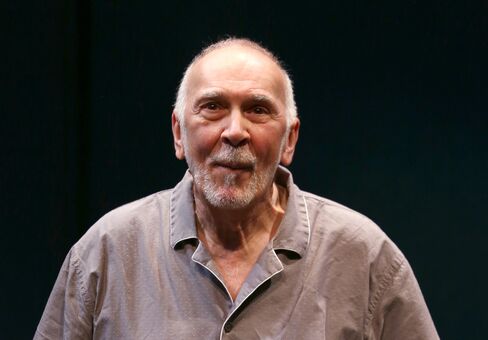 Jessica Lange won for lead actress in a play for her portrayal of Mary, the morphine-addicted family matriarch, in a revival of Long Days Journey Into Night by Eugene ONeill. Frank Langella received the nod for best actor in a play for Florian Zellers The Father, a story about an elderly man with dementia and his family grappling with his decline.
Langella also brought up the Orlando tragedy in his speech, saying I urge you, Orlando, to be strong.
Diverse Season
Broadway had a diverse season at a time when Hollywood was criticized earlier this year for the lack of Oscar nominations for nonwhite actors. The Tonys are so diverse that Donald Trump wants to build a wall around the Beacon Theatre, said Corden, about the presumptive Republican presidential nominee. The Tonys said its the first time in its history that all four musical acting awards went to black actors.
More Hamilton
Among featured actor in a musical category, Daveed Diggs won for his portrayals of Thomas Jefferson and Lafayette in Hamilton over cast mates Jonathan Groff, who played King George, and Christopher Jackson, who portrays George Washington.
Renee Elise Goldsberry won for featured actress in a musical for her role as the brainy Angelica Schuyler in Hamilton. Andy Blankenbuehler won the award for Hamilton choreography. Thomas Kail won the musical directing category while Alex Lacamoire took home the trophy for orchestrations.
Look around, look around, how lucky are we to be alive, Hamilton producer Jeffrey Seller said in his speech, repeating lines from the musical.
Read more: www.bloomberg.com