Undocumented migrant Ángel Rosa, who has four US-born children, is weak from the serious infection allegedly contracted in a US detention center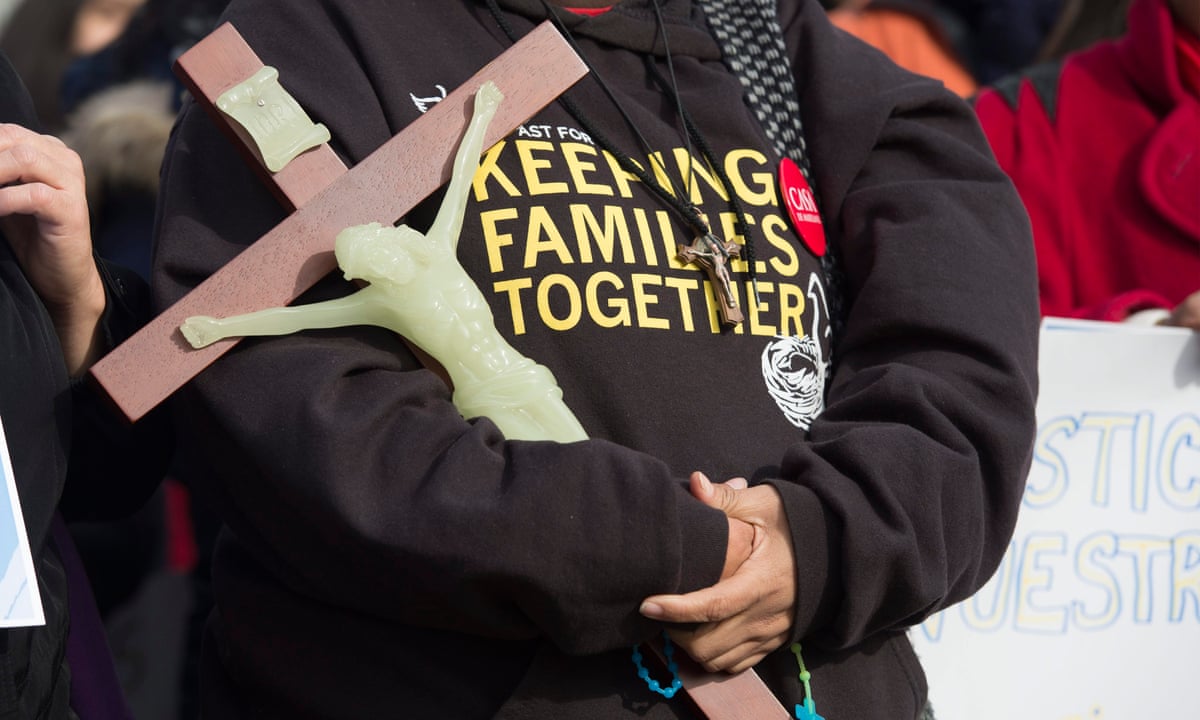 An undocumented Guatemalan immigrant weakened by a gangrene infection of his groin that allegedly began in a detention center says he faces almost certain death if he is deported despite a request for humanitarian relief.
If he passes away in Guatemala I wouldnt forgive myself being so many miles away from him, Ángel Rosas 18-year-old daughter Lorena told the Guardian as she sought answers to why federal agents detained her father during a raid on their home last Friday in Hyrum, Utah.
Rosa is one of dozens of Central Americans the US Department of Homeland Securitys Immigration and Customs Enforcement (ICE) detained during raids this month after their asylum claims were denied, and his case raises new questions about whom the Obama administration has targeted for removal. Unlike thousands of mothers and children seeking escape from violent persecution, Rosa is most afraid of dying from lack of access to medical care if he is sent back to Guatemala, where he has no means of support.
The father of four US-born children and six US-born grandchildren was charged in 2012 with illegally re-entering the United States. After his conviction, Rosa ended up in the Utah County jail, which has a contract with ICE to hold detainees. Then in December 2014 his daughter says she got a phone call from a prisoner telling me my dad was in critical condition and he wasnt going to make it.
They had put him in a cell with an overflowing toilet filled with feces, said Mark Reid, a paralegal who works at the Thomas Rome Law Group based in Hartford, Connecticut, and helped file an emergency stay of removal for Rosa. Then he caught an infection. Then it got worse.
The infection, known as Fourniers gangrene, began on his testicles and caused Rosas rectum to swell shut. His intestines also became infected. His family says ICE failed to provide medical treatment until Rosa was rushed to an offsite hospital for emergency surgery. The ordeal nearly led to his castration, and ultimately left him sterile. It also forced ICE to release him from custody.
They couldnt put him back in detention, since they did not have the type of medical attention he needed, Lorena said. He was in bad condition when he left hospital.
A spokesman for ICE said he could not comment specifically on what the agencys records show about Rosas medical treatment inside their facility until Rosa signs a privacy waiver to allow them to do so, which he had not yet done at press time. But the spokesman did provide the Guardian with a general statement that ICE takes very seriously the health, safety and welfare of those in our care. ICE facilities that house ICE detainees are staffed with medical and mental healthcare providers who monitor, diagnose and treat residents at the facility. ICE also uses outside, private medical/mental health care service providers as needed.
A record of deaths in ICE custody posted on the agencys website shows a 38-year-old Mexican national named Santiago Sierra-Sánchez died from a Staphylococcus aureus infection on 12 July 2014 the same year as Rosas infection after he was held at the same Utah County jail.
Throughout 2015 Lorena nursed her fathers wounds as he faced recurring gangrene infections and complications from his high blood pressure. His wife and older children struggled to pay his mounting medical bills. They did not sue ICE for medical neglect.
At the same time, Rosa was required to wear an electronic monitoring bracelet on his ankle, and attend regular meetings under ICEs intensive supervision appearance program. His daughter says she came straight home from high school and drove to the appointments in Salt Lake City, more than an hour away. So she was surprised when, on 15 January, federal agents surrounded her house and took Rosa back into custody.
I heard a big bang on the door after I came home from school, and when I went to check the living room, I saw my dad handcuffed and calling my name, she recalled. My heart dropped.
Rosa is now fighting his deportation from jail. Reid says he faces new charges that he failed to report to a federal probation officer this past year for his 2012 illegal re-entry conviction, even though he had been wearing an electronic monitor and regularly checking in with an immigration officer. His daughter contends he never knowingly missed any meetings.
Meanwhile, Reid is asking ICE to exercise prosecutorial discretion and halt its removal proceedings against Rosa, whose doctor has submitted a letter to ICE suggesting he is not fit to travel.
It is in my professional opinion that [Rosa] should remain where his family and medical care are available, specifically in the Cache County, Utah area, wrote Dr James Mathews.
Read more: www.theguardian.com