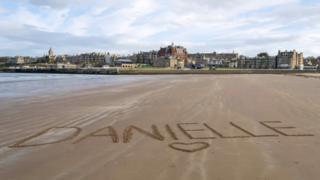 This is the story of three fathers who have loved and lost a longed-for baby.
It's a story of tears, a small urn, lonely funerals, but it's also about breaking taboos around stillbirth.
The story begins with loss and ends with a "cuddle cot".
It's the story of how Michael Jennings could never be bothered to shave his beard because he was so sad.
But braving the razor helped raise enough money for a "cuddle cot".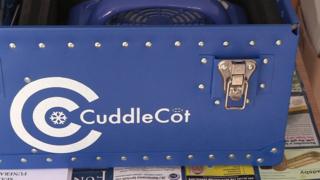 It's a special cold unit with a basket where parents can place their stillborn child. The cold helps preserve the body.
With the "cuddle cot", parents can bring their baby home rather than have the baby's body sent straight to the hospital morgue.
They can take as much time as they need to say goodbye.
Michael and Nicola Jennings live in a house that shouts "family".
Photographs of their three, small girls are dotted about, their home is a magnet for pink plastic. Their daughters have dreamy names – Star and Sky and Aurora.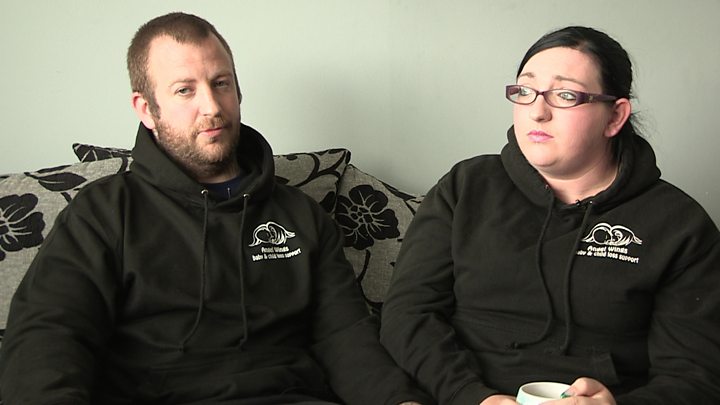 But upstairs, the Jennings keep a small urn for the child who was not to be.
"We feel it would have been a boy," said Michael.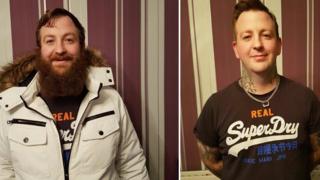 He would have been born in November 2015. But Nicola had a miscarriage. Now, mother and father remember him with balloon releases and a memory box.
What Michael remembers is how some people were so dismissive.
"'You were not far along', they'd say. But that was our son."
They collected the remains from hospital and they found Sean Hassan, an undertaker who understood.
"He went out of his way to help us – anything, day or night. He got a coffin, he took us to the crematorium and he took us home.
"In the crematorium, there was music and prayers and I just wanted to sit with my wife in silence," said Michael.
Afterwards, the couple thought about other parents and they decided to raise money for a "cuddle cot".
The notice on top reads: "In memory of Baby Jennings".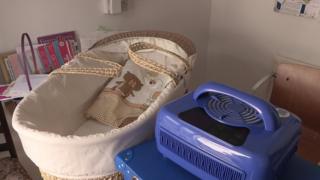 Helping the bereaved
Undertaker Sean Hassan knows only too well that death is a difficult business.
But when a Moses basket was delivered recently, he was more than a little gobsmacked. Who sent it?
"I asked my wife: 'What were you buying?' but she knew nothing about it. We have a grandchild in Scotland but I could not work out why this had been delivered."
It turned out it was the Jennings' basket to go with the blue unit that makes up the "cuddle cot".
They wanted Sean Hassan to keep it because he understood their loss. He had been there too.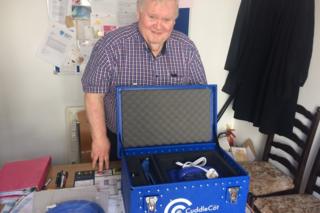 "It was the 1970s," he said. "It would have been our first child and the first grandchild on both sides.
"My wife went into hospital and was told she had lost the baby. We never knew whether we had a boy or girl. We never knew what happened to the remains.
"It's only in later years that I thought more about it. I felt sorry for my wife. This was our first. How much was she not looking forward to that?"
When the Jennings asked him to keep the cuddle cot and loan it out to others, he understood.
"People can come and bring it home. It's free," he said. If it helps grieving parents then that's what matters."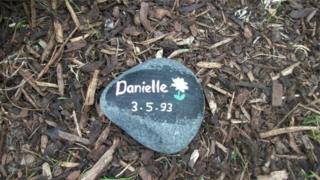 'Jackie woke up in pain'
Rewind a few decades, and meet Steven and Jackie Guy expecting baby number three.
"A text book pregnancy, classic, no high blood pressure – the consultant told my wife she was a baby-making machine," said Steven.
It was a May bank holiday, there was glorious sunshine. Jackie woke up in pain. She was 38 weeks pregnant.
They went to hospital and the consultant was called.
"'He's probably out on the golf course and he's going to love us,' I thought," said Steven.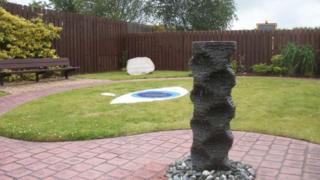 "Then suddenly it turned into a scene from Casualty. Everybody was running and I was trying to hold my wife's hand."
He was put into a side room, where he could hear medical staff prepping for an emergency operation – the voices: the clank of metal as surgical instruments were lifted and dropped. Then silence, complete and eerie silence.
'I stood alone at the grave'
The funeral for baby Danielle went ahead without his wife, who was too ill to go. The cemetery was just across the road from her hospital ward.
"I stood alone at the grave and I could pick out the window where my wife was."
Afterwards, the world seemed full of pregnant women. The Guys hid at home. They plucked up the courage to go out and spotted a mother pushing exactly the same pram they had bought for baby Danielle, plunging them back into grief.
But Danielle changed the course of the Guys' lives. Steven would go on to become regional coordinator of Sands NI (Stillbirth and neonatal death charity) offering support to other parents in grief.
The charity's latest campaign, Finding the Words, aims to break the silence around stillbirth and neonatal death by encouraging everyone to start a sensitive conversation with someone whose baby has died, however long ago.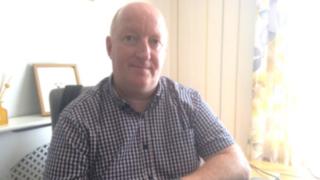 This year, the Guys spent what would have been Danielle's 25th birthday away from home. They had a steak supper, toasted their daughter and wrote her name on a Spanish beach. Friends sent photos of Danielle's name written on other beaches.
"One was in St Andrew's where our son lives and works, that was very special," said Steven.
Three fathers; three stories but one outcome. Their grief made them reach out to others.
Read more: www.bbc.co.uk