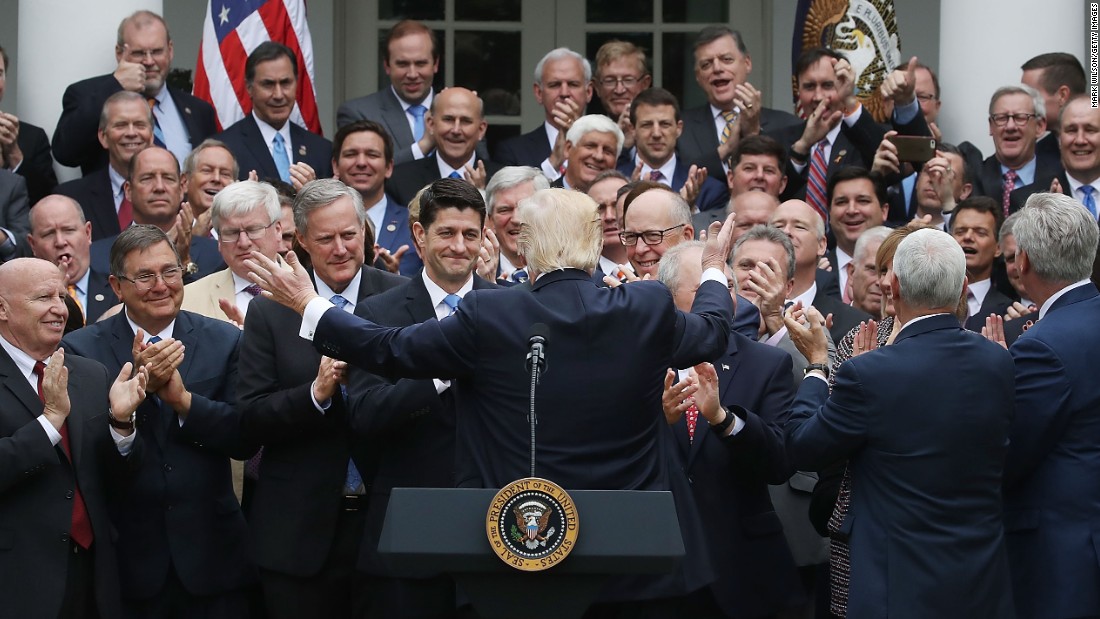 (CNN)Beware the Ides of September, which could find everything from your cancer surgery to HIV treatment for Africans sliced to smithereens. As Republicans cheered passage of their Obamacare repeal in the House on Thursday, the Democrats chided them that America will vote the GOP out of power in 2018, singing, "Sha-na-na-na! Na-na-na! Hey! Hey! Goodbye!"
The battle lines are clearly drawn. There will be skirmishes in coming weeks and open warfare in Washington this fall.
Bad as the GOP's latest iteration is, the Republican health bill will not become the law of the land. But before you heave a sigh of relief know this: It is an awful harbinger of what is to come, demonstrating that the party in control of all three branches of the American government is more than willing to chuck you, and the whole world, on the pyre of failed personal responsibility before it will consider paying to keep you alive and well.
The "blame the victim" mantra of the 1980s that saw employers firing elders, smokers and obese employees in order to maintain low, pooled insurance costs is back in vogue, now a philosophy of governance applied to everything from cancer prevention to foreign policy.
By a narrow 217-213 vote, the House of Representatives voted to repeal Obamacare, replacing it with a new 2.0 version of the Republican's American Health Care Act, or AHCA, that appeased both the party's hard right Freedom Caucus and some of its moderates' concerns. The bill passed without any Democratic votes, and 20 moderate Republicans sided with the opposition.
The take-home messages are clear, even though the ultimate details of a Senate version of AHCA 2.0 and the FY2018 budget remain obscure. The winners are America's wealthiest class, the Department of Defense, military contractors, health insurance companies and America's closest military allies. The losers? Well, just about everybody else.
If the Republican Party hopes to claim victories in the 2018 midterm elections, Sean Spicer and his fellow Washington spin doctors are going to have to manage astounding feats of messaging, aimed at convincing average American voters that paying larger fees for their health care out-of-pocket, seeing the cost of medicines skyrocket and having highly humane health programs overseas disappear are all good things for the middle class.
Close examination of the House's new AHCA 2.0 reveals that compromise between the party's factions was reached not by addressing the underlying problems seen by the CBO, but by booting nearly all of the other tough decisions down to the states.
Basically AHCA 2.0 claims to guarantee coverage for people with pre-existing conditions and keep Americans that are now receiving Obamacare coverage on some form of health access. But the devil is in the details behind the words "guarantee" and "access," both of which are left to the states to define.
But nothing is guaranteed by AHCA 2.0, except a hope and prayer that state legislatures and governors will vote through expensive packages of health insurance that incentivize private insurance companies to carry millions of people, including those with costly chronic care needs, based on expansion of states' Medicaid programs.
In an emotional appeal on his late-night TV show comedian/host Jimmy Kimmel told his audience that his newborn son was born with a condition requiring neonatal open heart surgery — which he, a wealthy celebrity, could afford.
But, Kimmel noted, access to health shouldn't be about personal wealth, adding, "Before 2014, if you were born with congenital heart disease like my son was, there was a good chance you'd never be able to get health insurance because you had a pre-existing condition… And if your parents didn't have medical insurance, you might not live long enough to even get denied because of a pre-existing condition."
Your access, Schuster continued, is affordable because you can write some of it off in your taxes, pay for some of the rest with your health savings account (which you paid for) and get cheaper care because the state will no longer be covering such things as abortions.
Hogwash. A single mother of two children who earns $40,000 a year as a domestic worker has no taxable income after paying for transportation, housing, food, school fees, child care and her children's clothing, so writing off health care costs via her annual IRA filing is a nonstarter.
As Alabama Rep. Mo Brooks told CNN, people with costly conditions should be required to contribute more to their states' insurance pools so that they aren't a financial burden "to those people who lead good lives, they're healthy, they've done the things to keep their bodies healthy."
If your child is hungry in school, bit by malaria-carrying mosquitoes in bed at night or lacks treatment for the HIV he was born infected with it's your fault and your responsibility, not a problem for US taxpayers.
And if you're a member of Congress who voted for such changes in the FY18 budget, you may suddenly find your voting constituency backing a different horse — or even a donkey.
Read more: www.cnn.com