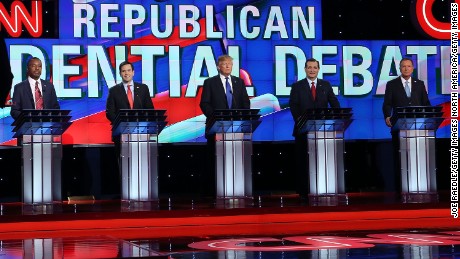 (CNN)It's fitting that Thursday's GOP debate took place in the University of Houston's Moore's Opera Center. This was the last debate before Super Tuesday, when 595 delegates are at stake, and the first since Donald Trump has emerged as the probable nominee based on his poll and delegate numbers.
The pressure was on Marco Rubio and Ted Cruz to avoid being definitely cast in supporting roles. Add to this the setting — Cruz's home state of Texas, with its large Hispanic population and border with Mexico — and you had the makings of a whole lot of drama.
Tonight Rubio showed new strengths, and Trump new weaknesses. Cruz and Rubio mostly abstained from criticizing each other, focusing their energies on painting Trump as an outsider who cares about deals first and principles after. On questions about immigration, healthcare, foreign policy and other topics, Cruz and Rubio turned what Trump presents as assets — his connections, his ability to negotiate, his financial largesse — into negatives: a lack of commitment to Republican politicians and ideals.
Trump remained true to himself, coming across as the group's political "moderate," such as when he praised Planned Parenthood for saving the lives of million of women. But his answer to the charge leveled against him of being too bipartisan shows the dilemma he presents for the GOP: "I have always contributed to both sides. I am a businessman." For Trump, relationships as they lead to profit come first, ideology after.
The Houston Opera Center's next production will be Anna Karenina. "Happy families are all alike; each unhappy family is unhappy in its own way," reads the first line of Leo Tolstoy's novel from which the opera was adapted. The GOP is one unhappy family right now, with Trump in the part of the uncle who came for tea and is now a disruptive household presence. What will the next act bring?
Join us on Facebook.com/CNNOpinion.
Read CNNOpinion's new Flipboard magazine.
Read more: www.cnn.com