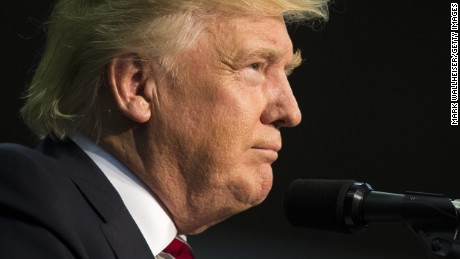 Pueblo, Colorado (CNN)Donald Trump — struggling to move past a week of one controversy after another — is making clear that he's willing to go it alone in the final weeks of the campaign.
As the Republican nominee tries to recover from one of his toughest stretches, few prominent GOP leaders — other than those who advise him or are on his payroll — seem willing to launch a full-throated rescue effort.
So Trump sought to do the heavy lifting himself Monday, delivering a feisty speech here that attempted to reframe the campaign and extract him from the quagmire of the past week, which included a disappointing debate performance, a roiling controversy over whether he paid taxes, and ill-advised attacks on a Latina beauty queen — a feud he couldn't seem to let go.
With a new
CNN/ORC poll
showing Democratic nominee Hillary Clinton with a five-point lead over Trump after the debate, Trump for the first time seemed to relish the role of underdog in the presidential race. He mounted an unapologetic defense of his business record, previewing lines he might deploy during his rematch with Clinton on Sunday.
Responding to a stunning New York Times report over the weekend that he may have paid no taxes for the last 18 years, Trump acknowledged here that he had been a "big beneficiary" of "the unfairness of the tax laws." He acknowledged that he "brilliantly" used U.S. tax laws to pay as little in federal income taxes as possible.
'I'm working for you now'
At the same forum, he also pointedly questioned the U.S. approach to defeating ISIS, wondering aloud whether airstrikes by the U.S. and its allies are actually taking out members of ISIS.
"We don't have victory," Trump said at the veterans' forum in Virginia. "We're dropping things all over the place. Who knows what they are hitting? Who knows how many people are being killed? Who knows if they're the right people?"
As Trump's comments about PTSD blazed across social media, news reports emerged that New York's (Democratic) Attorney General issued a
cease-and-desist letter
to Trump's charitable foundation, ordering it to stop raising money in the state after a series of reports about the foundation's questionable spending.
Gleeful Democrats
While most Republicans were silent Monday, Democrats were gleeful — doing their part to stir up the uproar over Trump's comments about PTSD, with even the White House weighing in.
"The commander in chief made a firm declaration that it is not a sign of weakness to get help," White House spokesman Josh Earnest said, alluding to President Barack Obama's comments during a town hall with service members last week moderated by CNN's Jake Tapper.
"In fact, it's a sign of character, and a sign of strength to ensure that you are taking care of yourself. And the president has acknowledged the cultural barriers in the military to changing attitudes about this," Earnest said.
For much of the past month, Republican leaders believed that Trump was finally on message and making an effective case against Clinton. His poll numbers rose, giving a boost to GOP senators down-ticket while improving Republican prospects of keeping the House.
But his feud with Machado, renewed questions over his taxes and his rocky performance at the first debate have once again renewed long-standing concerns within GOP ranks that their standard bearer remains an unpredictable wild card when it comes to their party down-ticket.
"Every prediction I've made has been wrong about Mr. Trump and his impact," said Sen. John Cornyn, the No. 2 Republican, who told CNN earlier this year that Trump could be an "albatross" for his party.
Asked about the next debate, Cornyn said: "We'd like to see him do better. Obviously, he doesn't have as much experience as Secretary Clinton and it showed" at the Hofstra debate.
Asked about Trump's attacks on Machado, Sen. John Barrasso of Wyoming, the No. 4 Senate Republican, said Trump "is at his best" when he focuses on economic issues and national security — not personal matters.
"I would focus on Hillary's record on politics of 30 years," Barrasso said when asked about Trump bringing up Bill Clinton's sex scandals. "This is a change election — change versus more of the same and this country cannot afford to have the next four years to be like the last eight years with Obama."
Sen. Bill Cassidy of Louisiana also said Trump needs to re-engage on the issues that drove up his poll numbers in late August and early September.
"You know I can't comment on that, it's not what I would do," Cassidy said when asked about Trump relitigating the Clinton scandals from the 1990s. "I think people know that. Folks now they're hurting and they want to know somebody understands."
Indeed, GOP leaders publicly and privately have long shown a level of discomfort with Trump's unorthodox campaign especially in the aftermath of last week's events.
At a press conference to wrap up the pre-election congressional session, Senate Majority Leader Mitch McConnell would not talk about Trump's impact on the battle for the Senate majority.
"Look to avoid wasting our time here," McConnell told reporters, "this is not something I'm going to discuss today — the implications of the presidential race on the Senate."
Asked why he wouldn't answer Trump questions, McConnell said flatly: "Because I choose not to.
Read more: www.cnn.com