The first of 10,000 volunteers will soon walk into labs at Stanford and Duke to subject themselves to a two-day battery of tests. They'll provide a blood sample for DNA sequencing and a stool sample for a gut bacteria scan; receive a chest X-ray and electrocardiogram; and take a psychological assessment. Participants will be asked if they're willing to share electronic health records and insurance claims, and later, may be asked to share records of phone, text, and social media activity. All will go home with a sleep sensor and a special wristwatch meant to measure their heart rate, sweat, and steps for the next four years.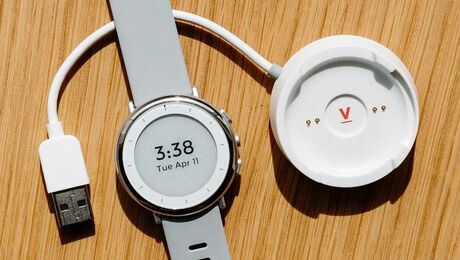 Opening on April 19, the study is called Baseline, as in a starting point for what healthy biometric data should look like. It's the first serious public test for Verily Life Sciences, formerly Google Life Sciences. While Verily has separated from Google's internet business within the Alphabet Inc. holding company, it's taking a page from the playbook of its former parent, which aims to collect and organize information online. Verily wants to collect data from our bodies, using it to guide better health decisions.
While that sounds ambitious, it's much more modest than the missions Verily promoted when it was officially part of Google. Years ago, the biotech division promised projects such as glucose-monitoring contact lenses and all-in-one medical scanners; those remain in the lab. Former employees say the internal code name for the life sciences division was Panacea—cure-all. That's over.
"We grew up," says Verily Chief Executive Officer Andy Conrad. The middle-aged geneticist has adopted the Silicon Valley T-shirt-and-flip-flops wardrobe of eternal youth, but he's given up on a lot of the jargon, including Google's onetime favorite word. Like some other Alphabet holdings, Verily has stopped talking about everything in terms of industry-changing "moonshots." What next-generation technology requires in practical terms is "setting the goal and then getting down to the day-to-day practical drudgery," Conrad says. "If you examine the real moonshot closely, you'll see a dude whose job is to rivet and a lady whose job is to do some wiring."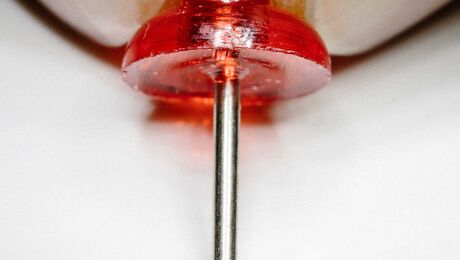 It's an opportune time for Verily, which has toned down its promises—as recently as 2015, Conrad was talking about ways to "defeat Mother Nature"—and is displaying maturity. Scandals at blood-testing startup Theranos Inc. and online insurance broker Zenefits have made investors and regulators much more suspicious of audacious claims in the health-care business. At the same time, Apple, Microsoft, and Samsung are all experimenting with artificial intelligence, data analysis, and wearable gadgets in the field, and venture capitalists continue to pour cash into companies that pass their seriousness tests.
Verily is on that list. Temasek Holdings Ltd., the Singapore investment firm, has contributed $800 million in funding, and Verily no longer needs its corporate parent to pay its bills. Other sources of income include contracts with Big Pharma companies GlaxoSmithKline, Novartis, Johnson & Johnson, Biogen, and Dexcom. This partnership model has eased Verily's acceptance in the industry compared with other Silicon Valley companies, and may help it hasten products to market, too.
Most of those efforts remain a ways off. Robert Califf, a former U.S. Food and Drug Administration commissioner who helped design the Baseline study, says he admires Verily's focus on preventative medicine, but success is far from guaranteed. "At times, Silicon Valley people are very naive about the complexity of health care," Califf says. "It's going to be a lot harder than they think."
 
 
Verily's string of false starts speaks to the field's challenges, and to Conrad's. Google Life Sciences' first project, begun in 2012, was called Iris. Brian Otis and Babak Parviz, then engineering directors at the secretive Google X research lab, built a sensor small enough to fit onto a contact lens that could measure glucose levels in a wearer's tears, a relatively noninvasive way to continually monitor diabetics. Conrad joined the division in early 2013, when Google was hiring dozens of top scientists from biotech firms, universities, and federal agencies. Back then, Life Sciences was interviewing five times as many job candidates as other divisions, says a former Google recruiter.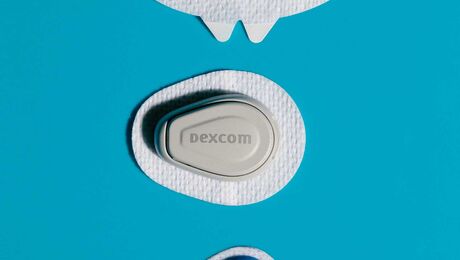 Today, Verily has settled in the biotech hub of South San Francisco. At the former headquarters of drugmaker Onyx Pharmaceuticals, 500 staffers have filled an open, glassy workspace of lab benches and standing desks, where the conference rooms are named for obscure anatomical parts.
Conrad took the CEO title when Google spun off the business under the Alphabet umbrella in 2015; the Verily name came shortly thereafter. By that time, Novartis's Alcon unit had licensed Iris's smart contact lens technology for further development, and Conrad had announced that his team was working on a -style tricorder, a handheld device that could analyze a person's health by scanning microscopic "nanoparticles" injected into the bloodstream.
Problems with each project mounted pretty fast. A commercial model of the smart contact lens has stalled because glucose readings from tears don't consistently correlate with conventional readings from blood, say two people familiar with the matter. The tricorder, which Conrad called "a few years away" in 2014, is waiting on nanoparticles that can prove consistently effective outside a petri dish. The nanoparticles Verily's researchers bought from third-party manufacturers aren't reliable in live animals, so now they're making their own.
"Mother Nature defeated us wildly," Conrad says of the tricorder project, though he's quick to add that the research continues. Alcon says it's pleased with the progress on its contact lenses but declined to provide a timetable for clinical trials. In the meantime, Verily and Alcon are working together on lenses that automatically adjust focus depending on where a person is looking and what she's looking at. (Again, no timetable.)
Another problem, several former employees say, has been Conrad's impulsive management style. Verily bled top staff in its first year under Alphabet as the embellishment-prone CEO launched major projects and reassigned staff seemingly based on whims that struck him in meetings, these people say. Last August, when Verily announced plans to work in the nascent field of immuno-oncology, seeking ways to help the immune system fight cancer, the news surprised some on the staff, says one of the former employees. Spokeswoman Carolyn Wang says the company had hired multiple experts in the field before August and is moving carefully in the "complicated area."
"Andy's a hard-driving guy who likes to win," says Bill Maris, the venture capitalist who worked closely with Conrad at Google. "He's not afraid to make changes when changes need to be made." Verily's Wang says the company was "fairly intentional about the changes that were happening around that time to its management team."
In the short term, Verily is focused on getting a separate version of its glucose monitor to market next year. This one doesn't involve a contact lens: It's basically a smaller, lighter version of the thumb-drive-size monitor sold to Type 1 diabetics by Verily partner Dexcom, which can cost patients thousands of dollars if not covered by insurance. A second, even smaller version is planned for 2020, and geared toward the Type 2 diabetes market. That could be a hard sell, as Type 2 diabetes isn't immediately life-threatening; but Otis, now Verily's chief technology officer, says the company is working to make its gear an order of magnitude cheaper. Dexcom CEO Kevin Sayer declined to comment on price.
 
 
If Verily and its partners can get their products to market, the next step will be to get customers to share the essential fuel: all that information from their bodies. Even if Verily doesn't keep the data, or even look at it, that may take a lot of persuasion. The Baseline study's tests alone likely cost at least $300 million even without administrative costs, says Sam Gambhir, the professor running Stanford's part of it. Verily declined to comment.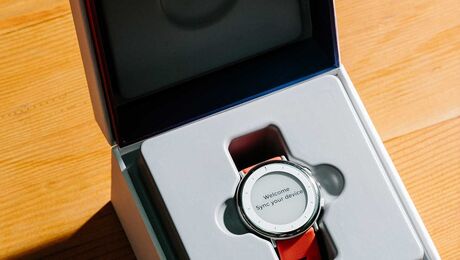 A central question behind the study, and Verily's various gadgets, is how much the company can track without creeping people out. At a March meeting about refinements to the Baseline wristwatch, Otis asked staffers to pitch ways the watch could anticipate, for example, when a patient was about to take pills without needing to tap buttons or swipe screens. "It could continuously listen for key words," said David He, the technical lead. "Say, 'I'm going to eat now.' "
"I hear that and it screams privacy," said product manager Tushar Parlikar, shaking his head. "I can't take that to our product counsel." The compromise: "We can give them feedback to keep encouraging them," He suggested. The watch could vibrate at pill time, or award gamelike badges when a user reports taking pills.
Neuroscientist Tom Insel, who joined Verily after 13 years running the mental health division at the U.S. National Institutes of Health, says his group is especially interested in trying to track phone behavior to detect the onset of depression. Many companies already use some of that information, he says, to sell ads aimed at consumers, who might as well use it to take care of themselves, as long as his team makes it easy to control who sees the data. "We must put trust front and center," Insel says. "Because, yeah, it is creepy."
Read more: www.bloomberg.com