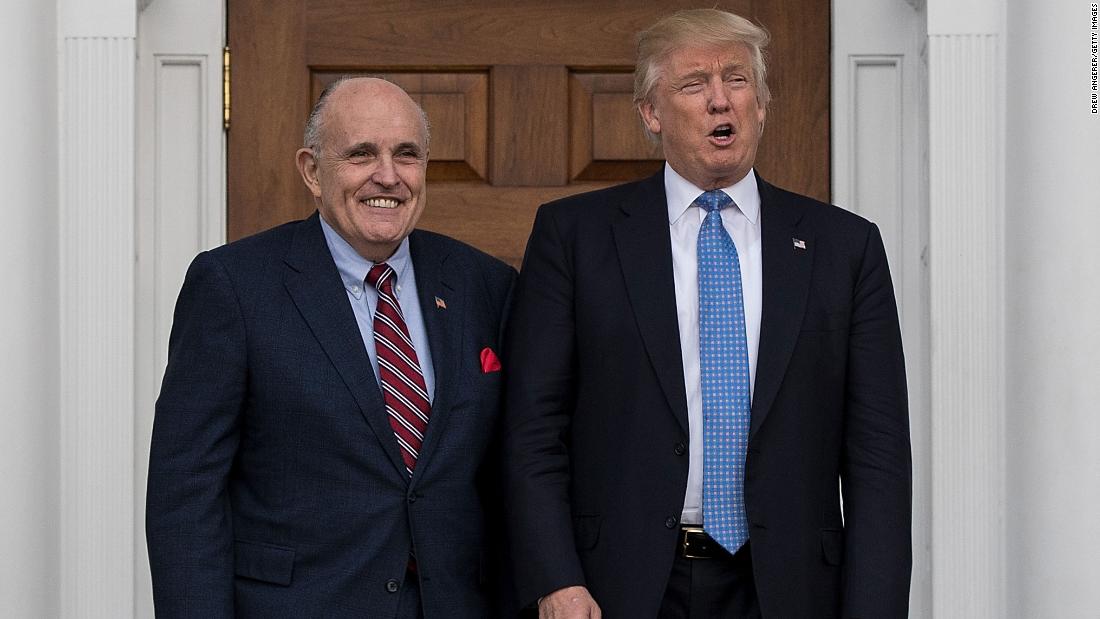 Washington (CNN)President Donald Trump's lawyer Rudy Giuliani said Sunday that the June 2016 Trump Tower meeting between senior Trump campaign officials and Russians "was originally for the purpose of getting information about (Hillary) Clinton," but denied any collusion between Russia and the Trump campaign.
"Well, because the meeting was originally for the purpose of getting information about, about Clinton," Giuliani said on NBC's
"Meet the Press,"
later adding, "That was the original intention of the meeting. It turned out to be a meeting about another subject and it was not pursued at all. And, of course, any meeting with regards to getting information on your opponent is something any candidate's staff would take. If someone said, 'I have information about your opponent,' you would take that meeting."
In the interview, Giuliani sought to excuse the meeting because of the outcome, as the President has looked to do, although
critics have alleged
that the intention of the meeting — to get dirt on Clinton from the Russian government in an effort to harm her candidacy for president — could provide evidence of collusion with Russia to affect the 2016 election outcome.
Giuliani's words mirror the President's
insistence
that the Trump Tower meeting was held "to get information on an opponent" and was "totally legal," but ultimately "went nowhere."
"I don't even know if they knew (Veselnitskaya) was Russian at the time. All they had was her name. … They knew it when they met with her, not when they set up the meeting," Giuliani said. "All they knew was that a woman with a Russian name wanted to meet with them. They didn't know she was a representative of the Russian government, and indeed she's not a representative of the Russian government."
"This is obviously very high level and sensitive information but is part of Russia and its government's support for Mr. Trump — helped along by Aras and Emin," Goldstone continued, mentioning Aras' son, Russian pop star Emin Agalarov, who he said had relayed the information.
Trump Jr. acknowledged the email, writing back in part, "If it's what you say I love it."
In July 2017 following his meeting with Senate Intelligence Committee staff, he said "I did not collude with Russia," adding, "I do not know of anyone else" on the campaign who did so.
On "Meet the Press," Giuliani also discussed White House counsel Don McGahn's extensive cooperation with special counsel Robert Mueller, who is investigating whether Trump obstructed justice. Giuliani indicated to the show's anchor, Chuck Todd, that he did not personally know what McGahn told Mueller's team, but rather, that the team had a "pretty good sense" of what McGahn said through former Trump lawyer John Dowd.
"We have a good sense, obviously, of what Mr. McGahn testified to, I can figure it out from …" Giulani said.
"Wait," Todd interjected. "How do you say that, 'good sense'? Have you debriefed him?"
"No, no, but Mr. Dowd has a good sense of it, he talked to them at the time," Giuliani replied, later adding, "I think that through, through John Dowd, we have a pretty good sense of it."
"John Dowd yesterday said — I'll use his words rather than mine — that McGahn was a strong witness for the President, so I don't need to know much more about that," Giuliani said.
The Times reported that McGahn's decision to cooperate was partly due to the fact that the President's initial legal team had decided to fully cooperate with Mueller's investigation into Russian interference in the 2016 presidential election, believing their client had nothing to hide and they could bring a quick end to the probe. But McGahn became concerned that the President planned to set him up to be held responsible for any potential illegal incidents of obstruction, the Times reported, citing to people close to him. So the White House counsel and his attorney came up with a strategy to cooperate as extensively as possible with the special counsel in order to prove that there was no wrongdoing by McGahn, the newspaper reported.
Trump blasted the Times' story in several tweets Sunday, saying he allowed McGahn and "all others to testify – I didn't have to. I have nothing to hide. …"
McGahn's personal attorney, William Burck, said in a statement Saturday, "President Trump, through counsel, declined to assert any privilege over Mr. McGahn's testimony, so Mr. McGahn answered the Special Counsel team's questions fulsomely and honestly, as any person interviewed by federal investigators must."
Read more: www.cnn.com