Gunman, 19, opened fire with assault-type rifle bought legally in Nevada before being shot and killed by police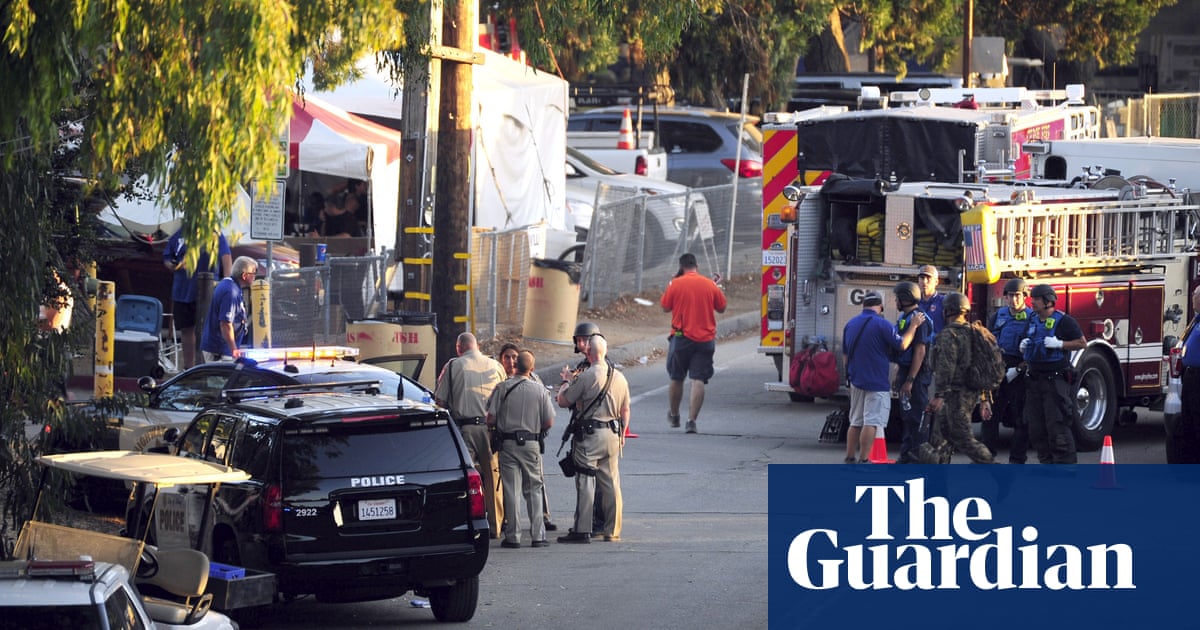 A suburban community was left deeply shaken as authorities investigate the motive of a gunman who opened fire at a popular garlic festival in Gilroy, California, killing three people on Sunday afternoon.
A six-year-old boy, a 13-year-old girl, and a man in his 20s were killed at the annual event, where visitors line up for garlic fries and ice cream amid sunshine and live music.
On Monday, authorities searched for answers as to why the 19-year-0ld shooter attacked the family-friendly festival. Craig Fair, the deputy special agent in charge at the FBI's San Francisco office, said investigators were combing through the suspect's social media profiles and investigating his history.
The suspect used an "assault-type rifle", in the style of an AK-47, officials in the northern California town said – injuring at least 12 people and killing three people before being killed by police officers who rushed him within a minute of bullets being heard.
The shooting left local residents shaken. "Not in a million years can you believe this is happening," Rosa Martinez-Ryan, who lived a block from the suspect's family, told the Guardian. She described the focus of the summer garlic festival as: "Family, family, family."
The three victims
On Monday it emerged that six-year-old Stephen Romero was among the victims. His grandmother, Maribel Romero, told KGO-TV that Stephen was a "loving boy" who was "always kind, happy and, you know, playful".
Stephen's father, Alberto Romero, said his son had been playing on a bouncy castle when the shooting happened. Alberto Romero was not at the festival, and learned Stephen had been shot when his wife called from the hospital.
"I couldn't believe what was happening, that what she was saying was a lie, that maybe I was dreaming," Alberto Romero told the San Jose Mercury News.
The other two victims were named on Monday as Keyla Salazar, 13, and Trevor Irby, 25.
The 13-year-old from San Jose died at the scene. In photos posted on her aunt's Facebook page, Keyla is seen dressed in pink, wearing a tiara of flowers and smiling as she poses with relatives. "I have no words to describe this pain I'm feeling," Katiuska Pimentel Vargas wrote. "Keyla you are an angel and we will miss you with all of our hearts. You were too young to be taken from us."
Her aunt also says the teenager may have inadvertently saved another relative's life. Keyla was eating ice cream with family members when they heard gunshots and began to flee. Vargas says her niece stayed back to keep pace with a relative who uses a cane and was shot with a bullet that otherwise might have hit that woman. Vargas says Keyla's stepfather was wounded as he went back for her.
Twenty-five-year-old Irby was a Pittsburgh Steelers fan with a broad smile who majored in biology and graduated in 2017 from Keuka College in upstate New York, where he grew up.
He lived in the tiny town of Romulus, northwest of New York City. Dionna Williams, Irby's aunt, posted a photo online of her grinning nephew wearing a graduation cap and gown.
"My nephew was one of the victims of the Gilroy Festival in California," Williams wrote. "Please pray for our family. RIP Trevor."
19-year-old gunman identified
Police identified the shooter as 19-year-old Santino William Legan.
Several news organizations, including Reuters, reported that prior to the shooting Legan had apparently posted a photo from the garlic festival on his Instagram account. "Ayyy garlic festival time," he wrote in the caption. "Come get wasted on overpriced shit." Another post referenced a racist, sexist essay.
A second suspect was "involved in some way, we just don't know in what way", the Gilroy police chief, Scot Smithee, said at a late-night news conference on Sunday. On Monday, Smithee said that police were "no closer to determining whether there was or was not a second suspect and, if there was, what involvement they may have".
California has some of the most stringent gun laws in the country, banning most assault weapons and .50-caliber rifles, as well as the sale, transfer, manufacture and possession of large-capacity ammunition magazines.
But on Monday afternoon at a press conference, police chief Smithee said Legan had bought the rifle legally in the neighboring state of Nevada on 9 July.
Big Mikes Gun and Ammo, the store in Nevada where the gunman reportedly purchased his weapon, posted a statement on Facebook condemning the attack and offering condolences to the victims. It also said the shooter had purchased the weapon from the store's website.
Read more: www.theguardian.com