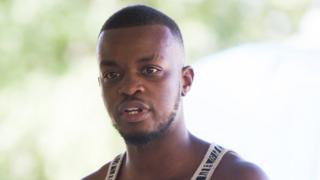 George the Poet says police strip-searched him for no reason after a gig.
"They handcuffed me and said they needed to search my car for weapons," he said.
"They were being very rude, putting hands on me. It's an outrage this is what's delegated to us as young black men," added the 27-year-old.
The Metropolitan Police said officers stopped the artist for not displaying car insurance, and that the search was conducted "correctly".

George Mpanga posted videos from the confrontation on Instagram.
"Out of nowhere they cuffed me and searched my car for weapons," he wrote.
"They put me in the van and did a strip-search. They then took 20 mins [sic] to write my search slip, being rude to my parents and neighbours the whole time."
The performer had arrived at his parents' home in north London after playing a gig when officers approached him on Thursday night.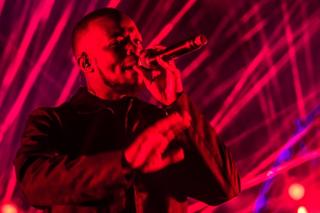 "My engine was off, my lights were off," he told BBC 5Live's Stephen Nolan.
"While I was answering questions, officers were hovering around the car, flashing torches into it.
"At this point, I'm not aware of any problems [with the car], so I'm repeatedly asking 'what are the grounds for these questions?'"
George the Poet was nominated for the 2015 Brit critics' choice award and came fifth in the BBC's Sound Of list that year.
He attended Cambridge University, and has since gone on to become one of the UK's most prominent performance poets.

The Met said officers checked the car's number plate on the national police database, which listed it as uninsured.
"They told me they'd found I wasn't insured," said George, "so I showed them my insurance policy."
He said the officers' approach then changed.
""They started implying that I was being uncooperative, handcuffed me and said they needed to search my car for weapons.
"To go from an insurance question to searching for weapons requires explanation."
His Instagram post shows family members coming out to ask police why they had stopped him.

"I don't like sharing images of me being handled like a second-class citizen by public servants whose salaries we pay taxes for," he wrote.
"But these images should be an education for anyone who doesn't understand the toxic energies that are quietly spread throughout our community by state actors."
Official figures show that black people are far more likely to be stopped and searched than any other ethnic group.
The Met Police said in a statement that they had stopped the poet for not displaying car insurance.
"Officers established that he did in fact have insurance for the vehicle," it said.
"The officers were wearing body worn video. The footage has been reviewed by senior officers who are satisfied at the way the search was conducted."
Follow Newsbeat on Instagram, Facebook and Twitter.
Listen to Newsbeat live at 12:45 and 17:45 every weekday on BBC Radio 1 and 1Xtra – if you miss us you can listen back here.
Read more: www.bbc.co.uk