Protest group formed in wake of Orlando nightclub shooting occupies lobby of one of the largest corporate shareholders of gun company stock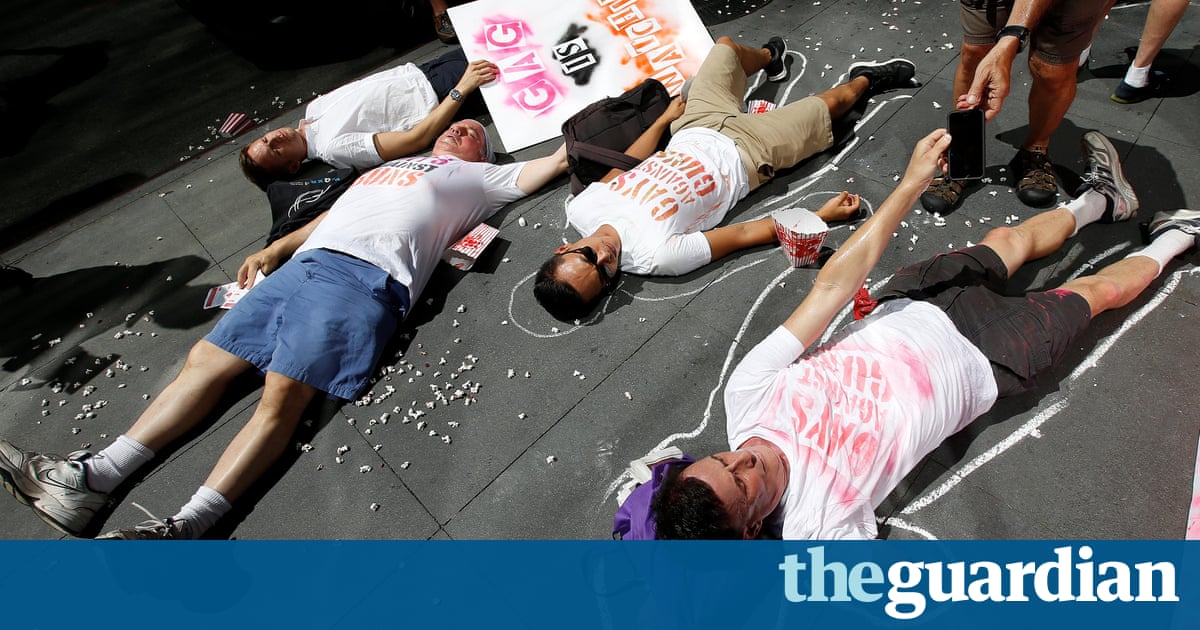 Dozens of gay activists began a campaign of civil disobedience against gun companies and their investors on Monday by holding a die-in at the headquarters of BlackRock, one of the largest corporate shareholders of gun companies stock.
Holding placards bearing photos of some of the victims of gun violence, protesters occupied the lobby of BlackRocks headquarters in midtown Manhattan for almost an hour on Monday afternoon demanding that the investment firm divest from gun stocks.
The Gays Against Guns protesters, who have said they are prepared to break the law to force action on gun control, accused BlackRock of being part of a corporate machine profiting from gun death.
Dressed in white T-shirts spray painted with the Gays Against Guns slogan, the protest group formed in the wake of the massacre of 49 people at the Pulse gay nightclub in Orlando earlier this summer held placards stating: Gun$ sell. People die. $tock soars.
BlackRock held $8.4m worth of Smith & Wesson shares and $7.7m worth of Sturm, Ruger & Co stock, according to the latest annual report of its Aerospace & Defence ETF. In the report the firm states: The leisure products industry, which is how firearms manufacturers are categorized, contributed meaningfully to index performance.
Read more: www.theguardian.com