Former Goldman Sachs No 2 had global outlook that put him at odds with Trump, whom he reportedly held in low personal regard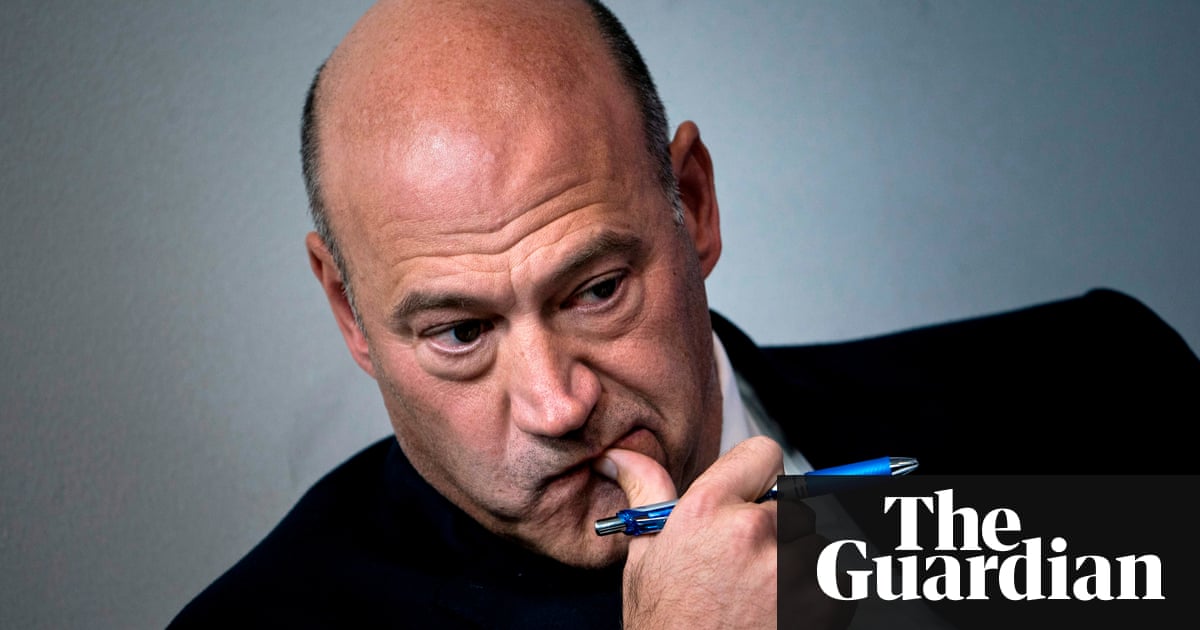 Even for a lesser titan of finance, one without a reputation for deep self-regard, it would have qualified as a painfully humbling moment.
At a news conference in January, Gary Cohn, who was the Goldman Sachs No 2 for a decade, found himself called to the lectern by Donald Trump. The president had been asked by a reporter whether Cohn was happy in his job as director of the national economic council.
"Come here, Gary," Trump said. "Are you happy?"
"Yes, I'm happy," Cohn replied through a clenched smile. "How's that?"
By Tuesday, Cohn was apparently no longer happy, becoming the most recent in a parade of departures from the White House. In a year in the Trump administration, Cohn had successfully engineered a huge deliverable for some of his peers in the financial community in the form of juicy tax cuts.
But privately, Cohn harbored strong objections to the president's leadership, reportedly going so far last summer as to draft a letter of resignation after the president blamed "both sides" for racist violence in Charlottesville, Virginia. Cohn also held a low personal estimation of the president, finding him "dumb as shit", according to the journalist Michael Wolff in his book Fire and Fury.
In that judgment, Cohn was hardly unique in the White House, but in other ways, he was a singular – and increasingly lonely – figure. He was a registered Democrat in a Republican administration, a top professional in a crowd of family members and first-timers, and a globalist who resisted the president's strong protectionist urges.
That last point of contrast reportedly became the sticking point that set up Cohn's exit, after he strenuously objected to the president's announcement last week of new steel and aluminum tariffs.
Cohn, 57, who started his career at US Steel, once the country's largest producer, believed the new tariffs would cripple American manufacturers, with devastating results for the US economy. In a Hail-Mary play before his exit, Cohn set up a meeting between Trump and manufacturing executives who opposed the tariff.
That meeting, scheduled for Thursday, has been canceled.
Cohn's exit prompted the question of whether some balance in the White House had been upset, not only on economic questions but in terms of essential worldview. A president known to heed advisers was losing a strong voice for participation in the global economy and for a global outlook generally.
Cohn's resignation followed three high-profile departures last month: the communications director Hope Hicks, the communications aide Josh Raffel, and the staff secretary Rob Porter. Other senior White House figures to have left the Trump administration include the strategist Steve Bannon, the chief of staff Reince Priebus, the press secretary Sean Spicer, the national security adviser Michael Flynn, the adviser Omarosa Manigault Newman and the former health secretary Tom Price.
Both the S&P 500 and the dollar fell sharply following the news, which was announced after the US markets closed. A Yale professor had predicted in August that a Cohn departure would "crash the markets" – but that was before the passage of the tax bill.
While Cohn's professed public enthusiasm about working for Trump was never quite credible, his ability to hang in produced the administration's sole major legislative achievement: a tax law that a Fortune columnist called the "biggest wealth grab in modern history".
Trump called it a "middle-class miracle", and Cohn, who received a $285m severance package when he left Goldman Sachs to join the administration, said: "It's not our intention to give the wealthy a tax cut."
Even after he was passed over in November for the job of chairman of the Federal Reserve, Cohn remained a team player in public.
"The opportunity to execute the president's economic agenda and deliver for the American people is an extraordinary opportunity," he said.
A month later, the tax bill was signed into law. Two months after that, Cohn was gone.
Read more: www.theguardian.com