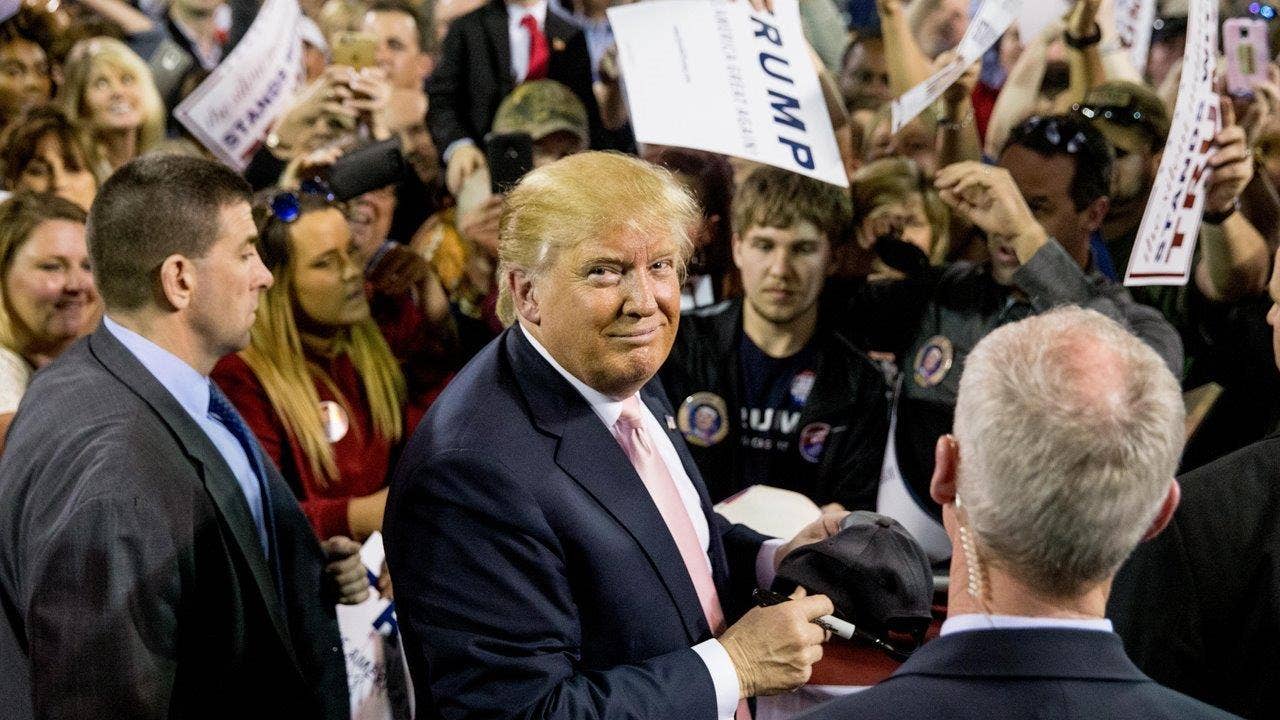 DEVELOPING …
Fox News projects Donald Trump and Hillary Clinton will easily win the delegate-rich Georgia primaries while Bernie Sanders, as expected, is projected to win his home state of Vermont.
Clinton is also projected to win Virginia in the Democratic Super Tuesday race. The GOP side is too close to call, with Trump and Marco Rubio battling for first place, comfortably ahead of Ted Cruz, John Kasich and Ben Carson.
Polls have closed in those three states, while Super Tuesday voting is under way elsewhere.
But the biggest electoral prize of this hour is Georgia. On the GOP side, Rubio and Cruz are battling for second place, while Trump is projected to win by a comfortable margin.
Its also too early to call the Republican race in Vermont, where Kasich, who campaigned heavily there, is surprisingly competitive with Trump.
Collectively, the Super Tuesday contests mark the biggest day of primary season voting to date.
Early Republican race exit polls are reflecting deep voter discontent across the country, with many saying theyre looking to an outsider to be the next president though some are still uncomfortable with the idea of an outsider like Trump claiming the Republican nomination.
Meanwhile, late-deciders in several states appeared to be breaking for Rubio, including in Virginia and Oklahoma. But Cruz was getting the lions share of support from voters looking for someone very conservative.
With polls starting to close, primary front-runners Clinton and Trump are aiming to rack up a daunting delegate lead and pull far away from their rivals in the nomination race.
The stakes are high.
Across 11 states, 595 Republican delegates are up for grabs nearly half the number needed to clinch the nomination.
And on the Democratic side, Clinton and Vermont Sen. Sanders are battling for 865 delegates in 11 states roughly a third of the number needed to clinch the nomination.
Clinton entered Super Tuesday with a head of steam following her landslide win over Sanders in South Carolina this past Saturday. She hopes her firewall of black voters holds up in several delegate-rich Southern states Tuesday, as she moves to sideline the still-popular Sanders from the race.
Sanders, though, savored his home-state win all the same, rallying cheering supporterse in Vermont Tuesday evening.
"It is good to be home," he said, before shifting to his stump speech slams against a "corrupt campaign finance system."
Barring a seismic shift in voter sentiment, Trump also is expected to dominate the Republican primary field Tuesday, adding to his already-sizable delegate lead but Rubio and Cruz are battling fiercely for second, hoping to be the definitive alternative to take on Trump in what could be a bruising, to-the-convention fight for the future of the party.
Ohio Gov. Kasich, who's expressed low expectations for Super Tuesday, remains in the race in hopes of making it to the Ohio contest in two weeks, though his presence continues to frustrate efforts by Rubio and Cruz to consolidate support.
Super Tuesday was never anything that we ever thought was going to be some great thing for us, Kasich openly acknowledged to Fox News earlier Tuesday.
Cruz is the odds-on favorite in his home state of Texas which, with 155 delegates, is the biggest prize of the night. In a sign of his expectations, Cruz planned his election night party in Stafford, Texas.
But because delegates can be allocated proportionally in the Super Tuesday contests, Rubio and Cruz both want to rack up a substantial number of second-place finishes.
A Rubio campaign aide told Fox News they are "focused on only one thing today: delegates."
Trump earlier called on Rubio to drop out, but the senator vowed to go to all 50 states in a bid to thwart his presidential run.
In the run-up to Tuesday, Cruz and Rubio both have stepped up their attacks on the front-runner, resorting to the kinds of personal insults and attacks that have defined Trumps campaign style.
Rubio defended the new tack in an interview with Fox News.
Every now and then, someone like that needs a taste of their own medicine because that's called a bully and hes using the pulpit of the presidency or the presidential run to insult people, Rubio said.
Cruz told Fox News that while Trump will have a big chunk of delegates come Wednesday morning, We're going to have a big chunk of delegates, and there's going to be a huge drop off for everybody else.
Retired neurosurgeon Ben Carson, meanwhile, has defended his continued presence in the race.
People have asked for somebody who is not a politician, who was a member of we the people, who has an outstanding life of achievement and who thinks the way they do, he told Fox News.
Read more: www.foxnews.com