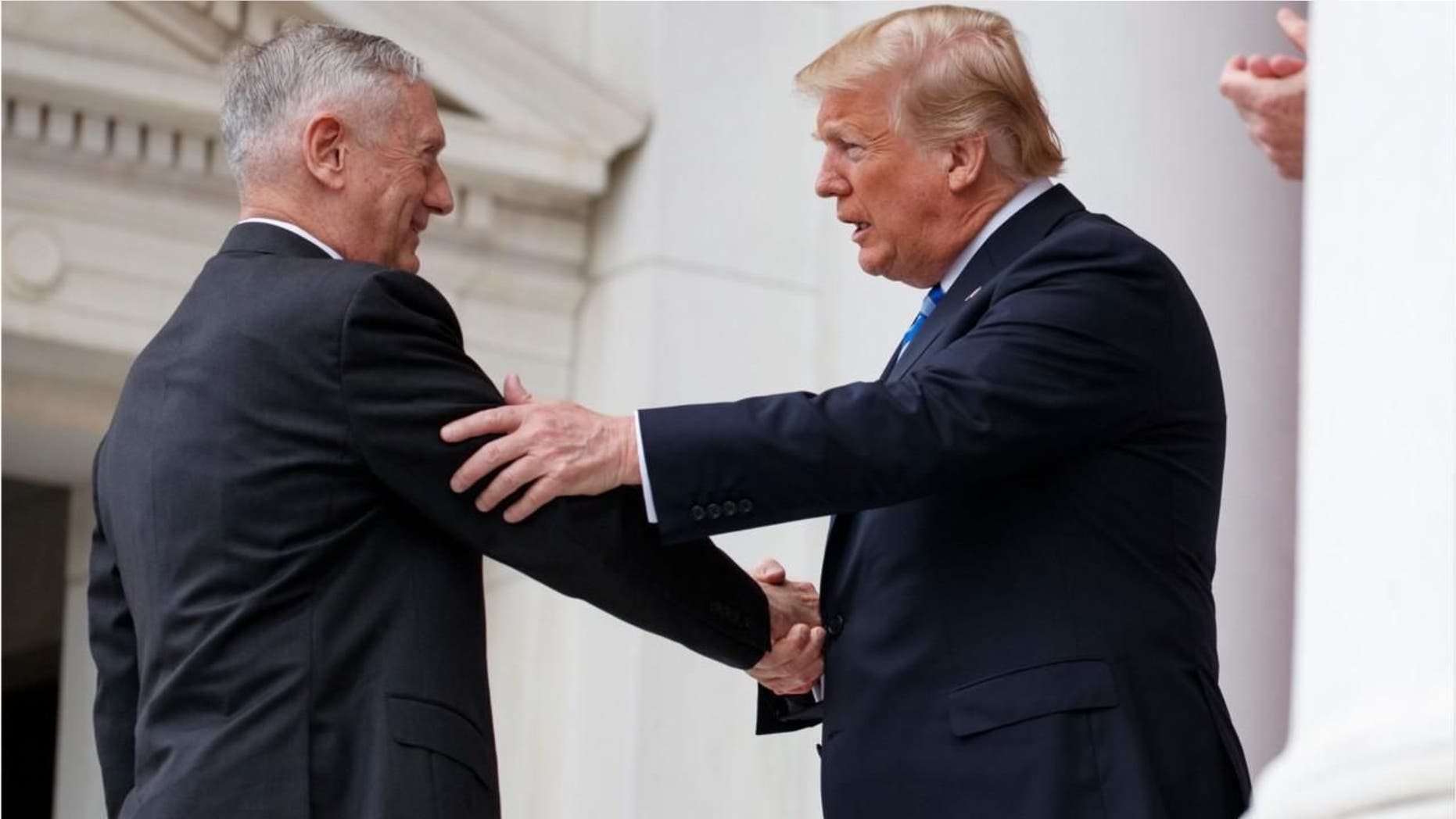 Developing now, Monday, Oct. 15, 2018
THE LEAD STORY – THE TRUMP SITDOWN ON '60 MINUTES': President Trump raised eyebrows on several topics in a wide-ranging interview on "60 Minutes" Sunday night … The president addressed rumors of Secretary of Defense James Mattis' imminent departure by saying that he "may leave" and calling the widely respected general "sort of a Democrat." However, Trump pointed out that "everybody leaves" during the course of presidential administrations and that he and Mattis have a good relationship. Speculation about Mattis started at a fever pitch last month when Woodward's book "Fear" was released. The book claimed Mattis told associates at a National Security Council meeting this year that Trump had the understanding of, and often acted like, a "fifth- or sixth-grader." Mattis denied Woodward's allegations.
President Trump also called reports that the White House is in chaos "so false" and "fake news." In a contentious exchange with "60 Minutes" correspondent Lesley Stahl, he said he had "no intention" of shutting down Special Counsel Robert Mueller's Russia investigation and added that he believes that China interfered in the 2016 election as well. When asked why he would not "pledge" to not shut down the Russia probe, Trump said, "Why should I pledge to you? If I pledge, I'll pledge. I don't have to pledge to you."
The president also defended his past comments on NATO, saying that the United States will no longer be taken advantage of and that NATO countries must pay more into their defense budgets. At one point, Trump said he thinks he knows more about the NATO alliance "from the standpoint of fairness" than Defense Secretary Mattis. And on efforts to denuclearize North Korea, Trump said he trusts Kim Jong Un to dismantle its nuclear weapons program. He attributed their special relationship to "good chemistry."
TRUMP TO SEE MICHAEL'S DEVASTATION: President Trump and first lady Melania Trump on Monday are expected to visit the parts of Florida and Georgia destroyed by Hurricane Michael last week and see the recovery effort for himself … The president declared a state of emergency for Georgia late Sunday. Upon touring the damage in several towns along Florida's Panhandle, Federal Emergency Management Agency chief Brock Long called the destruction left by Hurricane Michael some of the worst he's ever seen.
In hurricane-flattened Mexico Beach, Fla. crews with backhoes and other heavy equipment scooped up splintered boards, broken glass, chunks of asphalt and other debris Sunday as the mayor held out hope for the 250 or so residents who may have tried to ride out the storm. The death toll from Michael remained at 17, with just one confirmed death so far in Mexico Beach. But authorities acknowledge the death toll could rise as search-and-rescue efforts continue.
SEARS' SAD FINAL CHAPTER?: Sears Holdings made it official early Monday morning, announcing the retailer has filed for Chapter 11 bankruptcy protection … Sears had a debt payment of $134 million due Monday. Banks have agreed to provide Sears with a bankruptcy loan. Sears says that Eddie Lampert's hedge fund will provide $300 million in bankruptcy financing. Lampert will also step down as CEO, but remain chairman.
• A look back at Sears' slow decline
KHASHOGGI MYSTERY DEEPENS: Saudi King Salman and Turkish President Recep Tayyip Erdogan are reportedly considering forming a joint task force to investigate the disappearance and presumed killing of activist Saudi writer Jamal Khashoggi … State-run news agencies in both Saudi Arabia and Turkey acknowledged that the two leaders spoke by phone Sunday night. Turkey said Erdogan "stressed forming a joint working group to probe the case." Saudi Arabia meanwhile said King Salman thanked Erdogan "for welcoming the kingdom's proposal" for forming the working group.
The potential joint probe comes after the Saudi government on Sunday vowed to retaliate with "greater action" if the Trump administration punishes the country with sanctions for the apparently premeditated slaying of Khashoggi earlier this month inside its Turkish Embassy. Khashoggi, who wrote columns in the Washington Post critical of the Saudi government, entered the Saudi Consulate in Istanbul on Oct. 2 and disappeared. Trump has said the U.S. would be "very upset and angry" if the Saudi government was behind it and, in an interview with "60 Minutes," he clarified that there would be "severe punishment."
HILLARY STANDS BY HER MAN: Hillary Clinton denied in an interview Sunday that her husband's extramarital affair with then-White House intern Monica Lewinsky was an abuse of power and added that former President Bill Clinton was right not to resign amid a scandal that led to his impeachment on perjury and obstruction charges … "Absolutely not," the former first lady said during the CBS "Sunday Morning" interview when asked if Bill Clinton should have stepped down. "It wasn't an abuse of power?" CBS News correspondent Tony Dokoupil asked. Clinton responded: "No. No." Hillary Clinton, who went on to be elected to the Senate and served as President Obama's secretary of state, said the relationship was not an abuse of power because Lewinsky "was an adult." At the time of the affair, Lewinsky was 22.
ROYAL BUNDLE OF JOY COMING: Meghan Markle, Duchess of Sussex, is pregnant, Kensington Palace announced Monday … She and Prince Harry are expecting to have their first child next spring. "Their Royal Highnesses are very pleased to announce that the Duchess of Sussex is expecting a baby in Spring 2019," Kensington Palace announced on Twitter. "Their Royal Highnesses very much appreciate all of the support they have received from people around the world since their wedding in May and are delighted to be able to share their happy news." Meghan Markle and Prince Harry married last May.
CHECK OUT FBN'S NEW PRIMETIME LINEUP: FOX Business Network's new primetime lineup will premiere on Monday … Here's the new FBN lineup (all times are Eastern):
2 p.m.: "Making Money with Charles Payne"
3 p.m.: "Countdown to the Closing Bell with Liz Claman"
4 p.m.: "After the Bell with Melissa Francis and Connell McShane"
5 p.m.: "Bulls & Bears with David Asman"
6 p.m.: "The Evening Edit with Elizabeth MacDonald"
7 p.m.: "Lou Dobbs Tonight"
8 p.m.: "Trish Regan Primetime"
9 p.m.: "Kennedy Live"
AS SEEN ON FOX NEWS WEEKEND
DEMOCRATIC 'DEMON-RATS' – "To all those Trump-hating 'demon rats' and the mainstream media, keep up the antics. You're all losers. Sore losers. Stupid losers. Too dumb to even know that you're losing." – Judge Jeanine Pirro, in her "Opening Statement" on "Justice with Judge Jeanine," ripping the anti-Trump tactics of the left as the midterms approach. WATCH
THE 2018 MIDTERMS
Romney denies he led 'never Trump' movement, says president's policies 'pretty effective.'
Bernie downplays rumors of possible 2020 run despite upcoming trip to South Carolina.
2018 Midterms: Stay with FOX News for full coverage and analysis.
TRENDING
Bigfoot podcast 'Wild Thing' explores Sasquatch hunters, uncovers surprising evidence.
Doritos lure runaway pig 'the size of a mini horse' home.
Texas girl, 5, hospitalized following sting from venomous caterpillar, mom says.
THE SWAMP
White male 'gun nuts' are 'biggest terrorist organization on the planet,' Tennessee Dem ally wrote online: report.
Jordan says Rosenstein should be subpoenaed if he refuses to testify before Judiciary Committee.
'A change in mood:' Allies soften tone on U.S. trade policy.
ACROSS THE NATION
Campaign worker goes public with sex-assault allegation against colleague, saying she 'can't get any justice.'
California bus crash leaves approximately 40 people hurt.
Matthew Shepard to be interred at Washington National Cathedral 20 years after his murder.
MINDING YOUR BUSINESS
Earnings season kicks into gear in the week ahead.
U.S.-China trade war might end soon, Asia expert says.
ICYMI: Walmart reaches $65M settlement with cashiers over seating.
How much Uber, Lyft drivers really make.
Maria Sharapova's biggest piece of advice to female entrepreneurs.
Want to buy a McDonald's franchise? Here's how much it would cost.
FOX NEWS OPINION
Jerry Falwell Jr.: President Trump frees Pastor Brunson from Turkey, proves liberal media wrong.
Steve Hilton: Trump's triumphs explain the left's over-the-top rants over Kanye.
Ying Ma: Harvard's racism cannot stand — Elite universities have protected the diversity sham for too long.
HOLLYWOOD SQUARED
Foo Fighters, 10-year-old boy perform Metallica song at Missouri concert.
'First Man' opens at No. 3 despite flag controversy, fails to topple 'Venom' and 'A Star is Born.'
ICYMI: Alec Baldwin returns to 'SNL' to spoof Trump-Kanye West meeting in Oval Office.
DID YOU HEAR ABOUT THIS?
Six-foot bull shark leaps into family fishing boat, 'petrifies' kids.
New study reveals America's fastest drive-thru chain.
STAY TUNED
FOX Nation is coming! – Sign up now and find out about its exciting launch! CLICK HERE to take a sneak peek at the FOX Nation lineup.
On Facebook:
Check out 'FOX News Update,' our new Facebook-exclusive news program!
On FOX News:

FOX & Friends, 6 a.m. ET: Special guests will include: Jonathan Turley, professor of law at George Washington University Law School; Georgia gubernatorial candidate Brian Kemp; GOP strategist Lee Carter puts political ads to the dial test.
On FOX Business:
Mornings with Maria, 6 a.m. ET: Special guests include: U.S. Rep. Scott Perry, R-Pa.; Mike Huckabee; Joe Lieberman, former U.S. senator from Connecticut and Democratic VP nominee.
Varney & Co., 9 a.m. ET: Bob Hugin, GOP New Jersey Senate candidate; Andy Puzder, former CEO of CKE Restaurants.
Cavuto: Coast to Coast, Noon ET: John Hofmeister, former Shell Oil president.
Making Money with Charles Payne, 2 p.m. ET: U.S. Rep. Francis Rooney, R-Fla.; Tony Perkins, president of the Family Research Center; Jon Hilsenrath, Wall Street Journal chief economics correspondent; Paul Dietrich, CEO and chief investment officer of Fairfax Global Markets; Adam Johnson, founder and author of Bullseye Brief; Art Hogan, chief market strategist for B. Riley FBR and B. Riley Wealth Management; Lawrence Jones, editor in chief, Campusreform.org.
Countdown to the Closing Bell with Liz Claman, 3 p.m. ET: Howard Marks, Oaktree Capital Management founder and co-chairman.
After the Bell with Melissa Francis and Connell McShane, 4 p.m. ET: Tony Sayegh, Treasury Department assistant secretary for public affairs; Ron Paul, former congressman and presidential candidate; Doris Kearns Goodwin, presidential historian and author of "Leadership in Turbulent Times."
Bulls & Bears with David Asman, 5 p.m. ET: Karl Rove; Jason Chaffetz, FOX News contributor and former House Oversight Committee chairman; Ben Stein, actor and economist.
On FOX News Radio:
The FOX News Rundown podcast: America seems more divided than ever as the midterm elections approach. FOX News' Juan Williams discusses the country's political divide and his new book, "What the Hell Do You Have to Lose?" Last week, Kanye West and Taylor Swift got political. FOX News' Tonya J. Powers discusses the two polarizing pop culture figures and the potential impact of their political endorsements. Plus, commentary by social media personalities Diamond & Silk.
Want the FOX News Rundown sent straight to your mobile device? Subscribe through Apple Podcasts, Google Play, and Stitcher.
The Brian Kilmeade Show, 9 a.m. ET: New York Post columnist Michael Goodwin on why liberals have ganged up on Kanye West; Larry Sabato and Bret Baier take on President Trump's "60 Minutes" interview, the midterms and the mystery surrounding Saudi writer Jamal Khashoggi's disappearance.
#OnThisDay

1991: Despite sexual harassment allegations by Anita Hill, the Senate narrowly confirms the nomination of Clarence Thomas to the U.S. Supreme Court, 52-48.
1976: In the first debate of its kind between vice-presidential nominees, Democrat Walter F. Mondale and Republican Bob Dole face off in Houston.
1860: Eleven-year-old Grace Bedell of Westfield, N.Y., writes a letter to presidential candidate Abraham Lincoln, suggesting he could improve his appearance by growing a beard.
FOX News First is compiled by FOX News' Bryan Robinson. Thank you for joining us! Enjoy your Monday! We'll see you in your inbox first thing Tuesday morning.
Read more: www.foxnews.com