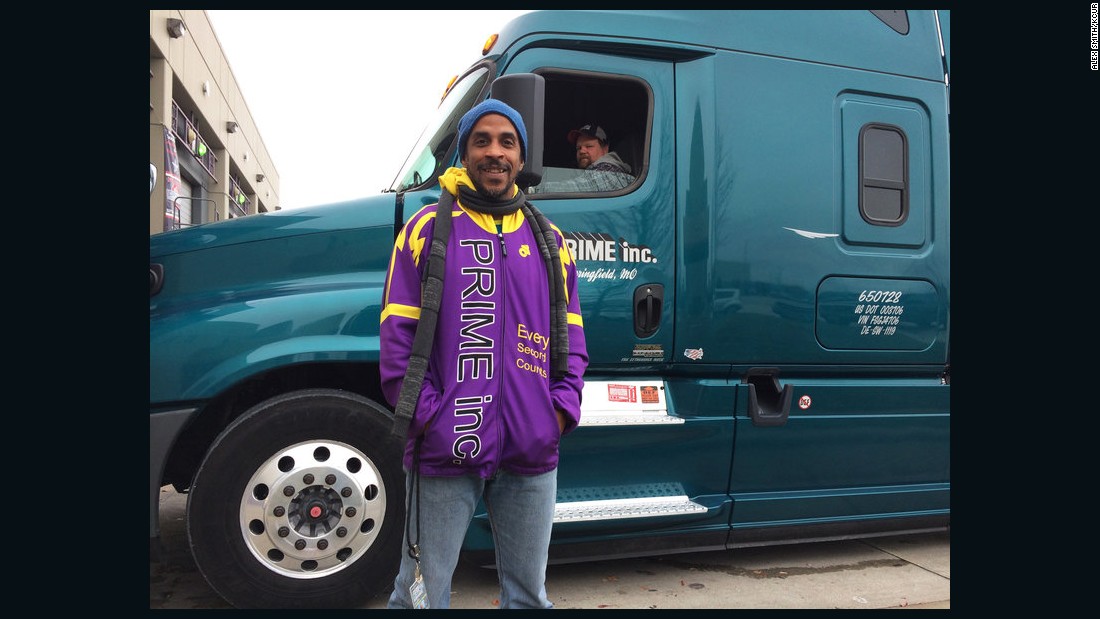 On a chilly winter morning, dozens of truck driver trainees file into a classroom at the headquarters of Prime Inc., a trucking company based in Springfield, Mo.
At the front is
Siphiwe Baleka
, an energetic former swimming champion in his mid-40s. He delivers grim news about trucker health to the new recruits.
"If you haven't started to think about this, you need to start right now," Baleka said. "You are about to enter the most unhealthy occupation in America."
That's not an official designation, but truckers do have more
health problems
, compared to U.S. averages. Around 70 percent of truck drivers are obese and at high risk for conditions like heart disease and diabetes, and many in the trucking business worry that the poor health of drivers is threatening the industry.
Baleka tells the new drivers he's here to help.
Menolascina said that Baleka helped him lose weight and bring down his blood pressure just by helping make him more aware of his diet and exercise habits — without requiring Menolascina to completely swear off favorite comfort foods.
"When I eat something, I know what I'm eating," Menolascina said. "If I'm going to eat that macaroni and cheese, I know exactly what I'm putting in my body. And sometimes I'll pick that macaroni and cheese over a salad or some low-sodium soup, or something like that. I'm making that choice because I'm human."
The relatively small lifestyle changes that Baleka promotes could be enough to make a life-changing difference in the health of many truck drivers, says
Dr. Clayton Cowl
, chief of preventive, occupational and aerospace medicine at the Mayo Clinic in Rochester, Minn.
"The drivers themselves — they don't need to be running marathons, necessarily," Cowl says. "It's finding those times when there is some downtime, where they are able to find several days per week to do activities that they enjoy and find ways to reduce stress."
Cowl studies commercial driver health and sees drivers in his clinical practice. While he's supports the kind of wellness program Baleka manages, he said it would be improved by addressing driver's mental health.
The isolation and lack of control of one's life that are endemic to trucking can contribute to anxiety and depression.
"I think having the employer understand those stressors, recognizing it for what it is and trying to accommodate some of the needs of the drivers certainly goes a long way to quelling some of those stresses out there," Cowl said.
Baleka's program is encouraging, says
Scott Grenerth
, the regulatory affairs director of the Owner-Operator Independent Drivers Association. But improving trucker health is pushing against the tide, he said, in an industry that's been demanding more and providing less to drivers in the past few decades.
Baleka said nearly half of all trucking companies operating in the U.S. don't have any wellness programs, and many of those that do are focused on driving safety.
Read more: www.cnn.com