The long read: After her son was born prematurely, Tahmima Anam thought the worst was behind her. But when he was allowed to come home two months later, a new problem emerged: he refused to eat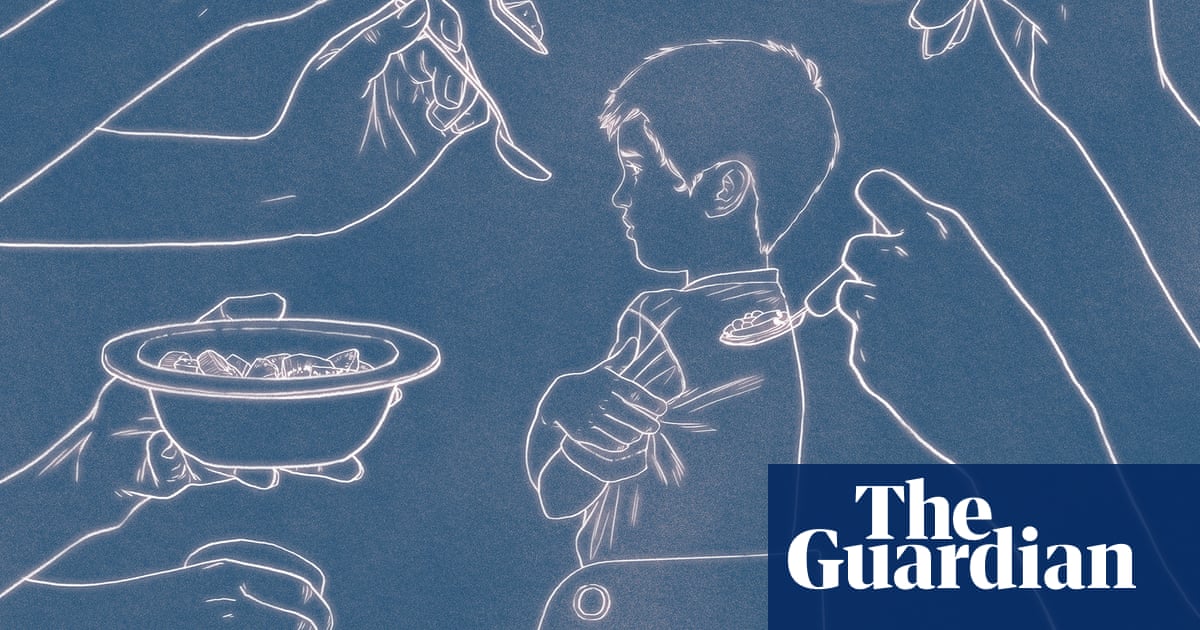 My son was born twice: first on a warm, late June afternoon in a busy east London hospital, and again five years later at a small children's nursing home in Queens, New York.
I was six-and-a-half months pregnant when I was diagnosed with pre-eclampsia. On the day it happened, I had done a series of unremarkable things: shopping for bread, editing a story, calling my parents in Bangladesh. In the afternoon, my midwife came over for a routine visit. She checked my blood pressure and saw that it was high, so she asked me to pee on a stick. When I returned it to her, she told me to pack a bag.
It took us 10 minutes to get to Homerton hospital, where the slightly harried doctor on duty told me that the only cure for pre-eclampsia was delivery. I had trouble understanding how delivering a baby 10 weeks early could be classified as a cure, but I was not given time to argue. They prepped me for surgery, a needle in my back, compression socks on my feet. I lay down on the operating table and my husband cradled my head in his arms. I felt no pain, only pulling and tilting and rocking, as if someone had tied me down and set me afloat. Then, a silence I could have sworn lasted hours, but must have only been a few minutes, after which I heard a soft cry. A nurse gave me a brief glimpse of my son's swaddled form before whisking him away to the neonatal intensive care unit. I didn't know then that I wouldn't see him again for three days, that he would be in the hospital for two months, and that, once released, he would refuse to eat for five years.
---
We arrive at St Mary's hospital for children in New York on a Monday after a seven-hour flight from London. For weeks we have been rehearsing the following lines: "Where are we going?" "To Eating School!" "Who's going to feed you when we get back?" "Me! I'm going to feed me!"
We have been listing the things we would learn to eat: sandwiches, cheese, French toast, pancakes. We have counted down the days. My husband and I have remortgaged our house and maxed out our credit cards on the tickets, childcare for our younger daughter, the house we've had to rent in a suburban enclave of Long Island. And now here we are.
Everything is just as I'd imagined – glass and steel, soaring ceilings, expensive furniture – except the hush. I'm used to hospitals in London and Dhaka, where no matter what time you show up, it's always a struggle to find an empty seat in the waiting room. At St Mary's, the plush blue chairs are vacant; the panoramic views over Little Neck Bay are enjoyed only by a handful of nurses on their breaks. Because I am so absorbed in our tiny part of this story, I notice the quiet but don't stop to wonder. In any case, our unit, the Cindy & Tod Johnson Center for Pediatric Feeding Disorders, is downstairs and abuzz. In the central area where the feeding therapists work between sessions, there is the sound of chatter and keyboards, and in the corridors, parents ferrying their children to their sessions in therapy rooms furnished with highchairs, televisions and tiny kitchenettes.
Moments after we arrive, we meet the supervisor of the programme, Stella Yusupova. I've been corresponding with Stella for over a year now, and she has been briskly efficient, advising me on everything from housing to daycare. Stella takes us to the observation room, where we will watch our son via a video feed while his therapist works with him.
"He's going to resist," she tells us. "It will sometimes be hard to watch."
"We trust you," I say, wanting her to like me. "We've tried everything."
We have. We have consulted paediatricians, nutritionists, teachers, psychologists, speech and language therapists, homeopaths. Everyone has told us some form of "it will get better". At Great Ormond Street, the top children's hospital in London, they told us that as long as he wasn't starving, there was little they could do.
He is not starving. We have found one food that he will accept: baby porridge, a finely milled combination of oats and powdered milk. We mix it with formula, a calorie supplement and powdered vitamins. When we are really lucky, he allows us to blend in some protein and vegetables, but only if it doesn't alter the taste, texture or smell of what is in his bowl.
Every day for the better part of five years, we have nervously heated milk and measured powders. For the better part of five years we've bribed him with an iPad, cajoled him into opening his mouth, and put the spoon against his lips. For five years we have dreaded every meal, knowing that whatever he consumed was never enough, knowing that we would have to wake up the next day and start all over again. For five years the anxiety has gnawed away at us, as we've wondered if today would be a good day, if he would eat of all his porridge or if he would refuse or throw up or start another weeklong hunger strike. For these years, our parenting has revolved around food. We have only left the house for small intervals. We have never eaten a meal together. We have watched other children with wonder and envy.
There are no specialist feeding clinics in London, or anywhere in the UK, that could help us. After frantic searching, reaching out to friends, posting desperate messages on online forums, we were finally told about St Mary's. We went through the assessment, hoping that by the time we were taken off the waiting list something would have shifted and the whole journey would have become unnecessary. And of course, it hadn't, and so we got on that plane and walked through those glass doors, dreaming of sandwiches.
---
If I had wondered, in my before-life, what my first moments of mothering might be like, I would not have envisaged being separated from my child. I had been warned about the sleep deprivation, the exhaustion, the unspeakable damage that would be done to my body, but I had not imagined being alone. One day I was shopping for strollers, and the next I was thrown into the dark world of prematurity, where my child was not quite mine. My belly was deflated, my body sawn in half, and yet the baby that had been tugging at me from the inside was not in my arms.
At first, the catheter had me shackled to my hospital bed. Then it was my blood pressure, which they couldn't get down. My husband shuttled back and forth from the delivery suite to the neonatal intensive care unit (NICU). For many hours a day, he performed kangaroo care, holding our son against his bare chest. Later I would see photographs of the two of them together, our son's face and his tiny hands clutching at his father. These precious first days would tether them to each other, a secret, mysterious bond I would always covet.
On the third day, after a tense argument with a midwife, I was allowed to make the journey to the NICU in a wheelchair that would only go backwards. I was reversed though the maze of the hospital into a room full of machines that clicked, beeped and hummed. When I was finally at his side, the plastic dome of the incubator divided us. A nappy covered half of his body, the rest of him bare except for a thin sheet of black down over his skin, the lanugo that was supposed to be replaced by fat in the last weeks of pregnancy. I was seeing something I was not supposed to see; all of this was meant to happen in my body but away from my sight.
I had to make milk. Right now the baby was on IV fluids, but soon he was going to need calories. First, I had to squeeze the colostrum out with my hands. I squeezed and squeezed. As the thick yellow drops came out – more like phlegm than milk – I had to catch them on the tip of a syringe. For days I failed to make enough, so they put him on formula, which he didn't tolerate. They weighed him every Wednesday and Sunday: a verdict. Night after night, I kneeled on the side of my hospital bed and manhandled myself, pleading with my body to cooperate.
A thin plastic tube snaked into his nose and then down through his oesophagus and into his stomach. To feed him, they poured small amounts of milk into the tube and let gravity pull the milk into his body. Before every meal, they suctioned out the aspirate in his stomach. An empty stomach was a good thing. A stomach full of milk from the last feed meant he was not absorbing the feeds properly. If the milk came out green, there was a risk of infection, the dreaded necrotising enterocolitis that premature babies are susceptible to.
For two weeks, while the doctors worked to get my blood pressure down, I lived on the maternity ward. On the other side of the thin curtains that divided us, I heard the sound of women being wheeled in just after giving birth. I heard their children wailing. I found clots of blood in the drain of the shower. I heard their families cooing and I saw their blue and pink balloons tapping the ceiling. In the morning, the nurses put boxes of cereal and jugs of milk out on trolleys, and I met the women and babies I'd been hearing all night, the women shuffling on slippered feet, holding their abdomens. Who knew what secret wounds lay beneath their folded hands? My own wound had become infected. On top of antihypertensives, diuretics, morphine, I was given a course of antibiotics. After a day or two, the mothers and babies went home, and new ones arrived. I spent hours by my baby's incubator, often just staring through the plastic and watching the spokes of his ribcage rise and fall.
For as long as I can remember, I have been afraid I would never have children. It wasn't that I was desperate to have them, just that I was convinced I couldn't. I didn't realise until much later that I had inherited this fear from my own mother, who, after getting pregnant with me by accident when she 21 and newly married, struggled with infertility for over a decade. On a recent trip to Paris, walking along the Rue du Commerce, I asked my mother what it had been like to move halfway across the world when my father got his first job with the UN. I thought she might mention her fear of French people, maybe tell me an old story about how they treated their dogs – like kings – but instead she told me she was sad the whole time, because as the years went on, she had to confront the possibility that there would be no more children. I'm imagining her now, pushing my red and white striped stroller through a gravelled Parisian park, cold winds rushing the tears along.
In the end, my fears were not unfounded. There were multiple miscarriages, ultrasounds with missing heartbeats, a trip to the hospital to remove the last of a pregnancy that remained lodged in my body. A doctor told me I had an abundance of something called "natural killer cells", which at first sounded like a joke (it wasn't); the next time I got pregnant, he put me on heavy doses of steroids. For 12 weeks, my hair fell out and I was in a state of perpetual rage, until finally, around the three-month mark, I began to feel better, and the odds of things going wrong began to fade. I assumed that after all that I had earned an uneventful pregnancy – maybe even some kind of moral credit, a little karmic abundance – and that I might now join the ranks of all the other women who were drifting through the looking-glass into motherhood.
---
Stella hands me a binder containing the rules of the St Mary's feeding programme. We are to arrive at the hospital at 8am every morning. We will have four therapy meals a day, with breaks of 90 minutes in between. She shows us the various areas we can use to cover the time: a playroom, a grassy area outdoors, two cafeterias, a small library. At 2.30pm we will be sent home. I will be given strict instructions on how and when to feed my son for the rest of the day. I will take notes on every meal, document every gram he eats and every millimetre he drinks. I am given a chart with images of different types of poo. I will write down which type came out and what it looked like.
Stella introduces us to our therapist, Kisha Anderson. Kisha is tall with long, dark braids and a deep, soothing voice. I love her immediately. Right away she introduces three things that are about to change our son's life. First, the maroon spoon. Apparently the silicone weaning spoon we've been using is too deep and narrow; the maroon spoon is shallow, encouraging him to open wide while allowing the food to easily slide into his mouth. Next, Kisha puts a foam handle on the spoon, making it easier for him to hold correctly. And finally, she sets a timer. Each meal will only last 20 minutes.
The kind of therapy they will use to get our son to eat is called applied behaviour analysis, and consists of a regime of rule-setting with consistent positive reinforcement. Kisha shows him a series of toys and asks him to choose. iPad or toy train? iPad. iPad or toy car? iPad. iPad or action figure? iPad. She takes notes. The iPad is now the reinforcer, the official carrot.
Kisha lets him watch 10 seconds of the iPad, then she says "my turn" and takes it away. She dips the tip of the maroon spoon into a tub of yoghurt and slowly places it in his mouth. He puckers, but doesn't spit it out. Immediately she gives him the iPad again. He watches 10 seconds of Despicable Me 3, laughs at a joke involving a banana. Again she dips the tip of the spoon into the yoghurt. "Open your mouth," she says to him. I have said these words a thousand times. He parts his lips and she swiftly scoops the tiny amount of yoghurt in. Again, the iPad. She takes notes. On the third try, he refuses. "I don't like yoghurt," he says. "Take your bite," she says. He shakes his head. "Take your bite," she repeats.
On about the sixth or seventh round, my son opens his mouth and the pink yoghurt disappears. Kisha beams. "Wow!" she exclaims, "you blew me away!" She pretends to fall off her chair. After his 10 seconds of iPad, he does it again. And again. She dips more and more of the spoon into the yoghurt container. At first he will only allow the very tip of the spoon to enter his mouth – the habit that has prolonged every meal – but Kisha insists that he open his mouth and clear the spoon. He won't get his iPad until he does. Almost immediately, he obeys.
In the observation room, my husband and I are looking at each other and shaking our heads. This is the first time he has ever eaten anything that is not oatmeal, that is not beige, the first time he has taken a full spoonful of anything. Kisha is wildly enthusiastic every time he takes a bite of food. She is impassive when he refuses. "Take your bite," she repeats. When he flails his arms, she says "quiet hands". She displays no frustration, no anger, no exhaustion. "Take your bite," she says, calm. He takes his bite. He clears his spoon.
That is day one. We sail home in shock and disbelief.
---
The nurses on the maternity ward were fed up of hearing me plead for a room. "Take me off the ward," I begged. "I can't listen to the babies any more." Finally, they relented. In the narrowing warmth of dusk or the grey pink of first light, I was grateful to be able to cry behind a closed door.
Homerton has a level 3 NICU, one of the best in the UK. They put the sickest and tiniest babies in two wards at the back of the unit. Once he started breathing on his own, our son was transferred to a lower-dependency room. Still, there were rigid rules I had to follow. I was not allowed to take him in and out of the incubator too much. I was not allowed to let him nurse, even if he opened and closed his mouth like a fish. Every time I went near him, I had to wash my hands and rub them down with sanitiser. Aside from my husband and I, no one was allowed to touch him. When people came to visit, the most they could do was to peer through the window of the room he shared with seven other babies. There were nurses who were soft and kind, and nurses who were brittle from the job, but I had to suck up to them all equally, because when I was not there, they were doing all the mothering.
When my husband had to return to work, friends came to keep me company. I instructed them to bring cake. My friend Bee arrived with small chocolate muffins. "Poo cupcakes!" she announced. "You need to poo." I was not allowing my wound to heal because I was sitting up all day in the high-backed chair next to the incubator. I took extra, illicit doses of painkillers. In the courtyard of the hospital, I sometimes perched on a square of summer and showed photographs to whoever cared to look. There he was, two-thirds nappy. The tube in his nose. The IV going into his ankle. He was so small, so wrinkled and translucent, it was difficult to imagine he would ever resemble those other babies on the maternity ward.
There is so much I didn't know then. I did not know that eventually we would all go home. That in the first year, I would wean him when the books said it's OK to, because it had been been seven months of all-nighters, because I was sore and tired and I wanted to write books again. That we would return him to the hospital many times; that there would be two bouts of pneumonia, vomiting almost every night, inhalers and steroids and nebulisers. That one day he would gnaw on a piece of bread, the first and last time he would ever do that, and I would think about that piece of bread every day for the next four-and-a-half years.
In the second year, I would start a novel, and the novel would be about a missing child. In the third year, I would find a trauma therapist. He would ask me to go back to that moment in the hospital when they wheeled me into the operating room, and while I told the story he would make me move my eyes back and forth. After 10 sessions, I would tell him I felt much better, and we would never meet again. The next therapist, Jill, would be a wonder. After a year of weekly sessions, I would casually tell her about the miscarriages, and she would suggest, tentatively, that perhaps the absence of those other babies weighs heavily on the one that survived. Might that have something to do with his refusal to eat?
Read more: www.theguardian.com