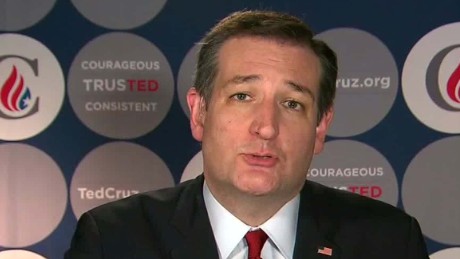 (CNN)Ted Cruz would have seriously considered dropping out of the Republican presidential race had he lost his home state of Texas on Super Tuesday, his campaign's chief strategist told donors Wednesday.
In a detailed 30-minute call with several dozen donors, Jason Johnson said that Cruz himself was comfortable stepping aside if he had lost Texas. Cruz won the state handily, although some polls showed a tighter race headed into Election Day. Cruz went into the year anticipating a strong showing in the Southern states on Super Tuesday, but only came away with wins in Texas, Oklahoma and Alaska, and trails Trump by more than 100 delegates.
"Last night, when we were going through the different scenarios on what might occur, the senator asked what if we lose Texas," Johnson said. "And I said that's simple: You don't have to do it on the stage, but you clearly stand there and remind people that 'tonight is not a reflection of the ideas, the issues, the vision, etc. But clearly we now have to pull back and pray and think about who we throw our support behind in order to reignite the promise of America — because clearly it ain't me.'"
Johnson said his boss was receptive to that.
"Well there was zero pushback from Ted Cruz," Johnson told the fundraisers. "You might say it's a duh. But it's not a duh."
"You get into this campaign. And it's so hard to let go," he said, but telling the donors they are clear-eyed about the path ahead. "This is not a campaign that will resist letting go if the path is not there."
CNN listened to the call after obtaining information about it from a participant. The Cruz campaign did not comment regarding Johnson's discussions with the senator over dropping out.
The discussion of Cruz leaving the race comes as Republicans continue to fight over who is best poised to take on Trump. Cruz and Florida Sen. Marco Rubio have both outlined paths to victory to their supporters, as has Ohio Gov. John Kasich.
"Tomorrow morning, we have a choice. If the field remains divided, Donald Trump will be the nominee," Cruz told supporters in Texas on Tuesday evening. "For the candidates who have not yet won a state, who have not racked up significant delegates, I ask you to prayerfully consider coming together, uniting."
'Olive branch' to Republicans in debate
Cruz plans to offer an "olive branch" in Thursday night's Republican debate to voters currently not supporting him, Johnson told donors, part of what he pitched as an aggressive, intentional effort to make Cruz more attractive to voters who are unfriendly to the Texas firebrand's style.
"If I'm a voter siting out there," Johnson said, "and Ted Cruz isn't my first choice but Donald Trump is my last choice — and I believe Ted Cruz is the best way to beat Donald Trump — it needs to be easy for that person to come to the Ted Cruz campaign."
Johnson told donors the campaign believes Cruz has a significantly more viable path to the GOP nomination than did Marco Rubio, who Johnson portrayed as a major stumbling block to beating Trump in a one-on-one race. But he also expressed severe skepticism that the anti-Trump forces would consolidate quickly, saying that Rubio is very unlikely to be convinced that his path is improbable, potentially leading Trump to the GOP nomination.
Cruz has fought criticism over his strategy from some of his own allies about his reluctance to take on Trump earlier in the campaign, when he mostly trained his fire on Rubio.
"I needed to build my base of support. I needed to take care so that I was on a strong foundation first before I could take him on," he told CNN's Dana Bash on Tuesday evening, pushing back on the idea that Cruz missed his chance to define Trump. "Not remotely. This is an ongoing conversation."
The campaign is eager for Rubio to lose Florida on March 15. But it is also bullish on Cruz's chances in Kansas, Louisiana, Idaho, Michigan, and surprisingly, in Johnson's eyes, Maine. Two states where Johnson was skeptical of Cruz's chances: Mississippi, which he called a "big question mark" and labeled it more "populist than conservative," and Hawaii.
Johnson cast significant doubt on the path forward for Rubio, who is increasingly staking his campaign's viability on a win in Florida later this month, characterizing Rubio's path as "Doug Flutie with the hangover with the Hail Mary pass on Saturday morning of going to the 15th." And he called Rubio's recent penchant for insults with Trump a significant black mark on Rubio's presidential aspirations — as much as the Cruz team enjoyed them.
"As entertaining as it was during the last debate — and frankly as therapeutic it was for people, myself included — to watch Marco engage in his old locker room glory days of trading insults and following up the next week talking about the size of Donald Trump's hands — it's not going to get the job done," Johnson said. "What's going to get the job done is contrasting in a presidential way with Donald Trump."
Read more: www.cnn.com