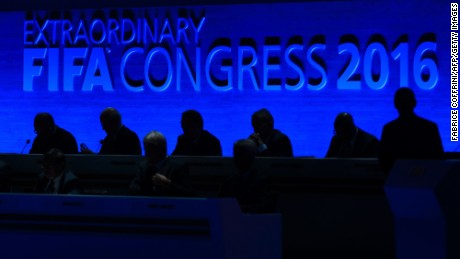 (CNN)Before the day is out, FIFA will have a new president. Follow all the action from the FIFA Congress with a sideways slant in our live blog. Refresh for latest updates.
1345 CET: BREAKING NEWS: Sexwale gets to the end and announces he is pulling out of the race. "It's your problem now," he says. Before that he said there would be a "party" if any of his four rivals was elected, before adding: "Of course, if I were president it would be an even bigger party!" And with that, he is off.
1343 CET: Sexwale is by far the most entertaining of the candidates. He's even revealed a 4-4-2 for the future! It includes the typical football formation but instead of players' names, things like "anti-racism" and "better governance" and "restore integrity" are written. That's genuinely brilliant.
1331 CET: Last but not least — how could you be least with a name like this?! — is South African Tokyo Sexwale. He addresses claims he would withdraw from the race immediately: "I'm a soldier, I die with my boots on."
1325 CET: Back in the hall in Zurich, Infantino goes round the continents to implore them to vote for him before touching on how revenues have gone up at UEFA during his time in charge. He says to the delegates: "It is your money." That gets a round of applause.
1319 CET: I mentioned the Europa League draw, and how about this for a last 16 fixture?! #tasty Another standout tie sees Borussia Dortmund play Tottenham. Thursday nights just got interesting.
1315 CET: Champagne insists that FIFA "must stay united and make further and more substantial reforms." Now it is the turn of Gianni Infantino, who is being missed in his role as the regular host of the Europa League draw, which is also taking place today.
1305 CET: Salman gets a warm ovation after his speech, now it is the turn of Jerome Champagne. While the Frenchman speaks, here's a suggestion for how to choose a new president from one of our own at CNN…
1256 CET: Sheikh Salman earns applause by saying he will speak from "the heart, not from a piece of paper." He is the front-runner after all…
1252 CET: "I'm the only candidate for football in all its forms, all over the world. I will heal the rifts in our governing body," says Prince Ali as his 15-minute slot comes to an end. There is actually a clock behind the speakers counting down their time. I hope they have timed them accurately. Next up, Sheikh Salman bin Ebrahim Al Khalifa…
1243 CET: Congress is back in action and things are about to get real. Each of the five presidential candidates now get 15 minutes to convince the delegates why they should bag the top job. First up, Prince Ali from Jordan. "Today you can reclaim your FIFA," he says.
1230 CET: How about this chap's genius suggestion for FIFA? I think it's a cracking idea. Why not tweet us at @cnnsport with your suggestions, the wackier and more implausible the better…
1224 CET: FIFA is an easy target at present, with every man, woman and dog seemingly having a pop. Step forward comedian Sacha Baron Cohen, who said this to CNN at the premiere of his new film Grimsby…
1215 CET: Arsenal's Mesut Ozil is on course to break the EPL's record for assists this season, and he could have another BIG one to add to his tally by the end of play today…
1206 CET: Prior to the big election, FIFA has passed a raft of reforms before retiring for an early lunch (hard work this Congressing lark). They include the following:
A 12-year maximum term limit for President
Human rights built into FIFA statute
Full disclosure of FIFA salaries
Separation of political and management functions
Recognition and promotion of the women's game
1158 CET: FIFA's big day has already suffered a minor hitch….
1152 CET: Some housekeeping: voting in the presidential election is due to begin around 1430 CET, after each presidential candidate gets their 15 minutes to address the delegates and make a final plea for votes from 1300 CET onwards. We should have a new president by 1800 CET.
1148 CET: So, who are the five guys jostling for the top job? Let CNN's James Masters explain…
1135 CET: Even though Blatter is banned from attending the Congress, the Swiss won't go away quietly though. Currently the subject of a criminal investigation over an alleged payment to UEFA president Michel Platini — the pair are both serving a six-year ban from football — Blatter scoffed at a suggestion he might turn whistle blower: "I would not accept such an offer because I am not a referee," he told the Aargauer Zeitung newspaper. Very droll, Sepp.
1132 CET: By the end of the day Sepp Blatter's 18-year reign as head of soccer's governing body will be over. He announced he'd be stepping down in June, remember? That was a few, eventful, days after he'd been re-elected amidst a string of arrests as Swiss prosecutors and the U.S. Department of Justice bared their teeth.
1130 CET: Hello everyone, and welcome to what might be a pivotal day in the history of football as FIFA elects a new president. Well, it could be pivotal. Or it could just be a portal into a world that looks exactly the same.
Read more: www.cnn.com