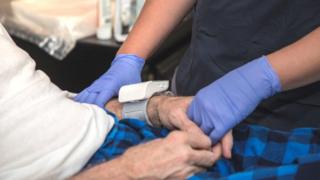 Patients at a failed NHS trust suffered "unnecessary harm" because a senior leadership team was "out of its depth", says a report seen by BBC News.
Misguided cost-cutting at Liverpool Community Health (LCH) led to severe staff shortages and bullying, it found.
Despite the problems, BBC News has also seen evidence that regulators helped the trust's chief executive find another six-figure NHS job.
LCH said it would respond to the report once it was published on Thursday.
The trust provided services such as district nursing, dentistry and diabetes care to about 750,000 people in Merseyside.
A report in 2016 previously found that an excessive focus on becoming a foundation trust, allowing greater freedom from regulators, had led to extreme cost-cutting and staff being bullied to meet targets.
This latest review, carried out by Dr Bill Kirkup, who also investigated the Morecambe Bay scandal at Furness General Hospital, focused on the trust's clinical failures.
He describes Liverpool Community Health, established in 2010, as being "dysfunctional from the outset".
Its leadership team, led by chief executive Bernie Cuthel and chaired by Frances Molloy, was inexperienced, he found.
Nonetheless, the trust set out to achieve foundation status, setting "infeasible financial targets that damaged patient services".
The plans included:
losing almost 50 district nursing posts
cutting dentistry budgets by 44%
an overall savings target of 15% in a year
In one year, the district nursing budget was underspent by £2.9m, leading to an increase in the most serious types of pressure ulcers, the wrong teeth being removed and patients suffering fractured hips, the report found.
The authors could not quantify the exact number of patients who suffered unnecessary harm due to the "poor standard of incident reporting and investigations".
They found staff were constantly bullied, with a "punitive and blame culture" derived from an "excessively top down" structure.
Some were suspended without any reason being given, their careers left in limbo, because of a "chaotic" human resources department that "was not fit for purpose".
Coaching support
In 2014, following concerns raised by Labour MP Rosie Cooper, a Care Quality Commission report found significant problems at the trust.
These findings prompted the resignation of top executives, and new management brought in significant improvements and dozens of new staff. The trust is now in the process of being wound up, with most services passing to another NHS trust, MerseyCare, in April.
Emails seen by BBC News show that an NHS regulator, the Trust Delivery Authority, arranged for chief executive Bernie Cuthel to leave Liverpool Community Health by finding her a position at Manchester Mental Health and Social Care Trust on a 12-month secondment.
Ms Cuthel's initial three-month salary would be paid by LCH, in lieu of notice – but the TDA said it would finance the remaining nine months of the secondment.
The emails indicate, however, that it never paid.
Her salary at Liverpool, between £130,000 and £135,000 according to published accounts, was reduced by 10% in Manchester as she was no longer in an executive position.
The TDA also provided her with coaching support.
The emails say the TDA's thinking was that "the secondment would provide Ms Cuthel with a period of rehabilitation, enabling her to reflect on learning from her experiences in Liverpool".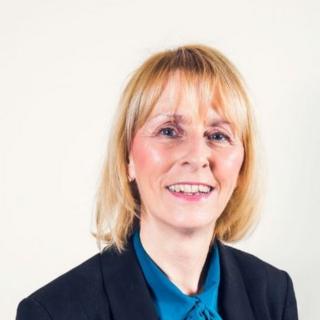 Where are they now?
Bernie Cuthel
After her post in Manchester, the former chief executive moved to work at a health board in North Wales and is now on the governing body of Nugent, a charity in Liverpool that offers a range of services to children and adults.
Frances Molloy
The former chair of the trust stepped down in 2015 after five years at the helm. She is now styled as the "inspirational and influential" chief executive of Health at Work, a Liverpool-based charity that has contracts with the NHS.
Michelle Porteus
The former HR director, who oversaw a "chaotic", "unfit for purpose" department left the trust in 2014. She now works as an HR consultant, described on the company's website as being passionate about transforming culture and "supporting organisations through their most testing times".
Helen Lockett
The former director of operations and executive nurse at the trust was suspended by the Nursing and Midwifery Council in April 2106. She remains suspended.

In his review, Dr Kirkup says the biggest clinical failures were arguably at Liverpool prison, where LCH provided healthcare services.
The trust had "no understanding of its requirements or how to manage it in a safe and effective manner".
Senior managers did not even have passes to visit the jail, the authors found.
Healthcare staff at the jail, recently described as the worst prison in England, faced significant problems including a lack of risk assessments of offenders, poor mental health services and the use of equipment that was not fit for purpose.
"Due to the organisational culture in HMP Liverpool," says the review, "unsafe practice had become accepted as normal."
So poor were their systems that an internal review conducted in late 2014, and seen by the BBC, resulted in eight deaths in custody having to be retrospectively reported, bringing the total over four years to 21.
A spokeswoman for NHS Improvement, which now incorporates the TDA said the regulator's view "at the time of these events was that individuals should have the opportunity to learn lessons from their experiences and to pass these lessons on to the NHS to help improve patient care".
"In this case, this was supported by a temporary arrangement."
Read more: www.bbc.co.uk