Committee rescinds subpoena after Manafort agrees to turn over notes, while Jared Kushner returns to Capitol Hill for second day of private testimony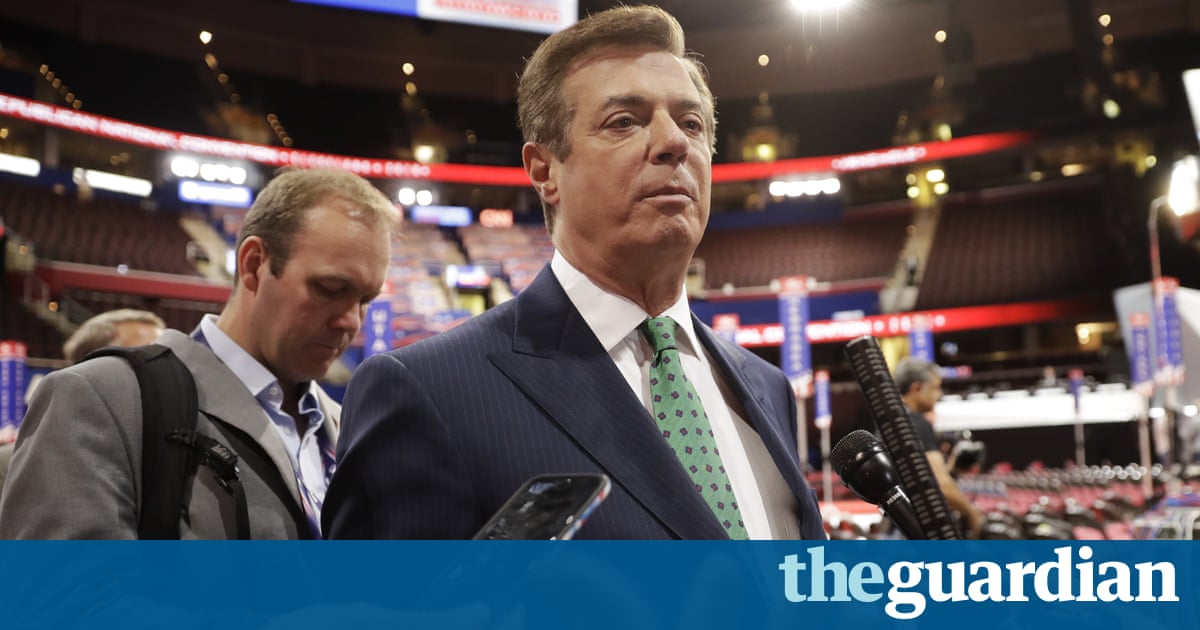 Donald Trumps former campaign chairman met Senate investigators Tuesday, providing his recollection of a Trump Tower meeting with a Russian lawyer and agreeing to turn over contemporaneous notes of the gathering last year, according to people familiar with the closed-door interview.
Republican Chuck Grassley and Democrat Dianne Feinstein had also issued a subpoena for Paul Manafort to testify publicly during a Wednesday hearing before the committee. But late on Tuesday the committee rescinded the subpoena after he agreed to turn over the documents, according to a spokesman for Grassley.
Manaforts appearance on Tuesday came the same morning that Trumps son-in-law and adviser Jared Kushner returned to Capitol Hill for a second day of private meetings, this time for a conversation with lawmakers on the House intelligence committee.
Both Manafort and Kushner have been cooperating with the committees which, along with special counsel Robert Mueller, are investigating Russias interference in the 2016 presidential campaign and possible collusion with Trump associates.
The two men have faced particular scrutiny about attending the Trump Tower meeting because it was described in emails to Donald Trump Jr as being part of a Russian government effort to aid Trumps presidential campaign.
On Tuesday, Manafort met with bipartisan staff of the Senate intelligence committee and answered their questions fully, his spokesman, Jason Maloni, said.
Manaforts discussion with committee staff was limited to his recollection of the June 2016 meeting, according to two people familiar with the interview. Both demanded anonymity to discuss details because the interview occurred behind closed doors.
Manafort had previously disclosed the meeting in documents he turned over to the committee. He has now provided the committee with notes he took at the time, one of the people said. The other person said Manafort has also said he will participate in additional interviews with the Senate intelligence committee staff on other topics if necessary. Those meetings havent yet been scheduled.
Also Tuesday, Kushner spent about three hours behind closed doors with the House committee.
Republican Mike Conaway of Texas, who is leading the panels Russia investigation, said he found Kushner to be straightforward, forthcoming, wanted to answer every question we had. He said Kushner was willing to follow up with the committee if it has additional questions.
The committees ranking Democrat, Adam Schiff of California, said the questions touched on a range of issues the committee had been concerned about.
We appreciate his voluntary willingness to come and testify today, Schiff added.
On Monday, Kushner answered questions from staff on the Senates intelligence panel, acknowledging four meetings with Russians during and after Trumps victorious White House bid.
Let me be very clear, Kushner said in a rare public statement at the White House, I did not collude with Russia, nor do I know of anyone else in the campaign who did so.
Emails released this month show that Trump Jr, the presidents eldest son, accepted a June 2016 meeting with a Russian lawyer Natalia Veselnitskaya with the understanding that he would receive damaging information on Hillary Clinton as part of a Russian government effort to help Trumps campaign.
But, in his statement for the two intelligence committees, Kushner said he hadnt read those emails until recently shown them by his lawyers.
Read more: www.theguardian.com