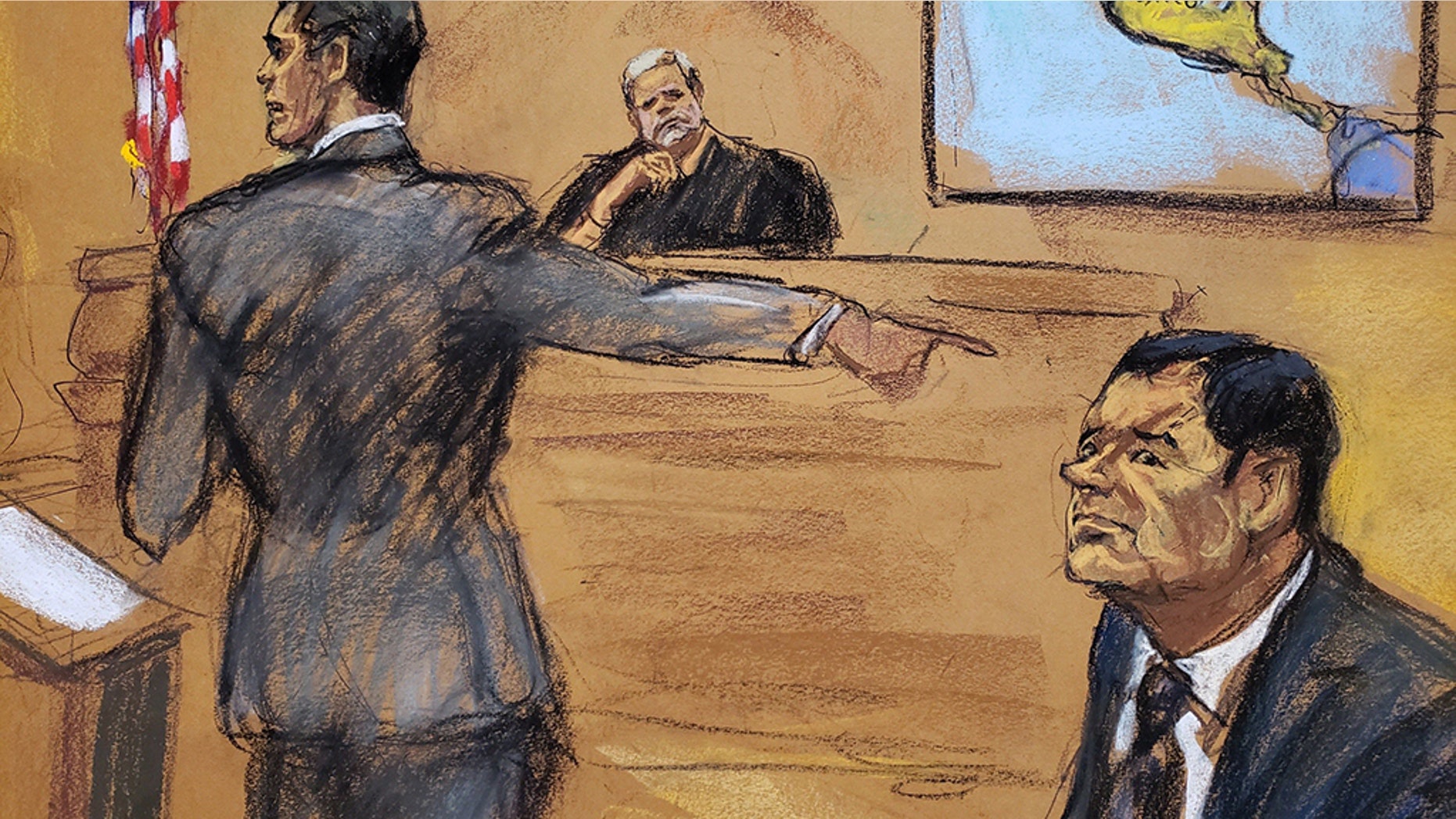 A photographic reproduction of a drawing by Jane Rosenberg that shows Joaquin 'El Chapo' Guzman, right, Assistant Attorney General Adam Fels, left, and Justice Brian Cogan in Brooklyn South District Court earlier this month.
(Jane Rosenberg EFE via Zuma Press)
A top lieutenant in a powerful Mexican drug cartel during the 1990s claims he survived four attempts on his life ordered by his boss, Joaquin "El Chapo" Guzman.
Miguel Angel Martinez appeared in court for a second day on Wednesday as a prosecution witness in a drug conspiracy case against Guzman.
On the stand, Martinez said he never gave Guzman reason to want him dead. He described himself as loyal to the reputed drug lord, helping him arrange massive shipments of cocaine that earned his boss millions. Martinez said the two became so close, he was asked to be the godfather to Guzman's son.
"I never failed him. I never stole from him. I watched over his family," he said. "And the only thing I ever received from him was four attacks against me."
Martinez said it was after his own arrest in the early 1990s when the attempts on his life began.
EL CHAPO'S LAVISH, JET-SETTING LIFESTYLE REVEALED IN COURT
When he was first arrested and sent to a jail in Mexico City, Martinez said, he was cornered in his own jail cell by other inmates and stabbed 15 times.
After returning from the hospital he was again sent back to the same cell with the same inmates, where he said a second stabbing attack took place.
At night, "I actually heard them polishing their knives, their blades," he said.
He survived three stabbing attacks before being transferred to another jail, where he said he learned that anyone who successfully killed him would receive money from the cartel.
Read more: www.foxnews.com