ESPN, surrender your cool credentials.
You do not interrupt an indie rock hero just named the most-valuable player in the NBA All-Star Celebrity Game, especially to redirect him to talk about "celebrity stuff, not politics."
While being interviewed after winning the 2016 NBA All-Star Celebrity Game, Arcade Fire's Win Butler used the opportunity to launch into a political speech lauding Canada's health care system. But ESPN reporter Sage Steele was having none of it.
While holding a massive gold trophy, Butler, whose Montreal-based band has won numerous awards and international praise, brought up health care and the U.S. presidential election.
"The U.S. has a lot it could learn from Canada," said Butler, who was born in the U.S. and moved to Montreal for college. "Health care, taking care of people."
Steele swooped in for the steal.
"We're talking about celebrity stuff, not politics," Steele interrupted as ESPN cut away. "Congratulations on your MVP!"
Team Canada beat the U.S., 74 to 63, in the celebrity game, which kicks off All-Star weekend. Butler scored 15 points and collected 14 rebounds for team Canada.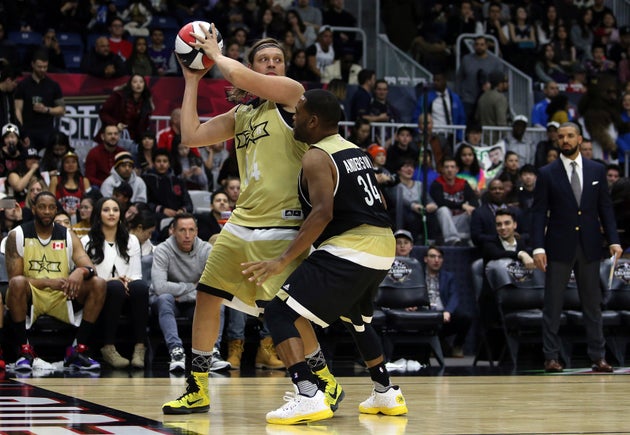 Read more: www.huffingtonpost.com