Middle son says he is deadly serious about fathers separation from business before saying president will get updates probably quarterly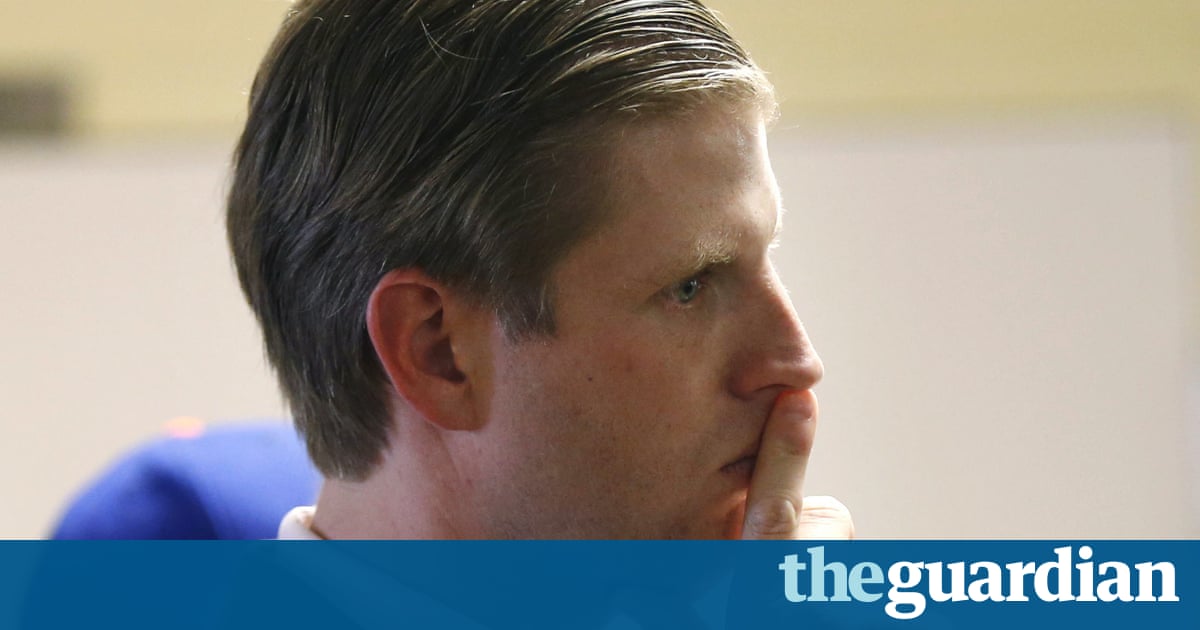 Eric Trump has said he will give his father quarterly updates on the familys businesses which the president has refused to divest from in spite of the sons promises to separate the private companies from their fathers public office.
In an interview with Forbes magazine, Donald Trumps middle son at first said the family honored kind of a steadfast pact we made not to mix business interests with public ones.
There is kind of a clear separation of church and state that we maintain, and I am deadly serious about that exercise, he said. I do not talk about the government with him, and he does not talk about the business with us.
But he went on to say that he would keep the president abreast of the bottom line, profitability reports and stuff like that, but you know, thats about it.
He said those reports would be probably quarterly.
My father and I are very close, he added. I talk to him a lot. Were pretty inseparable.
Since their father handed day-to-day management of the Trump Organization to his adult sons, Eric and Donald Jr, the family has insisted they do not discuss the business with president. Ethics attorneys of both parties and the nonpartisan Office of Government Ethics have called the arrangement a failure to prevent potential conflicts of interest for instance, Trump hotels selling rooms to foreign diplomats.
Eric Trumps statement alarmed ethics experts, including Lisa Gilbert, a director at the not-for-profit watchdog Public Citizen. It confirms our worst assumptions about the lack of separation between his business and current office, she said. Theres no way to reconcile quarterly updates from your son.
Gilbert said there were signs that the Trump family was already profiting from the presidency, including increased business at his golf clubs. His south Florida club, Mar-a-Lago, doubled its entrance fee to $200,000 in January, and in February the first lady, Melania Trump, filed court documents arguing that the White House was an opportunity to develop multimillion-dollar business relationships.
Its not a single thing, Gilbert said. Their businesses are doing better because there is more cachet around them.
The watchdog released a report this week analyzing the first two months of the Trump presidency. It concluded that Trump had broken several promises to isolate himself from the business, that his White House was clouded by corruption and conflicts, and that he had surrounded himself with the same major donors and Wall Street executives he claimed he would fight if elected.
A Washington DC wine bar sued Trump and his new hotel this month, alleging that his ownership provides an illegal competitive advantage. The president still holds direct ties to his businesses, DC liquor board documents show, as the sole beneficiary of a revocable trust.
The White House and Department of Homeland Security have declined to answer questions about whether taxpayer dollars have profited the Trump family, for instance through Secret Service rental payments to Trump properties.
Eric Trump and his father the president are doing what we thought they would do all along, said Richard Painter, who served as chief ethics attorney for George W Bush. This of course makes no difference for conflict of interest purposes because it is his ownership of the businesses that creates conflicts of interest, regardless of who manages them.
Painter added that Trumps remarks show that the businesses is an important concern for the president.
Gilbert compared the arrangement to other possible conflicts in the White House. Trump has appointed his son-in-law, Jared Kushner, as a senior adviser, despite anti-nepotism laws, and the presidents daughter, Ivanka, has acquired a security clearance and an office in the White House, although she has no official role. In November, Trump denied that he had sought security clearances for his children.
We dont really have a mechanism to enforce the ethics rules, Gilbert said. Its left us without a lot of ground to stand on.
Like the president, Kushner and his wife have said they will separate themselves from their family businesses, but have only done so partially, if at all. Kushner retains parts of his billionaire familys real estate empire, White House documents show, and Ivanka Trump has so far failed to resign, as promised, from the family business, according to documents acquired by ProPublica.
Possible conflicts have already arisen for both of the presidents family confidantes: Kushners family is negotiating a $400m deal with a Chinese firm connected to Beijings leadership, and one of Ivanka Trumps brands was promoted, in violation of ethics rules, on national television by another of the presidents advisers.
In Dallas this month, Donald Jr told Republican fundraisers that he had basically zero contact with his father. His brother, similarly, told Forbes that he tries to minimize fluff calls that you might otherwise have because I understand that time is a resource.
But he also echoed an earlier boast about the family brand being the hottest it has ever been.
Were doing great in all of our assets, he said, before arguing that being the family in the White House also entailed great sacrifices for the business, especially when you limit an international business to only domestic properties, when you put hundreds of millions of dollars of cash into a campaign, when you run with very, very tight and strict rules and the things that we do every single day in terms of compliance.
I dont know, he concluded. You could look at it either way.
Read more: www.theguardian.com