The safety is in the prime of his career but cant find a team. Hes paying the price for reminding NFL owners life is far from perfect in America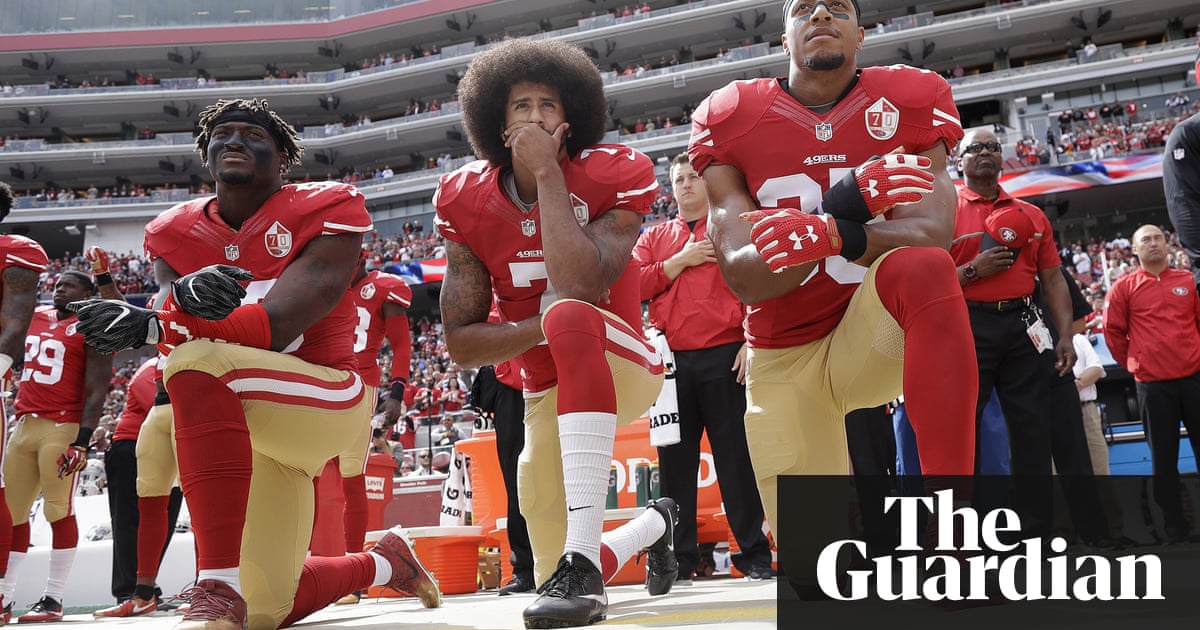 NFL coaches and owners love to talk about "character", waving the word over their players as if almost nothing else matters. Character builds teams they will say. Character creates winning. But what is character, really, when their definition is often flimsy?
How many chances does a star pass rusher get after multiple DUIs and allegations he has struck a woman? Quite a few, if you are former San Francisco 49er Aldon Smith. Opportunities were plenty for Greg Hardy after stomach-turning allegations of domestic abuse became public. The NFL and Baltimore Ravens tried to continue with running back Ray Rice in 2014 until a tape of him punching his fiancee became too much to bear.
But take a man who stands for the voiceless, who shouts for justice in cities, who asks the world to listen to the stories of America's poorest neighborhoods? In today's NFL that makes him too poisonous to touch.
We are two weeks into free agency and the best available strong safety remains unsigned. Teams could use a player like Eric Reid. There must be a coach who needs a leader on the field, someone just 26-years-old with decent speed and a shoulder that can knock a receiver flat. In five years Reid has played in 57 games, has intercepted 10 passes and batted several balls away. He has moved wherever his coaches needed him, playing both safety positions last season and even trying his hand at linebacker. A better definition of "team player" does not exist.
Still, the phone does not ring for the onetime first-round pick of the San Francisco 49ers. And it's hard to believe this has anything to do with winning or losing football games. Once again, NFL teams are turning their back on a talented player in the prime of his career because he dared to kneel when most of the NFL stood. The reward for being Colin Kaepernick's loudest supporter, for clenching a fist and standing by a team-mate's side is not a rich contract but owners too terrified of fickle advertisers and the unpredictable whims of an unhinged president.
A year after NFL teams refused to sign Kaepernick as even a backup, they appear to be shunning Reid too. And for what? While coaches and general managers might have hesitated to place Kaepernick in their locker room from a fear the added media attention would be a distraction to their hyper-controlled environment, signing Reid would disrupt nothing. If anything, he would be a plus – a veteran who has gone to the Pro Bowl and played in the postseason. He's the kind of player most coaches long to have on their teams.
Reid, however, is a threat to those who believe the NFL is somehow damaged by Kaepernick's protest. While the league's owners were quick to denounce Donald Trump referring to any protesting player as a "son of a bitch," they caved at the first breath of corporate unease. It seems to matter little that the noisiest of Kaepernick's denouncers, former Papa John's CEO John Schnatter, soon found himself unemployed and Papa John's itself replaced as the NFL's primary food sponsor. Any threat to profits is enough to make the league's owners quiver.
Reid's great crime is that he didn't stand for the anthem late last season when most of the other players had relaxed their protest. He also broke from a players' coalition formed to take social justice concerns to the owners – the league offered $89m for grassroots projects in a gentle nudge to force the players to end their protest. His virtual scoff at a protest buyout seems to be costing him a job – and maybe a career. Even his vow to stand for the anthem in 2018 has failed to bring him a deal. Ownership's message has been clear: speak too loudly about racial inequality and expect to be shunned.
Though the protesting players have always said their stance was never a rebuke of the military, this is how Trump and others have twisted it. Failing to stand for a song is failing to stand for your country. And while the fear of appearing unpatriotic has motivated the owners to drop a fist on Kaepernick (and perhaps Reid) here is what has happened to their precious team values since Kaepernick first began his protest in the summer of 2016: they have gone up.
The New York Times reports the Carolina Panthers could sell for as much as $2.5bn, a significant jump over the $1.4bn paid for the Buffalo Bills in 2014. Fox recently agreed to spend more than $600m to carry Thursday night games. Kaepernick, Reid and the others have done nothing to ruin the money machine that is the NFL.
Such facts get lost in the rhetoric. Kaepernick and Reid threaten no one and yet their presence is an uncomfortable problem for owners who apparently don't want to be reminded that life is not perfect for all in America.
Read more: www.theguardian.com