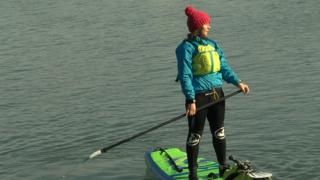 A women is setting off on an epic journey to become the first to stand-up paddleboard around Wales.
Sian Sykes, from Anglesey, will use rivers and canals along the Welsh border, before emerging on the Severn Estuary and following the coast home.
She also wants to use the challenge to highlight the impact of pollution on the marine environment.
The journey will take her two months to complete, wild camping on riverbanks and coasts along the way.
"I did a challenge two years ago, where I was the first person to paddleboard around Anglesey, and that's where my notion for this was hatched, " she said ahead of the challenge.
"I wanted to do something bigger – to really push myself. I love stand-up paddleboarding – I lives and breathe it."
Paddleboarding is one of the fastest growing outdoor watersports in Britain, and the Anglesey paddler has her own business teaching others how to get about on the boards, and offering water safaris around the island.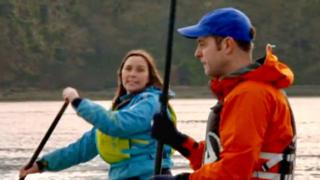 She was recently featured on BBC One's Countryfile, putting presenter Matt Baker through his paces on the Menai Strait.
"You have a bird's-eye view. You ensure jellyfish float past you, fish leaping out of the water, porpoise darting about, birds flying overhead and inquisitive seals can come up to you, " she enthused.
"It's a wonderful way to reconnect with nature, and to go on a journey and explore regions you would never see on foot."
Connecting with nature is one of the main aims of the challenge for Sian and focusing on the damage caused by single-use disposable plastic.
"I see a lot of marine litter washed up on our beaches. It is a massive problem – and we need to make a change, " she added.
"I'm going to highlight that on my trip-up, from demonstrating from inland out to the sea – plastic pollution."

Other anti-plastic narratives you might be interested in:
Blue Planet II prompts plastic banning at BBC The plastic free high street ? Six simple ways to cut back on plastic