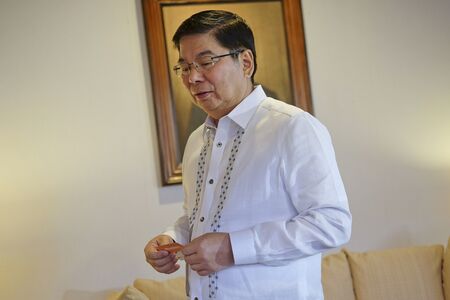 Philippine President Rodrigo Duterte will ask central bank Governor Amando Tetangco to stay in office for a third term and will seek to amend laws to allow that.
Finance Secretary Carlos Dominguez confirmed a Philippine Daily Inquirer report that he had been authorized by Duterte to ask Tetangco to stay after his second term ends in July 2017. Dominguez didnt provide more details in his e-mail reply on Tuesday. Tetangco didnt respond to mobile-phone messages from Bloomberg News.
Duterte, the firebrand leader who has stoked investor concern since taking office in June, thinks Tetangco is still the best man for the job, the Inquirer cited an unidentified cabinet official as saying. The presidents allies in Congress will probably amend the law limiting the central bank governors tenure to two, six-year terms, the official said.
A veteran of the central bank for more than four decades, Tetangco, 64, has kept inflation below 5 percent in the past five years, allowing the bank to lower its benchmark interest rate to a record low. He started at the bank as statistician in 1974, first becoming governor under President Gloria Arroyo and reappointed by Benigno Aquino in 2011.
Tetangco is also the chairman of the Anti-Money Laundering Council, an agency that Duterte had criticized for allegedly not cooperating with his justice department on drug investigations.
Read more: www.bloomberg.com