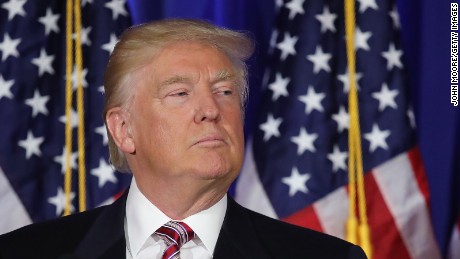 (CNN)Donald Trump took to twitter Wednesday night and with the push of a button, perhaps shed some light on his VP choice — just as his advisers hoped he wouldn't do.
Just before 10 p.m., Trump retweeted a supporter who said: "@KathyCeurter: @realDonaldTrump please Mr.Trump make @SenatorJeffSessions your VP. He is a perfect running mate.' He is a great guy!"
Bloomberg News
reported Wednesday that some Trump advisers are worried that Trump "may decide on his own to post the (VP) announcement on Twitter one night with little warning."
Although he reportedly assured them he wants to wait until the convention and "give it the old-fashioned way," his latest late night Twitter action will do little to put them at ease.
He has been a vocal advocate among Capitol Hill Republicans for the presumptive nominee, urging the party to coalesce around Trump.
In May, Trump said in a press conference that Sessions was "certainly someone I would consider" for the No. 2 spot, adding that he would
"absolutely" be looked at.
Earlier in May, Sessions told CNN that
it would be an "honor"
to serve as Trump's vice president. He
told
US News and World Report, however, that he has "never talked to" Trump about serving in his administration.
Sessions also has stood by Trump in a time when many Republican leaders have openly criticized him for his comments about Trump University case judge Gonzalo Curiel, telling
NBC News
that while "it would've been nice if it … had not been said," Trump has "explained that." Sessions did add that he thinks Trump's decision to stop commenting on the matter is "probably a good decision."
This also isn't the first time Trump has taken to Twitter to tease a potential VP pick.
South Carolina Lt. Gov. Andre Bauer, a Trump supporter, had said on CNN's "State of the Union" that Fallin would be a great choice.
"I think you're going to see something different. I think what he will do is he won't go with the norm that you pick a battleground state and you pick somebody from that state or a rival candidate," he said. "I think he's going to say, 'Who can help me get the job done?' and I think he needs some balance, and I like Mary Fallin for that reason."
Trump tweeted afterward ".@AndreBauer Great job and advice on @CNN @jaketapper Thank you!"
Read more: www.cnn.com