This mini-movie from Adam McKays online comedy channel Funny Or Die is full of good lines, but is trumped by the self-satire of its subject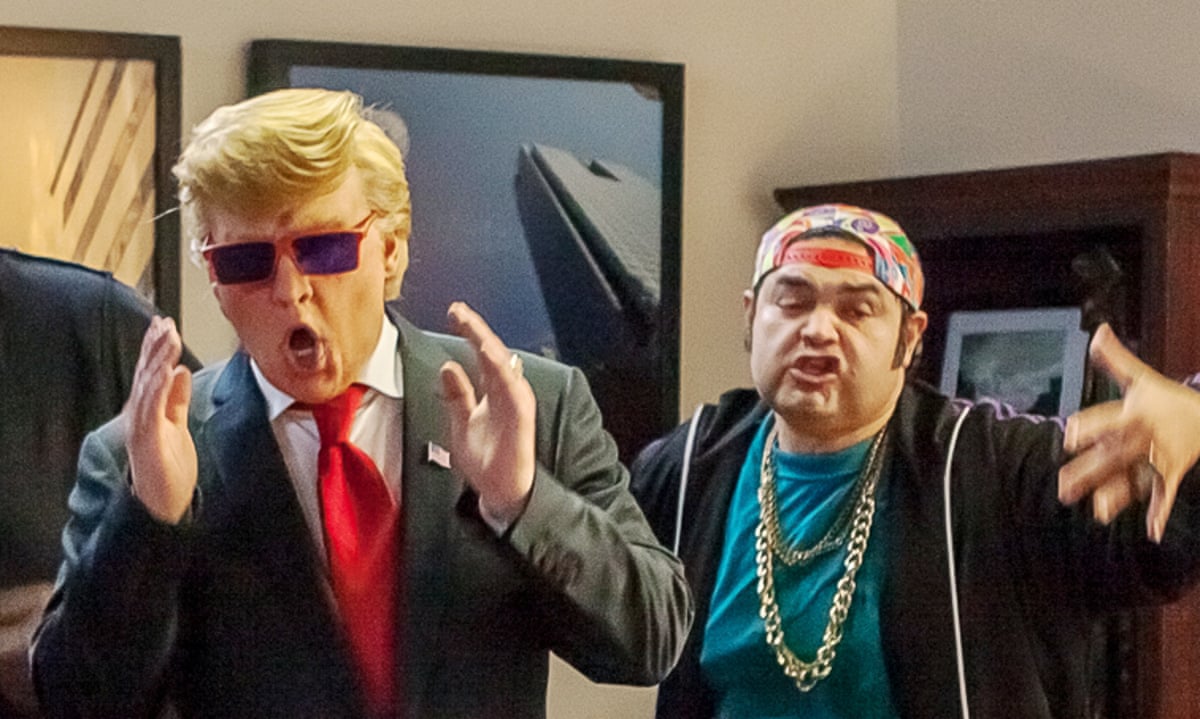 If youve watched the recent Republican TV debate in which Donald Trump deliberately hung back in the wings as he was announced so that he could come on stage last, and thereby prove himself to be the most important guy in the room youll know that he has already gone beyond satire. Like Henry Kissingers Nobel Peace Prize, Donald Trumps sensational success has rendered satire obsolete.
But his decreasingly funny pre-eminence now gives us this bravura mini-movie from Funny Or Die, Adam McKays online comedy channel; it stars Johnny Depp as the bequiffed micro-fascist himself, ranting and pontificating and pointing at his reflection in the bathroom mirror, in a very funny latex-enhanced performance comparable to his South Boston gangster James Whitey Bulger in Black Mass.
It spoofs the first great phase of Trumps ascent to greatness, his celebrity as a real estate mogul in New York City of the late 70s and 80s, and the idea is that this is Trumps own film version of his fantastically preening, mendacious and self-congratulatory motivational book The Art Of The Deal, from that period. A wide-eyed kid with all the moxie and nerve that Trump chucklingly recognises as that of his own feisty younger self, attempts to shoplift the book and hides out from the police in the nearest office. This is of course Donalds own office, and the great man tells the kid how he made it, with how to chapters from the book how to intimidate tenants into leaving the buildings youve bought, how to use lawyers to pretend you are not prejudiced against black tenants, how to work with corrupt politicians.
Trump is a twitchy sociopath, obsessed with the holy grail of buying the Taj Mahal casino in New Jersey from Merv Griffin as the ultimate trophy possession and tormented by his constipation stalking into the bathroom to strive, vainly, to relieve his bowels and plagued with visions of his boyhood self and his own dead body. His vulnerability horrifies him. As he says at the end of the scene: I think I just had my Oscar moment.
He has lots of very gamey lines. Its called real estate! he screams into the phone. Not fake estate. Later, affronted by suggestions that he is bigoted, Trump insists: I love minorities theyre sensual theyre exotic Convinced that he right at all times, Trump blasts: Im making the opposite of a mistake a good-stake.
People are always barging in and out of his office, like a TV sketch show, and Depp plays the comedy to the hilt. In fact, he might have worked very well with that most unfashionable of things a live and audibly laughing studio audiences.
All good stuff from Depp, although by sending up Trumps 1980s period, it feels a little off the money, and this is a figure who has already somehow absorbed derision into his skin and made himself immune to it. I was reminded of Peter Cooks remark about how all those devastatingly witty 1930s Berlin cabarets saved Germany from the Nazis.
Read more: www.theguardian.com