The president was surprisingly candid with his criticism of Jeff Sessions and the FBI, questionable knowledge on US healthcare and rationale for striking Syria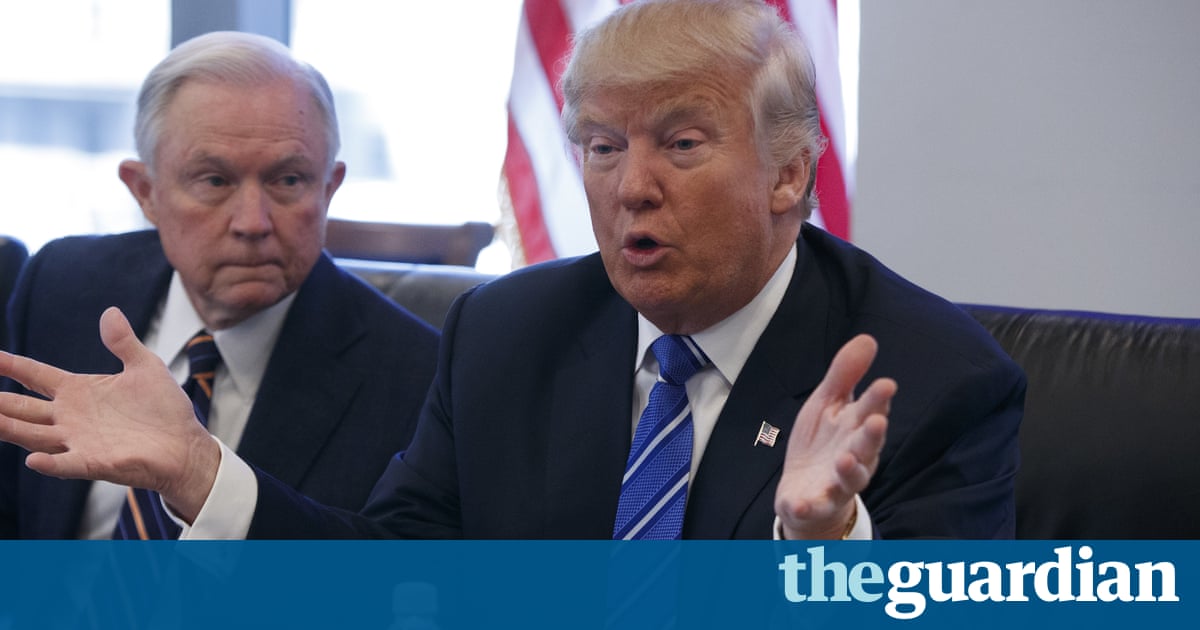 Donald Trump sat down for an interview with the New York Times on Wednesday that sent shockwaves through Washington, revealing not only Trumps obsession with the Russia investigation that has clouded his presidency but also a complete disregard for the rule of law.
Trumps Oval Office discussion with the same newspaper he has publicly attacked as failing covered a wide range of topics, from Republicans ongoing struggles to pass a healthcare bill to authorizing airstrikes in Syria. But it was Trumps attacks on the FBI, and the officials tasked with determining whether his campaign colluded with Russia in the 2016 election, that provided the most striking insight into his interpretation of the power of the presidency.
Going further than ever before, Trump attacked Jeff Sessions, one of his most loyal allies, by declaring he would not have appointed him as attorney general had he known Sessions would recuse himself from the FBIs Russia investigation. He also fired off warnings to special counsel Robert Mueller and suggested there is no agency or government official he does not ultimately control.
Trump has long bemoaned the federal inquiry into potential ties between his campaign and Moscow. But his latest comments were the most candid admission of his disdain for the independence of the justice department and FBI.
They were also just one takeaway from an interview that, even by Trumpian standards, raised a host of fresh questions about his leadership style at the six-month mark of his presidency.
Trump turns on Sessions and trashes FBI
It was Trumps firing of James Comey, the FBI director who was leading the federal investigation into Russian interference in the presidential election, that prompted the appointment of special counsel Robert Mueller in May. But not according to Trump.
The president instead blamed Jeff Sessions, one of his earliest and most vocal surrogates, telling the NYT: Jeff Sessions takes the job, gets into the job, recuses himself. I then have which, frankly, I think is very unfair to the president. How do you take a job and then recuse yourself? If he would have recused himself before the job, I would have said, Thanks, Jeff, but I cant, you know, Im not going to take you. Its extremely unfair, and thats a mild word, to the president.
Sessions recused himself from overseeing the FBIs Russia inquiry in March, when it was reported that he failed to disclose at least two meetings with the Russian ambassador to the US. Sessions reportedly offered to resign weeks later, as his rift with Trump deepened.
In his interview, Trump also stated that Mueller held a conflict of interest in serving as special counsel and went after acting FBI director Andrew McCabe over campaign contributions his wife received from a Democratic Super Pac during her 2015 campaign for the Virginia state senate. (Trump falsely claimed McCabes wife, Jill, received money from Hillary Clinton.)
Most notably, Trump laid bare his views of the FBI and challenged the independence of the Americas top law enforcement agency:
And nothing was changed other than Richard Nixon came along. And when Nixon came along [inaudible] was pretty brutal, and out of courtesy, the FBI started reporting to the Department of Justice. But there was nothing official, there was nothing from Congress. There was nothing anything. But the FBI person really reports directly to the president of the United States, which is interesting.
Trump praised Christopher Wray, the nominee for FBI director who has repeatedly vowed to maintain the agencys independence from the White House. Wray might soon find himself, much like his predecessor James Comey, up against Trump.
Obamacare v Trumpcare
Trumps interview took place shortly after he convened Senate Republicans at the White House to hash out a way forward on healthcare. The party has struggled to fulfill its seven-year pledge to repeal and replace Barack Obamas healthcare law.
Rather than address the policy challenges laid out in the meeting, Trump characteristically boasted: Actually, these guys couldnt believe it, how much I know about it. I know a lot about healthcare.
He went on to say pre-existing conditions were a tough deal and rambled about how a 21-year-old would pay $12 annually for health insurance and by age 70 get a nice plan. The latter comment indicated Trump had perhaps confused health insurance with life insurance, or perhaps did not understand the healthcare system at all. It certainly had nothing to do with coverage for pre-existing conditions, which would be substantially undermined by the current Republican healthcare plan.
Foreign policy is tough
Trump reflected on his decision to launch missile strikes against Bashar al-Assads regime in Syria, a retaliatory move in April after the Syrian government carried out a chemical weapons attack against civilians.
Trump criticized Obama for not similarly responding to Assads use of chemical weapons in 2013: The red line in the sand in Syria. He didnt do the shot. I did the shot. The president did, however, sympathize somewhat with his predecessor, acknowledging: You hate it, its tough. Obama you know, I can understand it in a way, but some things you have to do. But its, its a tough, its a tough decision to make.
Trump also gushed over Emmanuel Macron, joking the French president loves holding my hand. A prolonged handshake between the two as Trump recently departed France was seen around the world.
Trump said he offered not to hurt Macron by visiting France shortly after withdrawing the US from the landmark Paris climate accord. According to Trump, the French president replied: They love you in France. A recent poll found nearly 82% of French people view Trump unfavorably, with just 13% approving of the US president.
Read more: www.theguardian.com