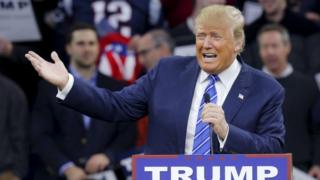 Donald Trump has threatened to withhold 700 m of investment in Scotland if he is banned from entering the UK.
MPs will debate later this month whether the US presidential hopeful should be refused entry.
It follows the billionaire property tycoon calling for a temporary forbidding on Muslims entering the US.
More than half a million people backed a petition calling on the tycoon to be barred for his comments, triggering a debate in the Commons.
Scottish First Minister Nicola Sturgeon has joined the calls for Mr Trump to be considered for exclusion from the UK.
Prime Minister David Cameron has now been labelled Mr Trump's remarks "stupid" but said he did not subsistence a forbidding, telling MPs the tycoon would "unite us all against him" if he visited the UK.
MPs to debate calls to ban Donald Trump Could Trump truly be US chairwoman ? 22 things that Donald Trump believes