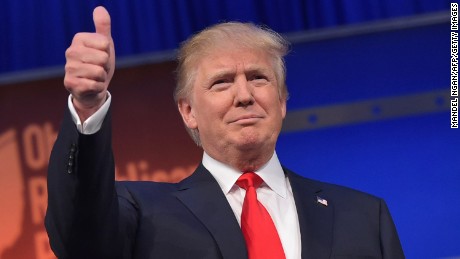 Washington( CNN) Republican presidential nominee Donald Trump weighed in on the day's dispute on Monday, floating the prospect of boycotting Starbucks after the coffee giant announces that it would abandon its Christmas-themed beakers.
"I have one of the most successful Starbucks, in Trump Tower. Perhaps we should boycott Starbucks? I don't know. Seriously, I don't care. That's the end of that lease, but who cares? " Trump told a crowd in Springfield, Illinois, on Monday. "If I become president, we're all going to be saying Merry Christmas again, that I can tell you. That I can tell you."
Trump's commentaries, on the eve of the next Republican presidential debate, is his latest rhetoric to win over Christian evangelicals who are much of the base in states like Iowa and South Carolina. Trump is grappling with Ben Carson, the other Republican front-runner and an evangelical favorite, in those two early voting states.
Starbucks said earlier that it had removed "symbols of the season" used in the past, which have included reindeer and decorates, in favor of a simple, two-toned red beaker. Some Christian leaders have long attacked secular businesses for waging a "War on Christmas" and avoided customers and employees from sharing Christmas greetings.
Trump previously pledged to his allegiance to Christmas during a campaign rally in October.