Tuesday night wasnt a debate, it was a quiz show for everyone but the frontrunner, who came in as judge of The Apprentice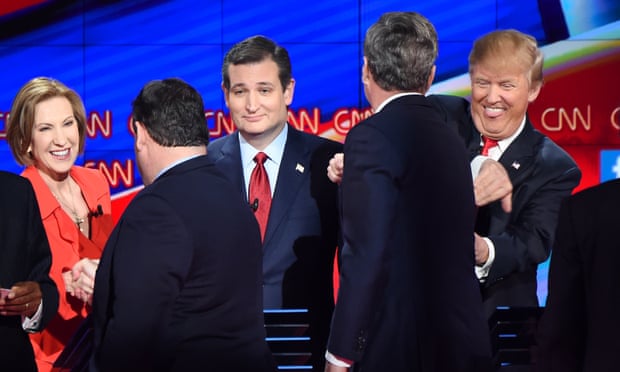 In a just world, the words Donald Trump and presidential debate should never have appeared in the same sentence.
But then, what happened at the faux Venetian palace in Las Vegas on Tuesday night was not a debate. As a debate, it was as convincing as the gondolas gliding along the supposedly Grand Canal outside the casino.
Donald Trump, for instance, ambled in like the character he plays on TV: the judge on a reality show. Where other candidates embraced the audience as potential voters, Trump weakly applauded them as apprentices aspiring to his hiring.
Take the so-called moderators, which included the conservative radio host Hugh Hewitt. He ruthlessly grilled the candidates, asking Ted Cruz if he could possibly speak with the kind of specificity and responsiveness you delivered in your nine supreme court arguments. He later demanded to know if Ben Carson had the stomach for war when he was such an inspiring human being filled with kindness. He even applauded when Donald Trump ruled out, once again, running as an independent candidate if he lost the nomination.
No, it wasnt a debate: it was a quiz show, complete with a doorbell that rang when the candidates ran out of time (or possibly tried to sell us something door-to-door).
Trump doesnt do quiz shows, which means he doesnt perform well in this kind of format. His signature move is to revert to his main character in The Apprentice the arbiter of the fates of others and the so-called moderators liked to oblige.
That strategy gives Trump an easy out every time that he is pressed on a troubling question such as his proposed ban on all Muslim immigration, which Jeb! Bush called in a rare moment of clarity unhinged.
Jeb doesnt really believe Im unhinged, he assured the audience at home. He said that very simply because he has failed in this campaign. Its been a total disaster. Nobody cares.
And even the normally respectable moderator Dana Bash surrendered to Trumps inevitable role as the judge of the show. As Senator Ted Cruz battled with Senator Marco Rubio over the issue of which Latino candidate was tougher on Latino undocumented immigrants, Bash turned to Trump to ask who was winning the contest.
As a quiz show, it was fine entertainment, if 90 minutes too long, and the candidates chose as their category the diplomacy and wars of George W Bush. Most of them also answered their questions in the style of that 43rd president of the United States.
Senator Lindsey Graham, stuck in the second-tier debate, set the pro-Bush tone early on and declared that he was sick and tired of the non-existent Bush-bashing by Republican candidates. Im tired of beating on Bush. I miss George W Bush, he said, as the crowd began to cheer. I wish you were president right now! he said to an imaginary Bush sitting in the theater.
The candidates seemed to channel Will Ferrells version of the former president on Saturday Night Live: The field of Republicans out there is so messed up, I figured it makes you miss me, doesnt it? And thats saying a lot.
The two hopefuls who did offer the best impression of President Bush were Governor Chris Christie and Senator Ted Cruz.
Christies main claim to Bush-like machismo was that he served as a US attorney under President Bush. This cops and robbers approach to terrorism was memorably dismissed by the Bush White House as a pre-9/11 mindset. Christie lamented the sense of fear gripping the United States by stoking as much fear as possible, talking at length about the bomb threat that closed the Los Angeles school system on Tuesday, but somehow ignoring that the New York authorities in his backyard decided the same threat was a hoax. Thats how tough New York is.
Still, it took another Texan, Cruz, to master the category of Bush-era bravado. We will hunt down and kill the terrorists, he promised. We will utterly destroy Isis. We will stop the terrorist attacks before they occur because we will not be prisoners to political correctness. Rather, we will speak the truth.
We have identified the enemy, and the enemy is Islamist-loving intellectual liberals.
The least Bush-like performance of course came from Bushs brother, Jeb!, who looked like a less confident and less charming version of his big brother; a breathless striver who isnt comfortable in his own skin.
Late in the debate, Jeb! jabbed at Trump for getting his national security advice from retired generals on cable TV. But Trump simply stepped out of the exchange to critique his rival and the moderators retaking his role as judge rather than participant. He attacked CNN for lobbing anti-Trump questions at the warm-up debate candidates, in order to get ratings, I guess.
Jeb! then tried to mock Trump for complaining about how tough the debate was, but Trump swatted down his performance: Youre a tough guy, he said with a Big Gulp of sarcasm.
Youre never going to be president of the United States by insulting your way to the presidency, Jeb! said in what sounded suspiciously like an insult.
Well, lets see, said Trump, warming to this schoolyard dispute. I am at 42 and youre at three, he added citing recent polls. So, so far, Im doing better.
The main part of the Venetian debate started with a spirited version of the Star Spangled Banner by Ayla Brown, the daughter of the former Massachusetts senator (and former would-be New Hampshire senator) Scott Brown. In a couple of weeks one can return to the Venetian to listen to Carly Rae Jepsen ring in the New Year with Call Me Maybe which might be the better anthem for the GOP nominee who emerges from this quiz show contest.
Read more: www.theguardian.com