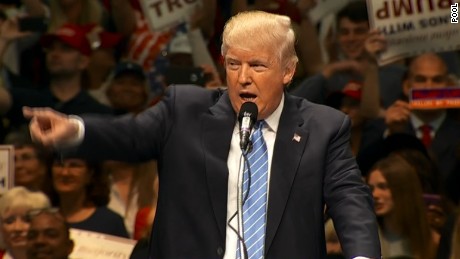 (CNN)Donald Trump has another woman problem — three of them.
The presumptive Republican nominee spent the past 24 hours blasting his likely opponent, Hillary Clinton, and his most provocative antagonist, Sen. Elizabeth Warren.
But he didn't stop there. He also slammed New Mexico Gov. Susana Martinez, the nation's only Latina governor and a Republican. Martinez might be seen as an obvious choice for diplomacy, or even intensive courtship, given Trump's standing among women and Hispanics.
Trump chose a different approach: He told the residents of New Mexico to get rid of her.
In all three cases, the clashes were classic Trump. Slight him, diss him, hit him — and he'll hit back harder. Much harder.
But they also could play right into Democrats' plans to brand Trump as a serial misogynist as he goes up against a rival who could become the first female president in history. His poor standing with women — a CNN/ORC poll in March found he was viewed unfavorably by 73% of registered female voters — is one of his biggest liabilities heading into the fall.
"He makes a habit of insulting women," Clinton said Wednesday afternoon as a campaign stop in California. "He seems to have something about women."
The battles have been brewing for weeks but exploded this week as Trump went west to hold a series of rallies and fundraisers. His latest scrapes are also likely to spur further conversation about whether he has a political weak spot in dealing with outspoken and powerful women — given that his debate clash with businesswoman and former presidential candidate Carly Fiorina was one of the shakiest moments of an otherwise wildly successful primary campaign.
Here are the highlights of Trump's latest fights:
Martinez
His response to Martinez's absence was swift, fierce and characteristic. Since becoming the GOP's presumptive nominee, Trump has not developed the technique of turning the other cheek that could benefit his wider political interests.
"We have to get your governor to get going," Trump told a raucous crowd. "She has got to do a better job. She is not doing the job. Hey, maybe I will run for governor of New Mexico. I'll get this place going."
Trump's attack on Martinez is counter-intuitive, given that she is a rising GOP star, who is perennially mentioned in vice presidential scuttlebutt. As a woman and a Latina, Martinez is the kind of candidate Republicans badly need in their corner if they are to reverse their losing streak in presidential elections.
And as a Republican in New Mexico, a state that has trended Democratic in recent presidential contests, she has much to teach her party about winning southwestern states the GOP needs to recapture if it is to make a tough electoral map more favorable.
Clinton downplayed her status as potentially the first woman president in her 2008 campaign. But she has highlighted her historic status more this time around.
"I don't know whether it makes him feel good to insult people," Clinton said Wednesday. "I don't understand the motivation."
Trump has responded to what he sees as the playing of the "woman card" by the Clinton campaign by unleashing the full fury of his tongue.
"I will never say this — but she screams it drives me crazy. I didn't say it. It drives me crazy," he said in New Mexico on Tuesday.
To counter claims by Democrats that he is anti-women, Trump has branded the former first lady an "enabler" of Bill Clinton's alleged extra-marital affairs, and dredged up the 1990s scandals that led to the former president's impeachment.
The tone between Clinton and Trump might be ugly already — but it is likely to get worse before the two rivals meet for their ultimate showdown — three presidential debates in the fall.
Read more: www.cnn.com