Quinnipiac University poll finds president has negative 35%-59% overall approval rating as he tweets picture of himself replacing Obama in eclipse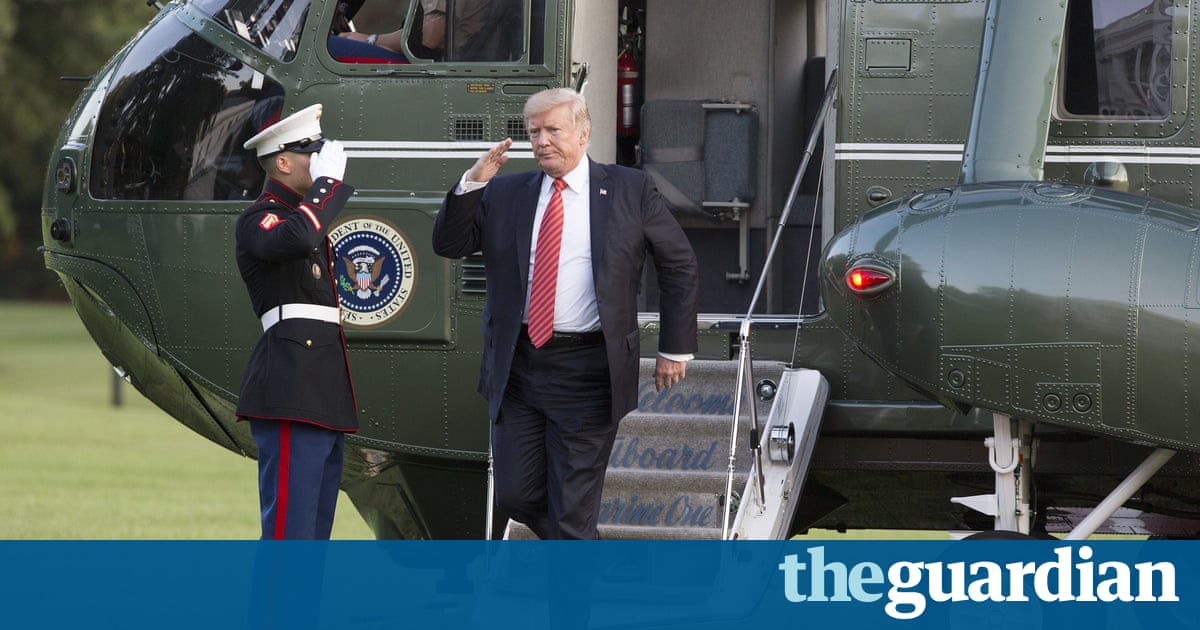 Donald Trump's divided states of America have been laid bare by a new survey and a fresh volley of tweets in which the president attacked fellow Republicans and depicted himself replacing Barack Obama in a "solar eclipse".
The president is doing more to fuel divisions, according to 62% of voters, compared with 31% who say he is doing more to bring the country together, his worst score thus far on this question, a national poll by Quinnipiac University found.
The polarisation was vividly illustrated by an open-ended question. When 1,514 voters were asked for the first word that came to mind when they thought of Trump, 64 said "strong" and 59 said "idiot". Another 58 said "incompetent", 50 said "liar" and 49 said "president".
Trump delivered another polarising speech to his base in Phoenix, Arizona on Tuesday, berating the "damned dishonest" news media, criticising local Republican senators and threatening Democrats with a government shutdown over funding for his controversial border wall.
Quinnipiac found that the president got a 35% overall job approval rating, with 59% disapproving – down from a negative 39%-57% rating in a 17 August survey. Every party, gender, education, age and racial group disapproved except Republicans (who approve 77%-14%); white voters with no college degree (52%-40%); and white men (50%-46%).
American voters disapprove by 60%-32% of Trump's response to the white supremacist march and violence in Charlottesville, Virginia, after which he blamed "both sides". Some 59% of voters say his decisions and behaviour have encouraged white supremacist groups; only 3% say he has discouraged them.
And two in three voters argue that "the level of hatred and prejudice in the US has increased" since Trump's election. Just one in 20 believe it has decreased while one in three say it hasn't changed.
Some 64% of voters say white supremacist groups pose a threat to the US. A total of 62% of American voters say prejudice against Jewish people is a "very serious" or "somewhat serious" problem.
Tim Malloy, assistant director of the Quinnipiac University poll, said: "Elected on his strength as a dealmaker but now overwhelmingly considered a divider, President Donald Trump has a big negative job approval rating and low scores on handling racial issues."
Quinnipiac University surveyed 1,514 voters nationwide, with a margin of error of +/- 3.1%, from 17 to 22 August.
Voters echo Trump in opposing by 50% to 39% removing Confederate statues from public spaces, but there is a stark racial divide. White voters oppose removal 57%-33%, with black voters supporting removal 67%-21%. Among Hispanic voters, 47% support removing statues, with 42% opposed.
American voters disapprove 55%-40% of the way the news media covers Trump, and disapprove 62%-35% of the way the president talks about the media. Voters trust the media more than Trump by 54%-36% "to tell you the truth about important issues". More than two in three want Trump to stop tweeting from his personal account.
He seems unlikely to heed them. At 8.19am on Thursday, Trump used Twitter to renew his assault on fellow Republicans in Congress, writing that he had asked the Senate majority leader, Mitch McConnell, and the House speaker, Paul Ryan, to attach legislation to increase the country's borrowing limit to a bill related to veterans. They did not do it and "now we have a big deal with Dems holding them up", he wrote.
He added: "Could have been so easy – now a mess!"
The government has enough money to pay its bills until 29 September but then Congress would have to give permission for the government to borrow more money to meet its obligations.
Next, Trump retweeted a post by a supporter, Jerry Travone, which showed four photos in which Trump's image supplanted that of Obama and was captioned: "The best eclipse ever!" – a reference to the solar eclipse that was visible across the US earlier this week.
Then the president launched another attack on the press, after it noted his radical shift in tone across three speeches: sober on Monday when talking about strategy in Afghanistan; angry, divisive and unscripted in Phoenix on Tuesday; and measured in praising veterans at an American Legion conference in Nevada on Wednesday.
He tweeted: "The Fake News is now complaining about my different types of back to back speeches. Well, there was Afghanistan (somber), the big Rally …(enthusiastic, dynamic and fun) and the American Legion – V.A. (respectful and strong). Too bad the Dems have no one who can change tones!"
Finally, he took on James Clapper, former director of national intelligence, who this week said Trump's access to the nuclear codes is "pretty damn scary". The tweet said: "James Clapper, who famously got caught lying to Congress, is now an authority on Donald Trump. Will he show you his beautiful letter to me?"
In a March 2013 congressional hearing, Clapper was asked if the National Security Agency collects any type of data on millions of America. He replied: "Not wittingly. There are cases where they could inadvertently, perhaps, collect. But not wittingly."
He has has apologised for the "clearly erroneous" testimony but insisted that he "made a mistake" and "did not lie".
At 9.42am, Trump circled back to McConnell and the failed healthcare bill, tweeting: "The only problem I have with Mitch McConnell is that, after hearing Repeal & Replace for 7 years, he failed! That should NEVER have happened!"
Later on Thursday, at the first White House press briefing for three weeks, the attacks on Republicans continued. Press secretary Sarah Huckabee Sanders insisted that relations with Congressional leaders are "fine" but, asked about Senator Bob Corker's recent remarks questioning Trump's stability and competence, she replied: "I think that's a ridiculous and outrageous claim and doesn't dignify a response from this podium."
Corker said last week that the president "has not yet been able to demonstrate the stability, nor some of the competence that he needs to demonstrate in order to be successful".
Sanders dodged several questions about the president's threat to shut down the federal government over the border wall, merely saying that Trump remains committed to the project. Challenged that he is no longer saying Mexico is going to pay for the wall, she replied: "He hasn't said they're not, either."
In a call with the Mexican president leaked last month, Trump suggested his demand for payment from Mexico was merely a political ploy.
The press secretary also said the White House was committed to making sure Congress raises the nation's debt limit. "It's our job to inform Congress of the debt ceiling and it's their job to raise it … We need to make sure we pay our debts. We're still committed to making sure that gets raised."
Read more: www.theguardian.com