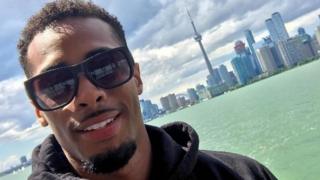 Robert Anker, a former member of dance group Diversity, who won Britain's Got Talent in 2009, has died in a car crash in Canada.
The 27-year-old was killed when his car collided with a pick-up truck in Ontario, local media reports say.
Mr Anker, who was born in Essex, moved to Canada last year and married his girlfriend, Cyndi.
The group said in a Twitter post that he "inspired so many with his talent and was taken far too soon".
After making his name with the 2009 Britain's Got Talent winners, Mr Anker went on to appear in videos for music stars such as Paloma Faith and Jessie J.
'Incredible talent'
He also appeared in the West End show Thriller Live. In a Facebook post, the show announced that it was dedicating Friday evening's performance to Mr Anker's memory.
"He had incredible talent, great personality and was very popular amongst many. We send our deepest condolences to his family and friends," the post said.
X-Factor choreographer Dean Lee tweeted: "Rob Anker. I have no words to speak after hearing of your passing. This is truly heart breaking. Thanks for the memories. Shine bright."
His cousin, Rochelle Hanson, has set up a JustGiving page to raise money to help family members attend his funeral in Canada.
She wrote: "On 27th July 2017, Robert Anker aged 27 was involved in a fatal car accident in Canada and sadly passed away at the scene.
"We are raising funds for his family to be able to cover all costs for their trip to go and arrange his funeral in Canada.
"We would love to ensure that his family don't worry or stress about money at this time."
York Regional Police in Canada said the crash occurred on July 27 just before 06:00 local time (11:00 BST), when a Chevy Cobalt collided with a Ford F550 pick-up truck.
They said the 27-year-old driver of the Chevy died at the scene, while the driver of the truck was uninjured.
A Foreign Office spokesman said: "We are aware of the death of a British man in Canada. We are providing assistance to his family at this sad time".
Read more: www.bbc.co.uk