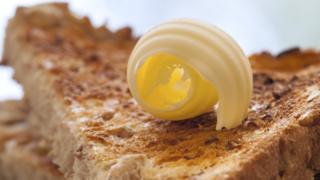 I love butter – a scraping of it on a slice of toast is a thing of joy.
So when a series of newspaper headlines proclaimed saturated fat is not as bad as once thoughts and that "butter is back" then wow that's the kind of news story I can get behind!
But they do run against decades of health advice to cut the amount of sat fat we eat.
So what's going on here and what should make it into the supermarket trolley?
One of the big problems seems to be that simply declaring saturated fat is bad or that butter is back loses all nuance.
The World Health Organization's advice is to have no more than 10% of total calories coming from saturated fat.
The argument has been that sat fat increases the amount of bad cholesterol in the blood, although it also increases the very best type too.
The bad cholesterol furs up arteries and ultimately leads to a heart attack or stroke. Meanwhile trials of statins demonstrate cholesterol-lowering drugs can reduce the risk of a heart attack.
---
More from our Diet Debate series:
Read: Is breakfast a waste of time ?~ ATAGENDWatch: How healthy is your breakfast ?~ ATAGENDRead: Low-fat or high-fat – does it matter ?~ ATAGEND
---
Confusion?
But getting the best evidence in nutrition is always a bit of nightmare.
Some analyses rely on food questionnaires asking people what they feed in the past year and then assuring what happened decades later. Now I can't say to you what I had for dinner three weeks ago and diets also change with time.
And it's ever so slightly unethical to lock people up and experiment with their diets for decades to see if they have a heart attack. So the evidence objective up being a patchwork quilt of studies that gives an overall impression that saturated fat is bad.