Diabetes UK says there has been a 65% rise in the past decade, largely due to obesity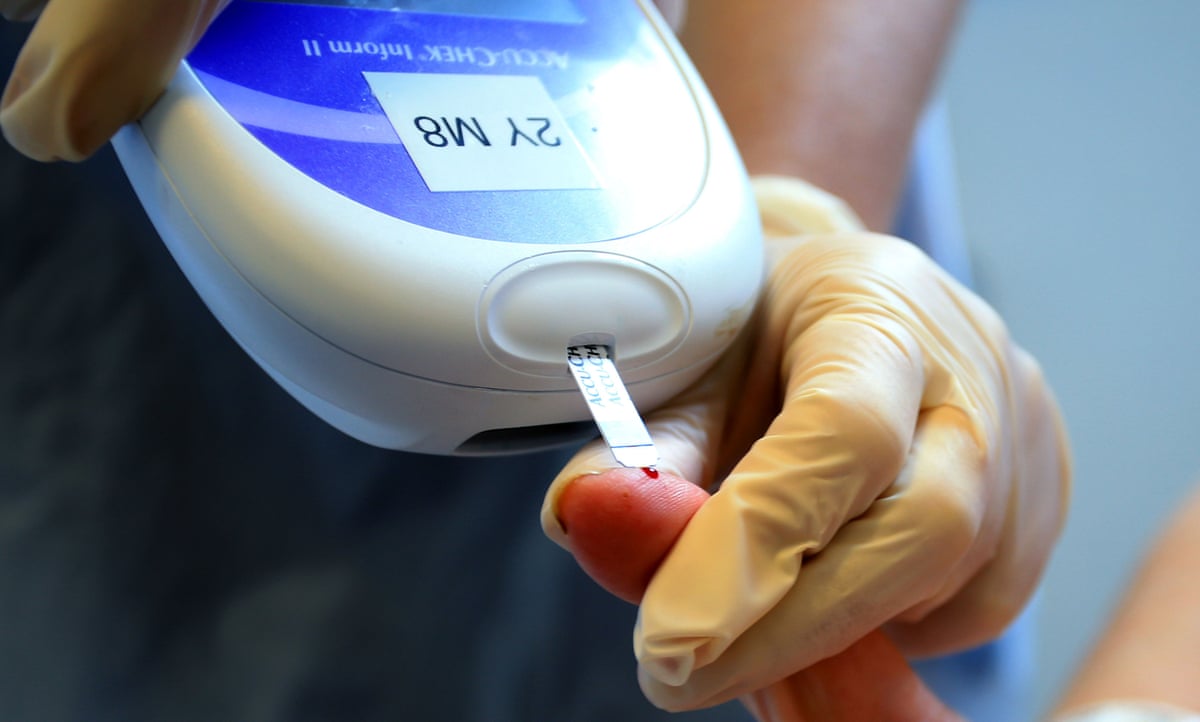 The number of people living with diabetes in the UK has topped 4 million for the first time, a charity says.
Based on 2014-15 GP patient data, Diabetes UK says there are 4.05 million people with the condition, including 3.5 million adults who have been diagnosed, an increase of 65% over the past decade and around 120,000 more than the previous year. There are thought to be 549,000 with undiagnosed type 2 diabetes.
Melanie Davies, professor of diabetes medicine at the University of Leicester and University Hospitals of Leicester NHS trust, who was made a CBE in the New Years honours list, said that numbers with the condition were growing across the world, often outstripping estimates.
As such, she said, the 4 million figure is not surprising but quite alarming. There are also lots of people at very high risk of developing diabetes over the next five to 10 years. The large driver is the increase in the number of people with type 2 diabetes, associated with obesity in the population.
We know that we have an ageing population so of course there are lots of ageing people with diabetes, but were seeing in the [Leicester] clinic, teenagers and even children with type 2 diabetes and we wouldnt have seen that 10 years ago. Even under the age of 30 there are many more people developing it than before and having it for a longer time, so there are more complications.
The National Audit Office recently criticised the poor standard of diabetes care, and Diabetes UK says that unless this is remedied more people will end up experiencing potentially preventable diabetes-related complications such as blindness, kidney failure and amputation. The charity says more than 24,000 people a year with diabetes die before their time.
Diabetes UKs chief executive, Chris Askew, said: The need to tackle this serious health condition has never been so stark or so urgent. Tragically, we are continuing to see too many people with diabetes suffering serious complications, and even dying before their time, and we know that key reasons for this are that they are being denied both the care and access to education that would help them to manage their condition well.
It is vital that we start to see people with diabetes receive good-quality care wherever they live rather than them being at the mercy of a postcode lottery.
He said there was a need to address the fact that almost two in every three people in the UK are overweight or obese by making healthy food cheaper and more accessible, introducing clearer food labelling and making it easier for people to build physical activity into their daily lives.
Davies said that the key was investing in public health messages from childhood to help people make better choices, but also improving screening and identifying people at high risk.
Prof Jonathan Valabhji, NHS Englands national clinical director for obesity and diabetes, said: Tackling obesity and diabetes is one of the biggest healthcare challenges of our time and the numbers with type 2 diabetes are rising. Thats why the NHS diabetes prevention programme is crucial. Rollout has begun and, once fully rolled out, we expect up to 100,000 people a year will be referred and offered intensive support to help avoid developing type 2 diabetes, with its potentially devastating consequences.
Read more: www.theguardian.com