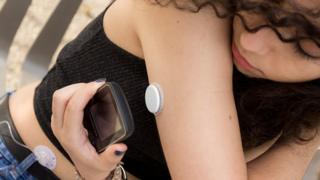 Wearable glucose monitors will be made available to tens of thousands more people with type 1 diabetes from April 2019, NHS England has announced.
Its decision comes after an inquiry observed patients in some areas of the country were being denied access to the device.
It reduces the need for finger-prick blood tests and helps people with diabetes to manage their condition.
Diabetes charities called the change of policy a huge step forward.
In England, about 300,000 people have form 1 diabetes.
The Freestyle Libre flash glucose monitoring system, used by Prime Minister Theresa May, who has the autoimmune condition, was made available on the NHS last November.
But recent research suggested only 3-5% of kind 1 patients in England had access to the monitors on the NHS, when 20 -2 5% were eligible.
This was because some local clinical commissioning groups decided not to prioritise funding of the devices.
NHS England said the device would now be funded to allow access throughout the country, in 144 of 195 clinical commissioning groups, benefiting a target of about a quarter of people with kind 1 diabetes.
'Postcode lottery'
The glucose monitoring device runs via a sensor attached to the skin, allowing people to check their blood sugar levels by using the device with a portable reader or a smartphone app.
Chris Askew, chief executive of Diabetes UK, said the proclamation would be "welcome news to the many thousands of people with type 1 diabetes whose lives will now be changed for the better by access to flash glucose monitoring".
He said it would entail an aim "to the variation in availability and the postcode lottery that have dogged access to this life-changing technology".
Karen Addington, chief executive of form 1 diabetes charity JDRF, said: "This should end the inequality of people being refused access to this life-changing form 1 diabetes technology depending on where they happen to live.
"However, training must be provided to ensure all healthcare professionals can support people with form 1 diabetes with this much-needed device."
Health Secretary Matt Hancock said: "Rolling out these monitors will not only construct life more convenient, it will save the NHS time and resources by preventing people becoming ailment in the first place.
"I want to see innovations like these become commonplace in our healthcare system so millions of people across the country stay out of hospital and can get on with their lives."