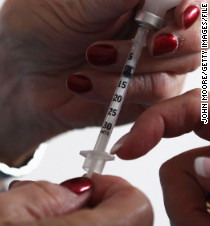 (CNN)It's a potentially fatal disease whose risks can in many cases be prevented through lifestyle measures. So why has diabetes seen a massive increase in sufferers?
The number of people living with the potentially fatal disease has quadrupled since 1980, to more than 400 million, according to the World Health Organization (WHO).
Worldwide, diabetes killed 1.5 million in 2012 alone, with high blood-glucose causing another 2.2 million deaths, the organization says.
In its first Global Diabetes Report,
the WHO says a "whole-of-government and whole-of-society approach" is required to tackle the disease, which costs an estimated $827 billion annually in patient care and medicine.
Findings of the WHO report were published in the medical journal
Lancet
, and highlight inequalities between countries, as diagnoses and medicine are more accessible in high-income nations.
What is diabetes?
Diabetes is a chronic disease caused by the body's failure to produce enough insulin to regulate blood glucose — or blood sugar.
Raised blood glucose can eventually damage the heart, blood vessels, eyes, kidneys and nerves. Abnormally low blood glucose can cause seizures and loss of consciousness.
Type 1 diabetes is not currently preventable and sufferers require daily administration of insulin to survive.
But the WHO warns that policy needs to be translated into action, with less than half of countries with national guidelines or standards on diabetes actually implementing them.
"Everyone has a role to play — governments, health-care providers, people with diabetes and those who care for them, civil society, food producers, and manufacturers and suppliers of medicines and technology are all stakeholders," the WHO says.
"Collectively, they can all make a significant contribution to halt the rise in diabetes and improve the lives of those living with the disease."
Read more: www.cnn.com