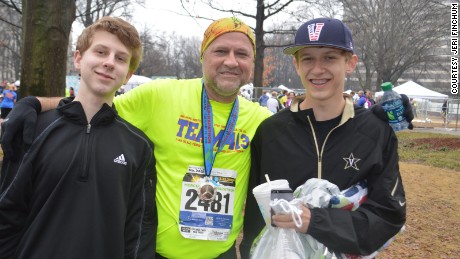 (CNN)On the morning of January 28, 2014, freezing rain and snow glazed the streets of Birmingham, Alabama, bringing chaos to a city unaccustomed to those conditions. Schools shut down, businesses closed and residents frantically tried to make their way home, leading to gridlock on the roads.
Kelly Garner set out that afternoon to assist motorists and get as many people to safety as he could. As night approached, Garner began to walk home to his wife and two sons.
One hour turned into two and two into three. It was 8 degrees outside, and his family hadn't heard from him. Word began to spread as his photo was shared on
Facebook
and
Twitter
. His friends and neighbors feared the worst: He could be frozen. He's a Type 1 diabetic and hadn't had his medication. There's no way he would be found alive, some worried.
The morning after he disappeared, after a community-wide search, his neighbor found Garner, bloody and barely responsive, in a ravine 40 feet deep.
Even after crossing the finish line in a respectable time, Garner feels disappointed he didn't run a full marathon.
"When I was running the half and I was at that finish line, I really believe I could have done another half, a complete marathon," Garner said. "That's how cloud nine I was."
He said he felt very little pain or discomfort during the race, just pure excitement, especially because his surgical team was so inspired by him that they chose to run alongside him the entire 13.1 miles.
"Running was the one sport that I felt I could still accomplish despite my diabetes. Plus, if I let anyone down, it would only be me, since it isn't a team sport," Garner, a diabetic since age 9, writes in his book.
Digging deep to persevere
It's been two years since Garner's long, cold night trapped in the ravine, and he still suffers. Hearing aids are now a must, and constant back pain plagues him daily, along with the effects of his brain injury.
"I'm getting pretty forgetful and don't remember some basic things, like adding and subtracting, or names of TV shows and actors and actresses," Garner said. "Some things I'm OK with, but a lot of other things I'm not."
The 50-year-old credits his miraculous recovery to his faith. Nowadays, when Garner finds himself passing the site of his fall, he stops for a moment to take it all in. He walks over, kneels, looks at the ravine and says a little prayer.
"Thank you, God, for providing me with the blessings you've given me. And the inspiration you provided helped me to provide for other people," Garner said.
After all Garner has been through, he hopes to inspire people to have more perseverance in themselves, and to "dig deep and find that."
"I wish everybody had a little bit of Kelly in them," Haralson said.
Read more: www.cnn.com