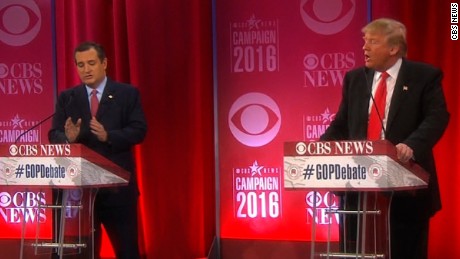 (CNN)The Republican debate in South Carolina Saturday on night was far below what I'd hoped for as a debate coach, so the grades generally reflected that this time. It's like one of those "group projects" where one person in the group is so poor as to bring everyone else down. Sometimes, nobody gets an A.
I'll begin with the best of the lot.
B-
Marco Rubio: Rubio was generally decent (solid in his discussion of child tax-credits, worse on amnesty and immigration and his record in Florida). He had a poor exchange on immigration with Cruz that somehow ended up with Cruz speaking Spanish. It wasn't Rubio's best debate, but since it wasn't the disaster of his last one, where the (now gone) Chris Christie mocked him for repeating himself, people will probably give him too much credit. B minus seems appropriate.
Losing your cool at the drop of a hat is poor form in debates. And it's worse for a President. Indeed when asked whether he can ever be told he's wrong, his reply was to spin it into an attack on Bush and how much money he spent in New Hampshire, only to place fourth as opposed to Trump, who won there. Not answering the questions, name-calling, interrupting…all earned Donald Trump an F.
F
The live audience: Enough already! They're annoying; they're biased toward some candidates (they'd cheer at anything Rubio said, regardless of the merit); and biased against others (stop booing Trump and Cruz just because they disagree with your favorite son, Rubio). It's an age-old debating trick: Stack the audience, and watch how they sway the voters (especially the voters at home). At the end it became a contest on whose supporters could yelp the loudest. What nonsense.
F-
The debate: I wrote the words "this is a terrible debate" no less than 5 times in all caps when watching.
The moderators had no control. A good moderator should study the candidates, know their debating style, and prepare to handle it. Most of the candidates not just Trump — lacked self-control. If you have kids, here's my analogy. It was like watching children screaming, interrupting, and insulting one another when fighting over that last scoop of ice cream.
As an example of how out-of-control the debate became, Dickerson asked Rubio to "chime in" and Rubio replied, "on anything I want?" So he did.
It ended with another episode when Rubio asked if he had 30 seconds, and Dickerson simply gave up by saying, "I'll ask the question, you do what you want."
It was a perfect summation of a pitiful debate.
Join us on Facebook.com/CNNOpinion.
Read CNNOpinion's Flipboard magazine.
Read more: www.cnn.com