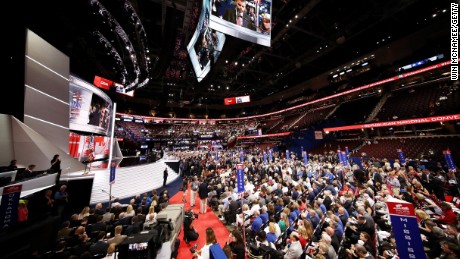 (CNN)The Republican Party gathered in Cleveland Monday for the first night of its convention, and CNN's Reality Check Team put the speakers' statements and assertions to the test.
The team of reporters, researchers and editors across CNN listened throughout the speeches and selected key statements, rating them true; mostly true; true, but misleading; false; or it's complicated.
Texas Rep. Michael McCaul
Reality Check: McCaul on Clinton's plans for borders, Syrian refugees
By Sonam Vashi, CNN
"Hillary Clinton is promising more of the same. Open borders, executive amnesty and the surge of Syrian refugees," said Mike McCaul, R-Texas, the chairman of the Homeland Security Commission.
Clinton's
platform
on immigration incorporates a pathway to citizenship and enforcing immigration laws, including deporting people who "pose a violent threat to public safety."
Clinton
said in November
that the US needs "to secure our borders. I'm for it, I voted for it, I believe in it, and we also need to deal with the families, the workers who are here, who have made contributions, and their children." She also
said in March
that the US has "done a really good job securing the border." Clinton's proposed policies and past rhetoric do not reflect open borders. That's
false
.
Clinton does support President Barack Obama's executive actions on immigrations, called DACA and DAPA, which were
recently blocked
by a deadlocked decision from the Supreme Court. Those actions are often called "executive amnesty" by conservatives, although the programs would only give temporary status some undocumented workers, not permanent status. That's
true, but misleading
.
Lastly, Clinton has advocated for a significant increase in the number of Syrian refugees. We've
checked this claim
a few times. In September, the White House announced it planned to admit 10,000 Syrian refugees this fiscal year, a significant bump at that point from the 1,500 refugees admitted since the start of the Syrian conflict in 2011. Shortly after, on CBS News' "Face the Nation,"
Clinton was asked
if the current U.S. plan to increase the number of admitted Syrian refugees to 10,000 was enough. She replied, "I would like to see us move from what is a good start with 10,000 to 65,000 and begin immediately to put into place the mechanisms for vetting the people that we would take in." So, it's
true
that Clinton supports a surge in Syrian refugees.
Alabama Sen. Jeff Sessions
Reality Check: Sessions on middle-class incomes
By Tami Luhby, CNN Money
Republicans have been knocking Obama and Clinton for the declining fortunes of middle-class Americans throughout this election cycle.
Speaking at the GOP convention on Monday evening, Sessions hit on this issue once again.
"Fellow Republicans, we must understand that the incomes of middle-class Americans today are $4,000 less per year than in 1999. This is an economic disaster. We're on the wrong track and the American people know it."
CNN's Reality Check Team looked into how middle-class Americans have fared in recent years.
Read more: www.cnn.com