Former British prime minister clarifies he was not serious, as he weighs in on US presidency, Brexit and Putins bare chest on university speaking tour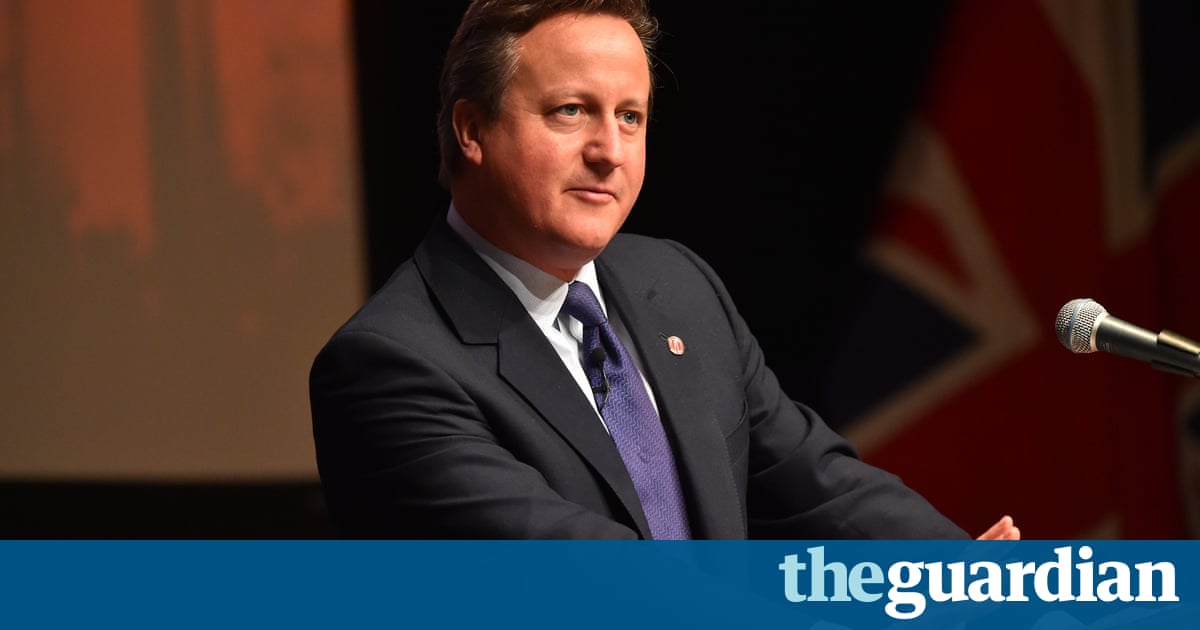 David Cameron has joked that a major advantage of being an ex-prime minister is that he is no longer required to listen to Donald Trumps wiretapped conversations adding swiftly, perhaps for the benefit of the Twitter-happy president: Just to be clear, thats a joke.
The former British prime minister was speaking on Monday at Brown University, Rhode Island, where he delivered the 94th Ogden memorial lecture on international affairs, touching upon Brexit, Vladimir Putin and making America great again in front of a sold-out audience of around 2,400.
He told them that despite 2016 being marked by the election of Trump and Britains vote to leave the European Union a result that guillotined his premiership tolerance, rather than nationalism and isolation, would be the way forward, the Providence Journal reported.
When the Berlin Wall fell in 1989, it felt a bit like all the big arguments were over. It was obvious that we needed more democracies, we needed more rule of law, we needed free enterprise, we needed free trade, we needed Nato, we needed to stand up to aggression, we should invest in the United Nations today, all of these questions are under debate.
Your president doesnt agree with some of the things Ive just said.
The US and UK were, Cameron said, the guardians of freedom, of tolerance, of equality and, yes, of justice. Fight for them and we really will be great again
Far from being in retreat, democracy has been on the march.
In the wake of comments by Trump and his administration expressing scepticism bordering on hostility about the effectiveness of Nato, Cameron cautioned: We should treasure Nato, not undermine it. We wont make American great by making eastern Europe weaker again.
Instead, he argued, countries should be outward-looking: Stop the World I Want to Get Off might have been a good movie, but its a hopeless philosophy in a shrinking world.
There is a powerful moral argument that we should love our neighbour, whether at home or the other side of the world.
Such affection could still exist between Britain and its European neighbours, he insisted, despite the imminent divorce, the process of which Camerons successor, Theresa May, has announced she will trigger next week.
Cameron said the tricky negotiations of untangling Britain from the EU were not impossible to get right, adding: Leaving the European Union does not mean were leaving Europe.
Since late last year, Cameron has embarked on a lucrative US speaking tour the proceeds of which he does not not need to declare publicly, having resigned as an MP in the wake of his departure from 10 Downing Street.
On Monday, in remarks that reportedly drew laughter and applause from the audience, Cameron weighed in on the row between Trump and almost everyone else British spy agency GCHQ, the FBI and Barack Obama himself among them over whether the president was, as he claimed without evidence, wire-tapped by his predecessor.
There was one plus point of his departure from politics, Cameron who was previously labelled a dummy by the then Apprentice host joked: I dont have to listen any more to the wiretaps of Donald Trumps conversations.
Another relief has been the end of invitations from Russian leader Vladimir Putin to go hunting with him, Cameron said, adding of the famously chest-baring president: Im very fond of riding horses, but I dont look quite the same with my shirt off.
Read more: www.theguardian.com