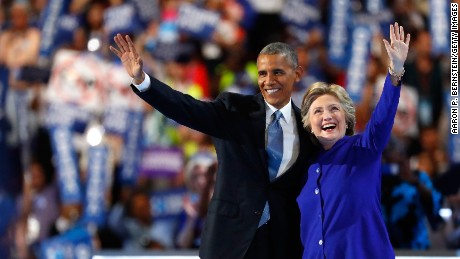 (CNN)When it comes to strength, it's hard to top the commander-in-chief.
Rather than a well-earned victory lap, President Barack Obama showed a steely resolve as he ruthlessly dismantled Donald Trump and enthusiastically endorsed Hillary Clinton.
Let us begin with his disembowelment of Trump.
"We are not a fragile or frightful people," the President declared. "Our power doesn't come from some self-declared savior promising that he alone can restore order. We don't look to be ruled."
We don't look to be ruled. A few miles from the Wells Fargo arena, the ghosts of Jefferson and Franklin, downing an ale near Independence Hall, said, "Damn straight, Mr. President."
Tim Kaine introduced himself to the country with wit and charm. He is in many ways the future of the Democratic Party. But Wednesday night belonged to the man who is perhaps not fully ready to become the party's past: the grey-haired President who, 12 years ago, was a fresh-faced state senator. And he handled his most pressing task with typical Obama grace. Summoning all his hard-earned gravitas, the man who saved the American economy, rescued the auto industry, expanded health care coverage and
gave the order to have Osama bin Laden killed
,
handed the baton to his onetime rival
, now his close friend.
"There has never been a man or a woman," he said, "not me, not Bill, nobody — more qualified than Hillary Clinton to serve as President of the United States of America."
And so the torch was passed.
Read more: www.cnn.com