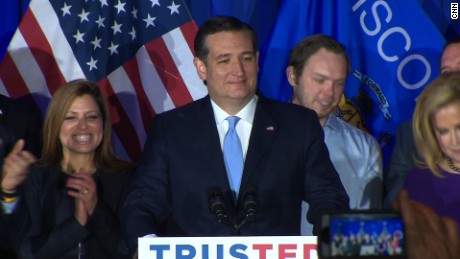 (CNN)Ted Cruz won the Wisconsin Republican primary Tuesday, boosting his effort to blunt Donald Trump and moving the party closer to a historic contested convention.
Bernie Sanders
, meanwhile, won the Democratic primary, inflicting a tough loss on front-runner
Hillary Clinton
and racking up his sixth win of the past seven state contests.
Cruz's victory, however, complicates
Trump's drive toward the 1,237 pledged delegates
he needs to capture the Republican nomination outright before the convention in Cleveland. It follows a rough week for Trump on the campaign trail that included missteps on abortion and controversial comments on national security.
"Tonight is a turning point," Cruz declared at a victory rally in Milwaukee. "I am more and more convinced that our campaign is going to win the 1,237 delegates needed to win the Republican nomination. Either before Cleveland or at Cleveland … we will win a majority of the delegates."
"Hillary, get ready, here we come," Cruz said.
Cruz's Wisconsin victory was resounding, handing him at least 36 delegates compared to six that will go to Trump. Trump continues to dominate the delegate race, with 746 pledged delegates to 510 for Cruz and 145 for Ohio Gov.
John Kasich
,
according to a CNN estimate
.
The campaign now enters a stretch of states in the Northeast that favors Trump, including his own
delegate-rich state of New York
, which votes on April 19. But Trump would need to win 60% of the remaining pledged delegates to win the nomination.
But both men hope to win sufficient delegates to stop Trump short of 1,237 delegates to open the way to a
contested convention.
Democrats
On the Democratic side, Sanders is aiming to capitalize on a hot streak heading into the delegate-rich New York primary on April 19, where Clinton hopes to secure a win on home turf to maintain her big delegate lead.
Sanders was also confident of his chances in New York, the state where he was born and that Clinton represented in the Senate.
"Please keep this a secret. Do not tell Secretary Clinton —
she is getting a little nervous
and I don't want her to get more nervous — but I believe we have got an excellent chance to win New York and a lot of delegates in that state," Sanders said.
Clinton tweeted congratulations to Sanders.
Congrats to @BernieSanders on winning Wisconsin. To all the voters and volunteers who poured your hearts into this campaign: Forward! -H

— Hillary Clinton (@HillaryClinton) April 6, 2016
Earlier Tuesday, it was clear that Clinton was moving beyond Wisconsin. She held a "Women for Hillary" town hall meeting in Brooklyn where she focused squarely on Republicans and rebuked Trump for "peddling prejudice" about women and Muslims.
"I wish he'd get out of one of his towers and actually walk the streets and spend time with the people of this city," Clinton said.
CNN's Jeff Zeleny reported that Clinton also held a fundraiser in New York City on Tuesday night before returning to her home in Chappaqua to watch the results.
The former secretary of state is under intense pressure to match the fundraising juggernaut that is the Sanders campaign. The Vermont senator outraised her by $15 million in
March with his haul of $44 million
— one reason, alongside his string of primary victories, why he has no incentive to get out of the race.
Still, he has a more complicated task than Cruz in slowing his party's front-runner, since Democratic delegates are doled out on a proportional basis rather than the winner-take-most formula used in Wisconsin by Republicans.
And Sanders' vulnerabilities on issues beyond his core economic talking points
were on display
in an interview with the New York Daily News editorial board that was published Monday. The interview showed him having difficulty answering some questions about both foreign and domestic policy.
Clinton and Sanders are chasing their magic number of 2,383 delegates to win the nomination. Clinton currently has 1,778 total delegates while Sanders has 1,097 delegates, according to a CNN estimate.
Read more: www.cnn.com