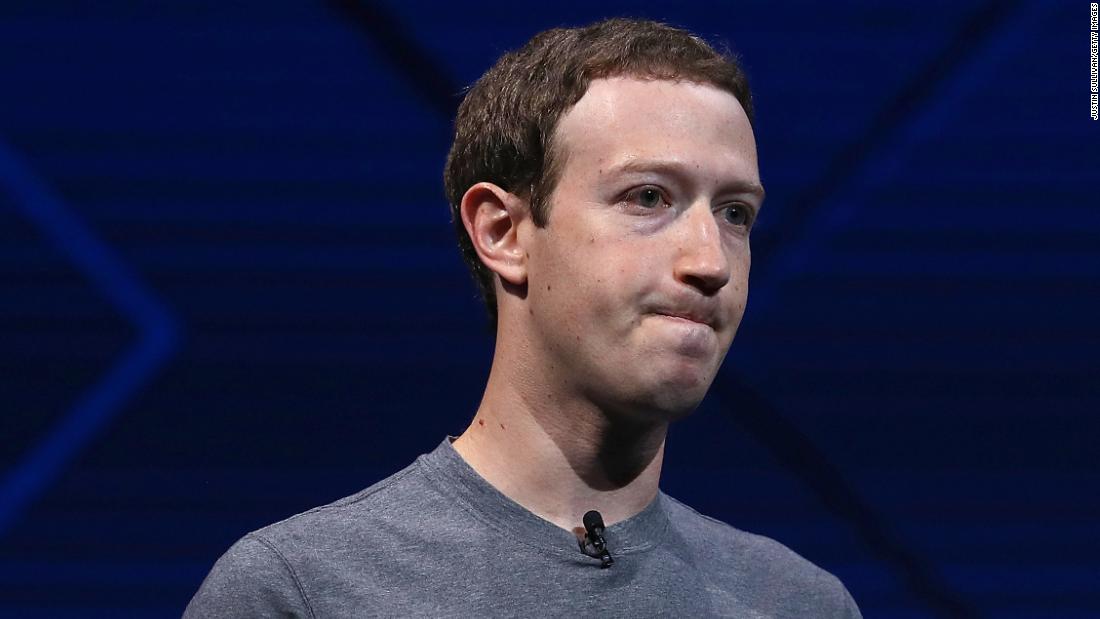 (CNN)When Congress returns Monday from a two-week recess, all eyes will be on Facebook CEO Mark Zuckerberg as he takes the hot seat in two congressional hearings over the latest privacy scandal involving Cambridge Analytica.
To address concerns about fake content,
Facebook announced a big set of changes Friday
, saying it will now label all political and issue ads, and showing who paid for them, and it will require anyone who wants to run a political or issue ad to verify their identity and location.
While Zuckerberg has taken questions in recent weeks from news outlets, including CNN, his testimony before Congress will put the embattled CEO in a higher pressure setting with lawmakers expected to grill him for hours, with Russian meddling as a major underlying topic.
Trump actions, Cabinet issues overshadow tax message
Zuckerberg's high-profile hearings may draw attention away from what congressional Republicans hoped to focus on this month: the tax law they passed that they believe is the kind of major accomplishment that should convince voters to keep them in the majority. GOP leaders plan to tout the tax cuts around the April 15 filing deadline and hammer home to voters that Democrats never would have delivered that type of paycheck relief if they were in charge.
Many Republicans are deeply concerned about losing one or both chambers in the midterm elections and think the continued focus on what happened in the 2016 election — and the many other controversies related to the Trump White House — won't help them win in 2018. The GOP faces stiff winds in November, Senate Majority Leader Mitch McConnell warned last week.
"This is going to be a challenging election year," McConnell said in an interview with Kentucky Today. "We know the wind is going to be in our face. We don't know whether it's going to be a Category 3, 4 or 5."
And Facebook isn't the only issue keeping the focus off tax cuts. While lawmakers were back home, Trump unexpectedly announced several hot-button but unformed policies — including potentially pulling US troops from Syria after feeling frustrated with the mission and sending the National Guard to defend the border with Mexico — that Republicans will be forced to walk away from or defend.
In addition, the Cabinet woes facing the White House are landing in the Senate's lap, which now must set aside its business to deal with replacing several key senior executives who were in office for just about a year. While the current legislative agenda is light, McConnell proudly is filling floor time with votes on conservative judicial nominees who are reshaping the courts.
Republicans are openly frustrated they now must devote so much time, attention and political capital to confirming a new secretary of state, CIA director, and Veterans Affairs secretary. The also acknowledge that each of those nominees — Mike Pompeo, Gina Haspel and Dr. Ronny Jackson — have faced criticism and may not get confirmed. Upcoming hearings on these critical members of the President's Cabinet will give Democrats the chance to grill them on controversial policies, and expose the divisions inside the President's own party on national security issues.
Environmental Protection Agency administrator Scott Pruitt is also under fire for possible ethics violations, meaning another Cabinet vacancy could be coming soon. One top Senate Republican leadership aide warned that if Pruitt goes, the narrowly divided 51-49 Senate probably won't be able to confirm a replacement who is as conservative and anti-regulatory as Pruitt.
Balanced budget amendment & budget rescissions
The House will vote next week on an amendment to the Constitution requiring a balanced budget, according to two GOP leadership aides.
The legislation, sponsored by House Judiciary Committee Chairman Bob Goodlatte, requires that Congress can't spend more money than it takes in. It also requires that for any tax increases, both the House and Senate need to approve them with a majority.
Any measure to raise the debt ceiling would need to be passed by Congress with a three-fifths supermajority. The GOP-controlled House has already passed a similar measure in the past, but the Senate, where the Republicans hold a slim majority, is not expected to move on the issue.
The vote on a balanced budget legislation comes shortly after Trump signed a $1.3 trillion budget bill boosting both defense and domestic spending. He blasted the budget deal, which the White House helped negotiate, and it was panned by many conservatives. The President warned he would never agree to something like it again, especially because he failed to get some of his own priorities in the package. The blowback from the President's base, coupled with the fact that the deal didn't include the kind of money for a border wall that Trump wanted, prompted his decision to deploy National Guard troops to the southwest border to provide security assistance.
Trump's frustration with the $1.3 trillion omnibus is no secret, and during the recess that opened the door — spurred heavily by Office of Management and Budget Director Mick Mulvaney with help from House Majority Leader Kevin McCarthy — to the possibility of a rescissions package, multiple congressional aides tell CNN. The idea — using a 1974 law to slash the non-defense domestic spending increases just enacted last month — is real: essentially, the White House can send a package of "rescissions," or provisions to effectively cancel the spending authority from the omnibus to Capitol Hill for approval. But the possibility of passage? That, senior aides in both parties make clear, is not.
The reason it has appeared plausible is that, unlike the omnibus itself, a rescissions bill only requires a simple majority in the Senate, instead of the usual 60-vote threshold to move forward. But the idea, according to multiple aides, is rife with potential pitfalls.
First, it would go back on an omnibus deal that had explicit sign-off from all four congressional leaders — Republican and Democrat.
Second, it would put Republican lawmakers, many smack in the middle of primary season or facing difficult November races, in the difficult spot of voting again on an unpopular bill opposed by conservatives, to cut money from programs that are likely broadly popular.
Finally, on the off-chance it were to get through the House, while the bill would only a require a simple majority in the Senate, it would still be amendable — meaning the chamber would more than likely head into a politically precarious vote-a-rama — something neither leader is keen on having at this point in the 2018 election cycle.
The process remains in the early stages, and given the potential issues, could fall apart, aides say. But the White House interest in the idea is real — and given the President's disdain for the spending bill he signed into law, a push from the Oval Office isn't out of the question. Congressional conservatives, most of whom opposed the omnibus, and the outside groups that align with them, are already ramping up in support of the idea as well. Still, aides caution that the complicated political and policy dynamics make the prospects for it, at least at this point, unlikely.
AUMF
For the first time in sixteen years, the Senate Foreign Relations Committee could be close to getting an agreement on a new Authorization for the Use of Military Force that could affect the Trump administration's war powers.
Last month, Committee Chairman Bob Corker announced on the Senate floor that he intended to hold an April 19 markup on a new war authorization that would replace the original post-9/11 authorizations of 2001 and 2002. The authorization has been used to define the country's legal authority to wage the war on terrorism and was used by both Republican and Democrat administrations as justification for military operations.
Corker has said he was "hopeful" that his committee was close to an agreement and that they would be able to find the "sweet spot" between the Democrats call for restrictions and Republican wishes to not change the current AUMF, giving the administration the greatest flexibility, but he has not detailed what is expected to be in the new AUMF.
It is also unclear if Senate Majority Leader Mitch McConnell would allow the measure any floor time for debate were it to pass out of committee.
Opioids
The Senate Health Committee is set to have a hearing on its draft legislation on opioids Wednesday, the latest effort to tackle the nation's growing crisis. The hearing will focus on the Opioid Crisis Response Act of 2018, which would help several US departments including the Food and Drug Administration and the National Institutes of Health tackle the effects of opioids on children, families, and communities, as well as improve data sharing between states.
The Senate's push for opioids legislation comes amid other Republican-led efforts in Washington to combat the opioid crisis, including the White House's public campaign to address the issue.
Dodd-Frank
Talks continue behind the scenes about the future of the bank deregulation bill passed by the Senate. While Senate Democrats who voted for the measure made clear they did not support a conference with their House counterparts and wouldn't support any substantive changes, House Financial Services Committee Chairman Jeb Hensarling, a Texas Republican
who's not seeking re-eleciton
, made clear prior to recess that he had a lengthy list of additions to the bill he wanted made before signing off.
As it currently stands, there has been no major breakthrough, aides say, but Hensarling has been given space to see if he can find one. If he doesn't, aides said House leaders — with a strong push from the President himself — will likely move to take up the Senate bill and send it to the President's desk.
The Senate's newest member arrives
The Senate will be getting a new member this week.
Vice President Mike Pence will be on the Hill Monday afternoon to swear in new Mississippi Republican Sen. Cindy Hyde-Smith who was appointed by her state's governor to replace retiring GOP Sen. Thad Cochran until a special election is held in November to fill out the remainder of Cochran's term.
Hyde-Smith is expected to run in what may be a bruising primary battle with conservative State Sen. Chris McDaniel.
Read more: www.cnn.com