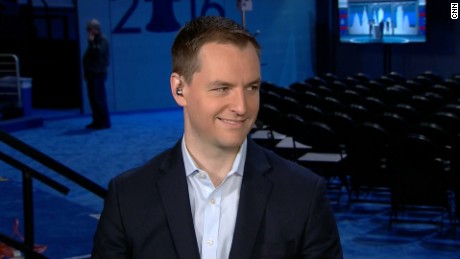 Philadelphia (CNN)Hillary Clinton's campaign manager is alleging that Russian hackers are leaking Democratic National Committee emails critical of Bernie Sanders in an effort to help Donald Trump win the election in November.
It comes on the heels of "changes to the Republican platform to make it more pro-Russian," Robby Mook told CNN's Jake Tapper on "State of the Union" Sunday.
On CNN's Erin Burnett OutFront, Trump campaign chairman Paul Manafort called any claims of Russian assistance to the Trump effort "absurd" when asked about it on the show.
"Donald Trump is talking about the failed leadership of the Obama administration," Manafort said. "I don't know anything about what you just said. You may know it. If you do, expose it. But to say you know — i don't know what you're talking about. It is crazy."
Mook downplayed the possibility that the email release will rip open divides between supporters of Clinton and Sanders just before the Democratic National Convention kicks off in Philadelphia.
"The DNC needs to take appropriate steps, and I'm confident that they will," he said.
Read more: www.cnn.com