Republican suggests drug tests before next showdown and repeats suspicion of rigged election at New Hampshire rally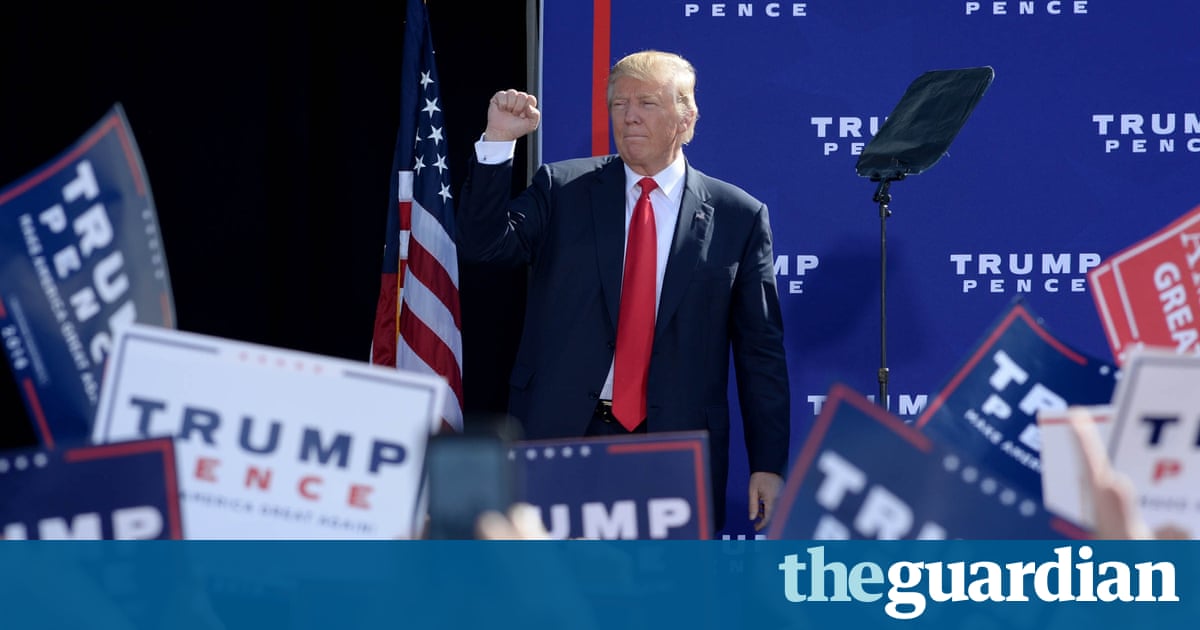 Donald Trump suggested on Saturday that Hillary Clinton might have taken performance-enhancing drugs to prepare for their presidential debates, and that both candidates for president should be tested before Wednesdays final debate.
Were like athletes, the Republican nominee told a rally in Portsmouth, New Hampshire. They make them take a drug test. I think we should take a drug test prior to the debate. I think we should why dont we do that?
Trump continued: We should take a drug test prior because I dont know whats going on with her, but at the beginning of her last debate she was all pumped up at the beginning and at the end if was, Huh, take me down. She could barely reach her car. So I think we should take a drug test. Anyway, Im willing to do it.
Trumps campaign has previously criticised the media for taking his rally statements literally, for instance saying that the candidate was being sarcastic when he said Barack Obama founded Isis. Aides have yet to say whether he was speaking tongue in cheek.
The health of both candidates has been under scrutiny in the final months of the grueling 2016 campaign. Clinton was slow to reveal a bout of pneumonia, which her campaign only revealed after she made a premature departure from an 11 September memorial service in New York.
Trumps repeated sniffling during the first two debates has also drawn attention, and Howard Dean, the former governor of Vermont, was forced to apologise for tweeting a suggestion that it could be due to cocaine use.
The Trump campaign did not respond to questions about what drugs the candidate was suggesting could have been used to enhance Clintons debate performance .
A pro-Trump Super Pac, run by millionaire donor Robert Mercer, released an ad earlier this month questioning Clintons health. If athletes need to be tested for drugs for the biggest race of their lives, the ad says, shouldnt candidates be tested for the biggest race of yours?
With his campaign in a tailspin after several women came forward with allegations of sexual harassment, Trump began Saturday with another barrage of tweets that have become a hallmark of his campaign. In them, he alleged that the election was rigged and suggested that a loss on November 8 would be illegitimate. He wrote in one: 100% fabricated and made-up charges, pushed strongly by the media and the Clinton Campaign, may poison the minds of the American Voter. FIX!
In another, he said: This election is being rigged by the media pushing false and unsubstantiated charges, and outright lies, in order to elect Crooked Hillary!
And a third: Hillary Clinton should have been prosecuted and should be in jail. Instead she is running for president in what looks like a rigged election.
The Republican nominee has repeatedly suggested that the election is rigged over the past few months and warned of voter fraud, without any evidence. Since August, Trump has stirred conspiracy theories in the swing state of Pennyslvania, warning of fraud in certain areas, such as Philadelphia, a diverse but majority black city. He has also echoed a 2012 conspiracy theory that Mitt Romney fell victim to voter fraud in the city that year, because he did not receive a single vote in 59 precincts in African American neighborhoods. There are 1,687 precincts in the city and Obama received more than 85% of the vote there in 2012.
Trump picked up the theme during his rally in New Hampshire, scene of his first victory in the Republican primary campaign. Hillary Clinton is running for president in what looks like a rigged election, OK? he said. It looks to me like a rigged election. The election is being rigged by corrupt media pushing completely false allegations and outright lies in an effort to elect her president. And you know what I mean.
The businessman has been widely condemned by members of both parties for seeking to undermine the legitimacy of the election. But introducing Trump on Saturday, Alabama Senator Jeff Sessions fueled the fire. They are attempting to rig this election, he said, shaking his fists. They will not succeed.
Clintons campaign manager, Robby Mook, denounced the claim. Campaigns should be hard-fought and elections hard-won, but what is fundamental about the American electoral system is that it is free, fair and open to the people, he said.
Participation in the system and particularly voting should be encouraged, not dismissed or undermined because a candidate is afraid hes going to lose.
AshLee Strong, a spokeswoman for House Speaker Paul Ryan, said the top Republican in Washington does not agree with Trumps assertion of fraud. Our democracy relies on confidence in election results, and the speaker is fully confident the states will carry out this election with integrity, she said.
A spokesperson for Republican National Committee chairman Reince Priebus did not respond to a request for comment and a spokesman for Senate Majority Leader Mitch McConnell declined to comment about whether they agreed that the election is rigged. Priebus, McConnell and Ryan continue to support Trump although dozens of their party colleagues have denounced him.
Libertarian candidate Gary Johnson also disputed the claim, with spokesman Joe Hunter saying he doesnt believe the actual voting is rigged. He has major issues with the two-party control of ballot access, debates, etc, Hunter added.
In contrast, Republican Senator Ben Sasse of Nebraska, a fierce Trump critic, tweeted on Saturday: Freedom-loving Americans repudiate anybody who says they want to make lawful voters a little bit nervous at polls.
Trump also attempted to defend himself against the repeated sexual harassment allegations. How about this crazy woman on the airplane, he said of one accuser. I mean, can anybody believe that one? How about this? After 15 minutes! We dont know each other.
After 15 minutes, she says, Well, that was too much, I decided. Fifteen minutes! With the ladies in this place it would be one second and then it would be smack. Fifteen minutes! Its a crazy world were living in.
Read more: www.theguardian.com