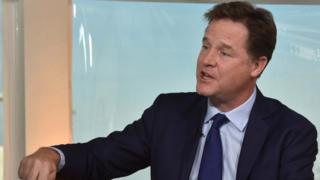 Ex-Lib Dem leader Sir Nick Clegg claims it is "highly likely" a breakaway party will form from within Labour to fill the "gaping hole" in politics.
He said a "meaningful realignment" in politics could be triggered – but he would not say if he would back it.
The Observer has claimed a new "centrist" party is being backed by up to £50m of private cash.
Labour's John McDonnell reacted scathingly to the idea – "a party of the rich, by the rich, for the rich".
Other Labour MPs said it sounded like a "bad idea" and a "daft waste of time".
Asked about the report, Sir Nick, the former deputy prime minister, told BBC Radio 4's Today programme he doubted that "entirely untested new entities" could "sweep the board".
But he claimed a "big shift in tectonic plates" could come from Labour MPs opposed to Jeremy Corbyn's leadership, and that this could "lead to a cascade of events".
If this reached beyond party lines, he said it "may prosper".
There has been much talk of a new "moderate" party appealing to people who are opposed to Jeremy Corbyn's Labour leadership and want to reverse Brexit. But despite several being formed, there have been no signs of a breakthrough so far.
Having targeted Remain voters with a pledge to fight Brexit, the Liberal Democrats increased their tally of MPs to 12 at last year's general election – but this was still less than a quarter of their 2010 total.
Sir Nick said he would prefer the Liberal Democrats to fill the gap he said existed in politics.
But he said that liberal values were more important than "the particular vehicle that is carrying them at any particular time".
Another former Lib Dem leader, Lord Ashdown, said it was not the time for the party to be tribal over the prospects of a new party.
The Observer claimed the new party was being spearheaded by former Labour donor Simon Franks and already had full-time staff members, with former Tory donors and senior business and charity figures also involved.
Shadow health secretary Jonathan Ashworth tweeted: "Usually can't be bothered commenting on this stuff on Twitter but for goodness sake, what a daft waste of time. Anyone putting money into this nonsense would be better off investing in our campaign to restore and rebuild our NHS".
Labour MP Lucy Powell, who has been critical of the Corbyn leadership, said it was "over-hyped" and "sounds like a bad idea".
The Liberal Democrats were themselves the result of a merger between the Liberal Party and the Social Democratic Party, which was formed by the "Gang of Four" senior Labour figures who opposed the party's direction in the early 1980s.
Read more: www.bbc.co.uk